Last week we gave you four reasons why you need better branding and examples of how you could incorporate those recommendations into your next survey. Customization and branding can go a long way – not just with how people perceive your brand but also with how they complete a survey they receive from you.
Simply put, brands express who we are. Whether it's the phone you use, the car you drive, or the gum you chew, the brands you use make a statement. It's no accident that customers have chosen your products and services. Over time and through both exposure and positive experiences, consumers become familiar with your brand, and their trust and investment grow.
Let's say you're the owner of Main Street Cafe, a local restaurant that serves a casual breakfast and lunch menu. You've spent some time on your logo and a bit of marketing, but nothing fancy. Looking for new ways to improve your service and gain customers, you decide to run a customer satisfaction survey. Now, here's where branding and customization can play a role. Every time you reach out to your customers, make sure your branding is front and center — it's a brand new chance to make your mark!
Take a look at the two surveys below. Both include the exact same questions, but they're clearly presenting two very different pictures of Main Street Cafe. Which would you share with your customers?
Main Street Cafe – Sample A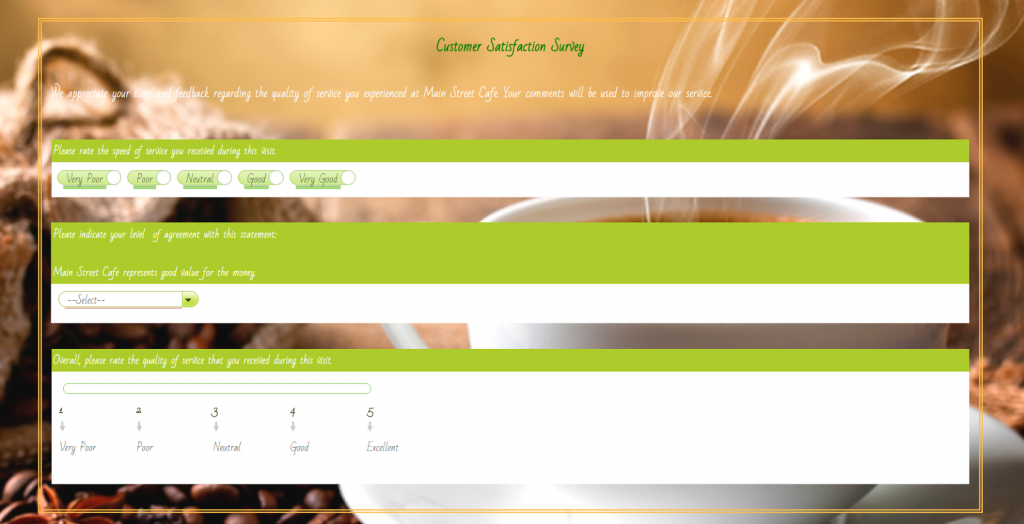 Main Street Cafe Sample B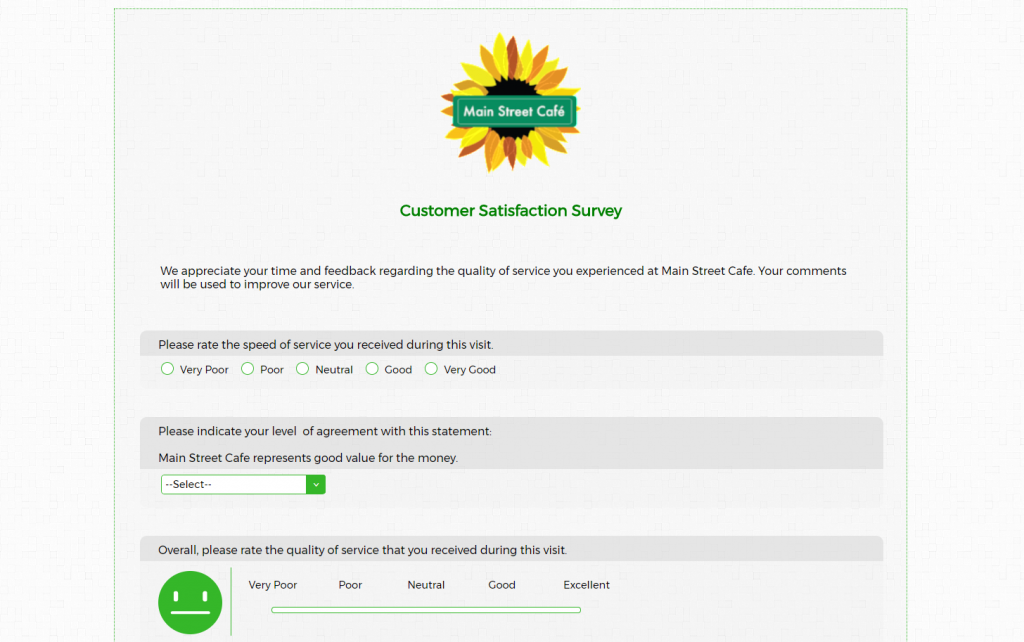 With all of the branding and customization options Sogolytics offers, it's possible to get a little carried away. Customizable question formatting, colors, fonts, background, transparency, images — be sure to quit while you're ahead, or participants won't end up with a clear picture of your brand anyway.
As you review your survey's appearance, ask yourself a few quick questions:
These questions will help guide you through creating a survey that represents your brand, has visual appeal, and is easy for your participants to follow.
Be sure your next survey serves up a big beautiful slice of your brand alongside your content, and you'll be building brand recognition while collecting key data for future improvements.