Customer reviews have come a long way. 
Unlike ten years ago, today, review of "skeptics" are few and far between. Gone are the days where marketers have to be convinced to embrace their customer reviews. Most of them just are.
So, I'm not going to try and convince you to care about your customer reviews. I'd bet you already do. 
What I will do is give you the benefits, and hopefully, not the ones you've heard over and over again. 
If you're looking for some real, actionable insights on how you can leverage your customer review strategy to increase visibility, improve your product, and fuel your sales and marketing efforts, then you've come to the right place. 
1. Help your business rank higher on search engine results
Whether you're a budding small business or an established enterprise, securing a solid representation in Google's search results should be a key priority. 
And while customer reviews may not be the first thing you think of when you hear SEO, they're actually more tied together than you'd think. 
When determining how to rank websites in search results, Google looks at a couple of different factors, like links, page speed, social signals, and more. Similarly, online reviews are a strong signal to Google that your site is authoritative and trustworthy. 
The higher you rank on Google, the easier it is for your prospects to find your business. And gathering a solid amount of high-quality reviews is an impactful way to increase your visibility. The right Google rank tracker can help you to know the real-time performance of your website. 
2. Improve landing page conversions and click-through rates
A landing page is only as good as its conversion rate. 
The on-page copy, branded design, and even the platform it's built on will only get you so far. If people aren't clicking through, then the landing page isn't helping you hit your goals. 
So how can we get customers to take that ever-so-important step? 
You guessed it. According to a 2017 study from Spiegel Research Center, displaying reviews can increase conversion rates by 270 percent. 
Highlighting reviews on your product landing page can be an impactful move to help you drive more leads. Whether you turn short review quotes into powerful visuals or embed entire reviews right on the page, the added bit of social proof just may be the difference between a prospect clicking on, or clicking out. 
3. Help drive your product roadmap
No company or product is perfect. More notably, what works for one customer may not work for every customer.
The reality is that if you gather 100 customer reviews, there's almost certainly going to be a couple of negative reviews peppered in there. But don't worry – this will actually help you in the long run. 
While I'm not advising you to take every piece of feedback and let it alter your product road map, I would say to always be open to the suggestions. If you find that the majority of your negative reviews cite the same issue, or you see a theme developing, it's likely worth looking into. 
And it doesn't have to be all bad. Even in positive reviews, you'll likely see something that resembles the following: 
"I absolutely love this tool, but I wish it had this feature/function."
By combing through your reviews on a regular basis, you can get a good grasp on the make-or-break features that your customers are looking for. And the best part? That incredibly valuable insight is all free. 
4. Identify advocates and build rapport with potential customers
Influencer marketing is more relevant than ever before – and contrary to popular belief, it isn't just for B2C companies and it's more than just a promotional Instagram post. 
In reality, influencer marketing is an iteration of word-of-mouth marketing. It's rooted in the idea that your happy, loyal customers will be willing to shout your praises (or, if nothing else, recommend your product to a friend or two). 
So, how exactly can we identify those advocates? 
Customer reviews make it easy. 
Your happiest reviewers are excellent candidates for case studies, content partnerships, guest blogs, and more. Better yet, it's an easy ask since they've already proved they're willing to spend the time writing a review. 
And these advocates – whether intentionally or not – are helping you build rapport with your existing prospects. When your team starts working with your brand's biggest fans, prospects and customers will be encouraged to continue offering feedback – a win-win. 
5. Help you beat out a close competitor
Reviews are always a pivotal part of my buying experience, but they become even more valuable when I've narrowed down my choices to two or three different options.
Whether it's a minor purchase like an inexpensive dinner out, or a substantial one like a new mattress, comparing the reviews side-by-side will almost always help one company get a leg up over the other(s). 
Notably, though, I don't only look at the content of the reviews. In fact, the quantity is just as, if not a little bit more, important to me. If I'm between a product with five stars, but only 20 reviews, versus a product with four stars and 500 reviews, I'll almost always go with the latter. 
Here's the lesson: You shouldn't be satisfied once you hit your ideal star rating. Customers will be looking for a lot of reviews, ideally, from within the last month or so. If you want to beat out your competitors, it's critical to be gathering high-quality reviews on a regular basis. 
6. Fuel your sales and marketing efforts
Customer reviews may not replace your most integral marketing or sales tools, but they can definitely complement your existing efforts – and fuel some new initiatives, too. 
For example, who hasn't ignored a cold sales email? I know I have. So instead of messaging a prospect asking for their time, why don't you send them something they're already looking for? Like your customer reviews. 
In doing this, you're saving them time (they'd seek out reviews eventually), and proving that this is more than just their typical sales pitch. 
You can also use your customer reviews to personalize the pitch. Instead of shooting off another generic email, encourage your salespeople take some time to dig into your customer reviews. If they can find reviews from customers in a similar role, industry, or company as the prospect they're pitching, they can customize their outreach and level any future expectations. 
At the top of the funnel, customer reviews can help support social media, content, and digital marketing efforts across the board. But more than anything, the best thing a marketing team can do with customer reviews is engage with them. A short reply, or even a quick message on social media, can go a long way in making sure each reviewer feels heard, and that their input is appreciated. 
Wrapping up
There are more benefits to a customer review strategy than just increased trust and transparency.
While that trust is important – and it always will be – it's just scraping the surface of authentic customer feedback and the power it holds. 
By making your review strategy a company-wide effort and including customer reviews at every touchpoint in your purchasing process, you'll ultimately set your team and your future customers up for success.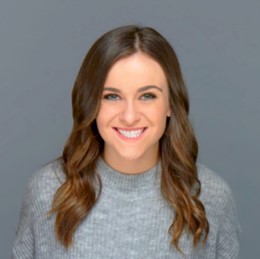 About The Author
Claire Brenner is the content marketing team lead at G2.com. Hailing from the University of Dayton, Claire found her way back home to Chicago upon joining G2 in May of 2016. In her free time, you'll find Claire practicing calligraphy, seeking out the city's best BYOB sushi restaurants, and planning her next trip.