What is customer experience management software?
Customer experience management software (CXS) is an integrated cloud-centric solution that takes the strategies through all the crucial touchpoints in the customer journey from a central team workspace. Successful marketers know that sometimes even the smallest disruptions can impact the overall customer experience—that's why it's essential to monitor and improve the customer journey at all touchpoints to create a strong competitive edge.
At the end of the day, brand loyalty and customer retention are all about making a good impression—and sustaining it.
Why is Customer Experience critical?
A CX without empathy is like a car without brakes—it can veer off track and crash at any moment. In a study focusing on customer service, six constructs were found repeating in over 80% of responses. Here's what the customers say they want businesses to do:
Stop and listen to what they have to say.
Get to the crux of their needs.
Not waste their time with the "same old, same old."
Create integrity through consistency.
Remove the pain points first and foremost.
Don't oversell with unrealistic expectations.
So if you're looking for the answer to nurturing brand champions – you have it!
But how do you go about measuring if you're on the right track? We've found that the Net Promoter Score (NPS) is the single most compelling metric to help you assess just this!
How to choose the best CX platform?
You know why customer experience software is vital to your business, but how can you find the solution that's right for you? With hundreds of options in the market, the task can seem daunting. That's why we've compiled a list to help you get started!
Finding your ideal solution
Not every solution is ideal for your business. You need to find one that meets your unique requirements while growing with you to ensure you're not only giving your customers the best experience, but also capturing the right insights to meet your goals!
1. SogoCX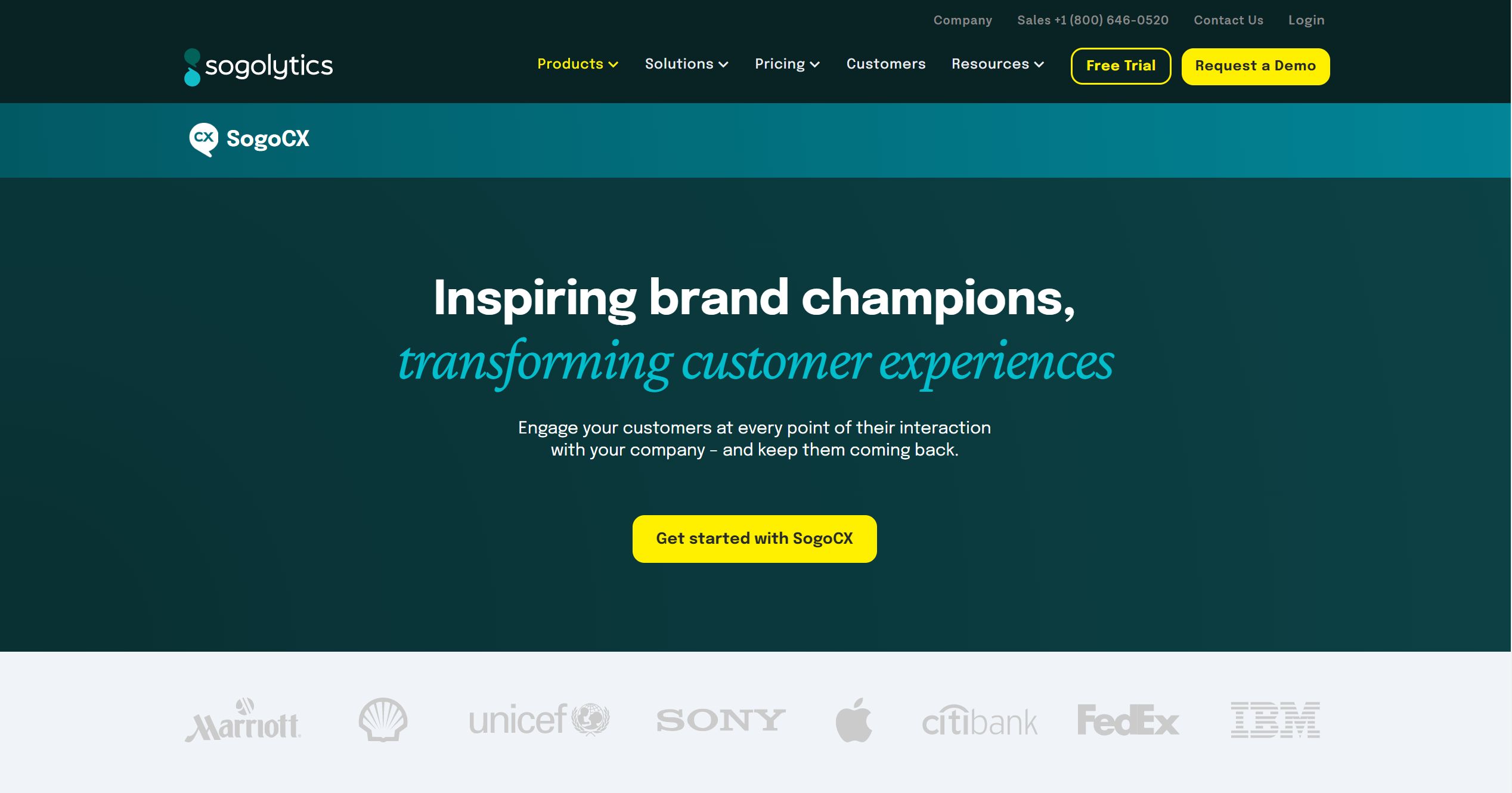 SogoCX is a comprehensive customer experience solution, helping businesses easily gain the insights they need. Built on the solid foundation of the Sogolytics platform, SogoCX offers a powerful and intuitive software to automate data collection, analyze feedback, and monitor trends, and it remains a go-to for SMBs and enterprises alike.
But that's not all. Beyond engaging your audience with interactive and advanced features, SogoCX also offers numerous additional services so you can put your best foot forward – always. Featuring industry-leading customer support, AI-driven product features, and global standard data protection protocols, they've got you covered. Both security and quality are core company values, highlighting the importance placed on your experience, too.
The customer experience platform is the best of cx platforms and was designed keeping even the most minute details in mind. From answer suggestions when building your survey to dynamic reports you can share with the team (even those who don't have a SogoCX account!), no stone is left unturned.
Tip: To optimize your customer experience, you can tailor the dashboard to meet your business needs. Pin custom metrics, key metrics, and view trends; the dashboard allows you to keep the most critical insights at the forefront. Need more help? Sogolytics' 24×7 support is the best cx software in the industry!
2. Trustmary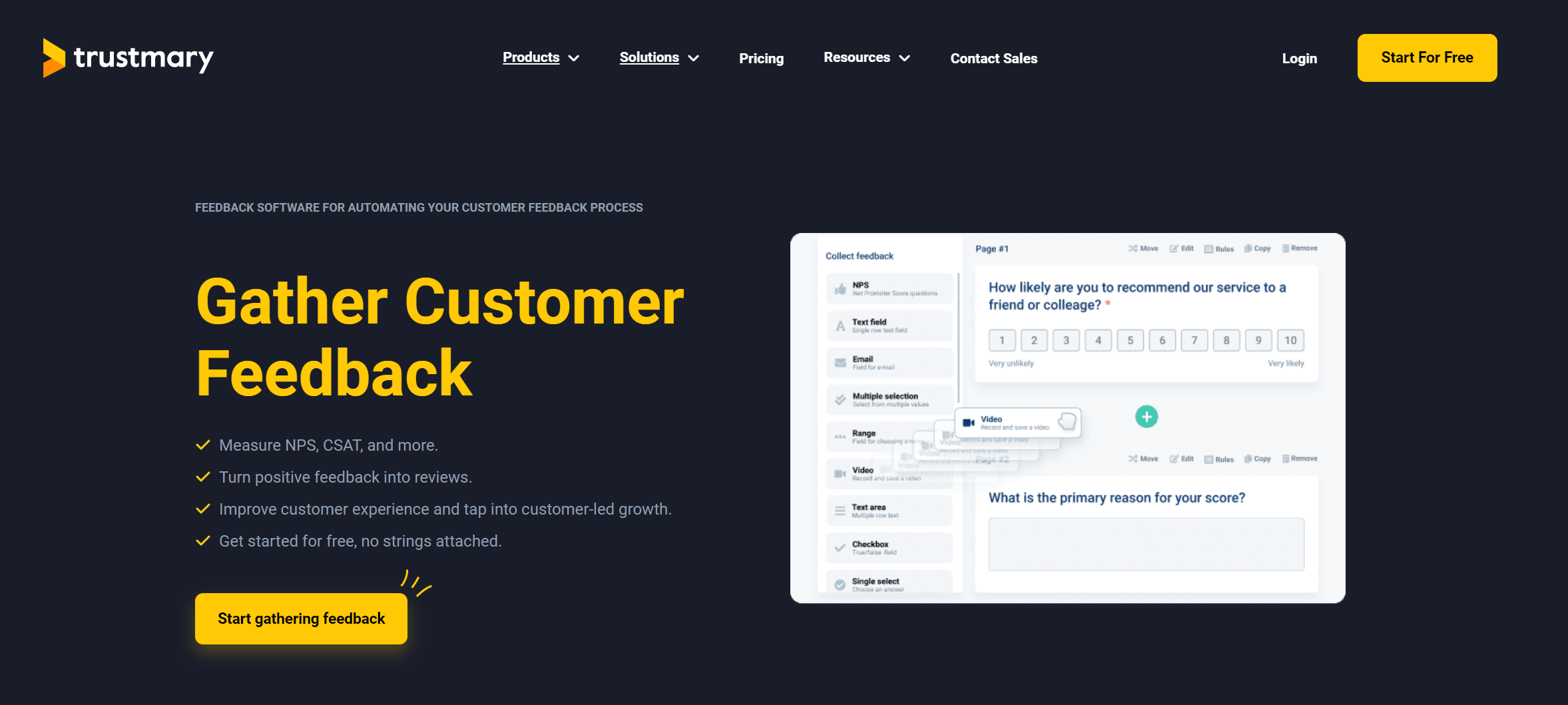 You can't manage or improve customer experience if you don't know what's going on in your customers' journey.
Trustmary is a software tool for improving customer experience and growing your business via customer insights. It's best suited for companies that want to not just learn about their customers, but also get more customers with the help of positive customer feedback.
Key capabilities include:
Collect customer feedback (NPS, CSAT, and more templates)

Gather customer reviews in text and video form

Connect third-party review sites and monitor how customers rate you

Add reviews to your website with stylish and functional widgets

Automate the whole process and integrate with your CRM and other daily tools
Trustmary helps you save hours of your time each week while amplifying the amount of feedback you receive.
Tip: Collect feedback at each important customer touchpoint to get a 360° view of the customer experience. It's easily done with Trustmary: just integrate Trustmary with your actively used CRM, trigger feedback surveys at the right time, and completely automate the feedback process.
3. Freshdesk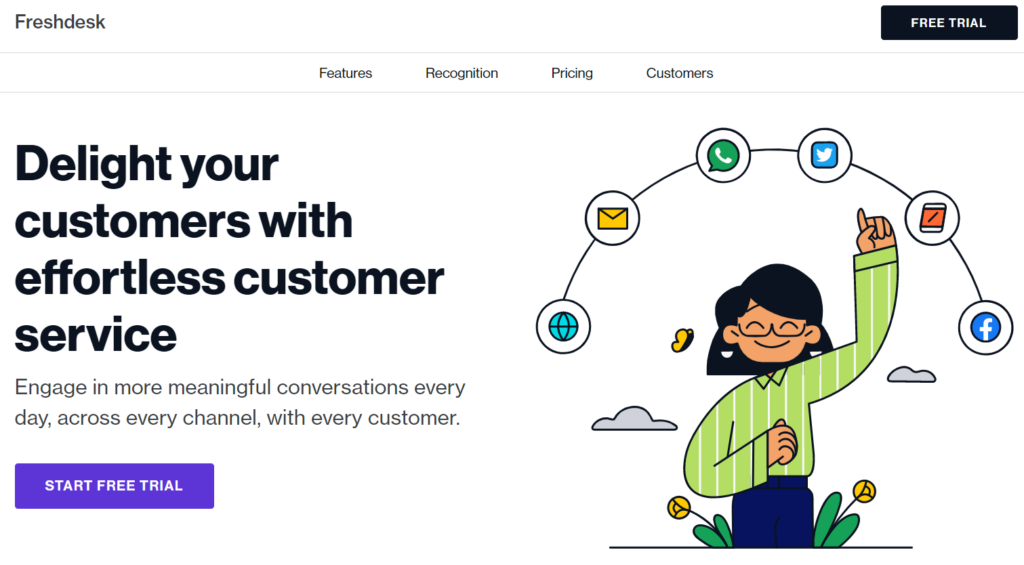 Freshdesk's primary theme revolves around ticketing, with four customer experience software plans (one of which is free). Its omnichannel features cover ticketing with extensive automation for seamless usage. It also demonstrates robust ticket prioritizing, categorizing, and intelligent assigning capabilities. The latter work seamlessly when applied to:
Audience sharing
Team huddles
Time tracking
Moreover, a mobile field service specialty from end to end brings everything together. Also, deploy Freshdesk for a customer self-service experience offering such benefits as AI-powered chatbots.
Tip: Freshdesk is all about automation—so set your workflows on autopilot by ensuring that the right people get quick email notifications (instead of cluttering everyone's inbox) and ensure prompt action at every stage!
4. Zendesk 
The Zendesk ticket system fires on all cylinders to deliver a customer self-help center as an effective problem-solver. The company's capabilities stretch to offer:
Multiple integrations
Comprehensive customization options
Easy-to-navigate detailed reporting
With Zendesk Sunshine, you can tailor the customer experience platform to meet your business needs, allowing you to do everything—from monitoring customer experiences to giving employees and customers a comprehensive repertoire of knowledge.
Tip: If you are an enterprise entity (versus SMB), look for features that connect seamlessly to large-scale operations. The icing on the cake is that if a client's website crashes while using Zendesk, the latter guarantees monetary compensation!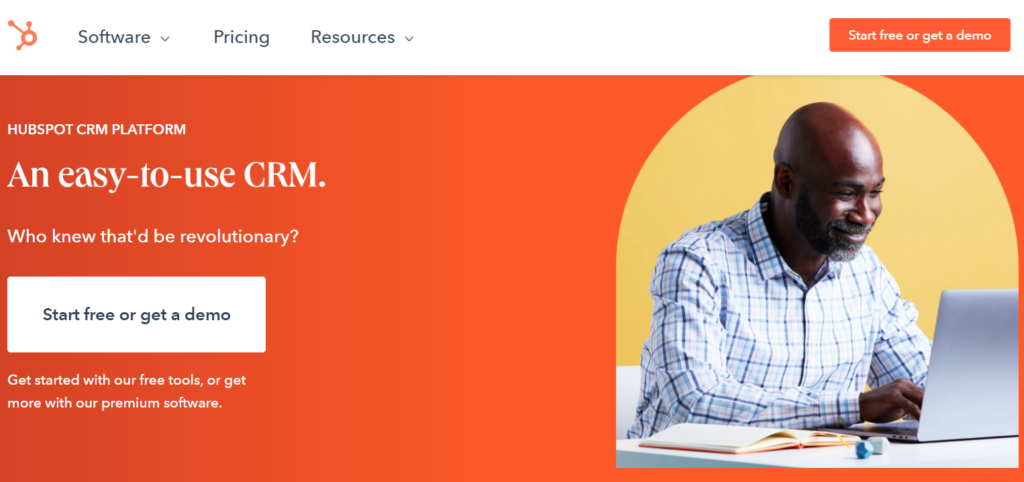 Inbound marketers love Hubspot for its ability to connect all the customer journey website touchpoints from A to Z—a truly behavior-centric technology. In addition, the reporting feature provides easy-to-read content and insights into how customers respond to your internet marketing, action by action.
The Hubspot team conceptualizes that the customer journey is ever evolving. Therefore, customer journey mapping—a software feature of note—is vital for marketing success. In addition, applying the NPS tool alongside Hubspot pays tremendous dividends, generally confirming the reporting results.
Tip: Hubspot is ideal for companies of all sizes intent on unearthing the touchpoints that:
Repeatedly derail CX, thus creating the opportunity to erase them before they become an endemic disruptor.
Combine to propel the customer journey toward the cash register, allowing you to bolster your most effective digital assets.
6. GetFeedback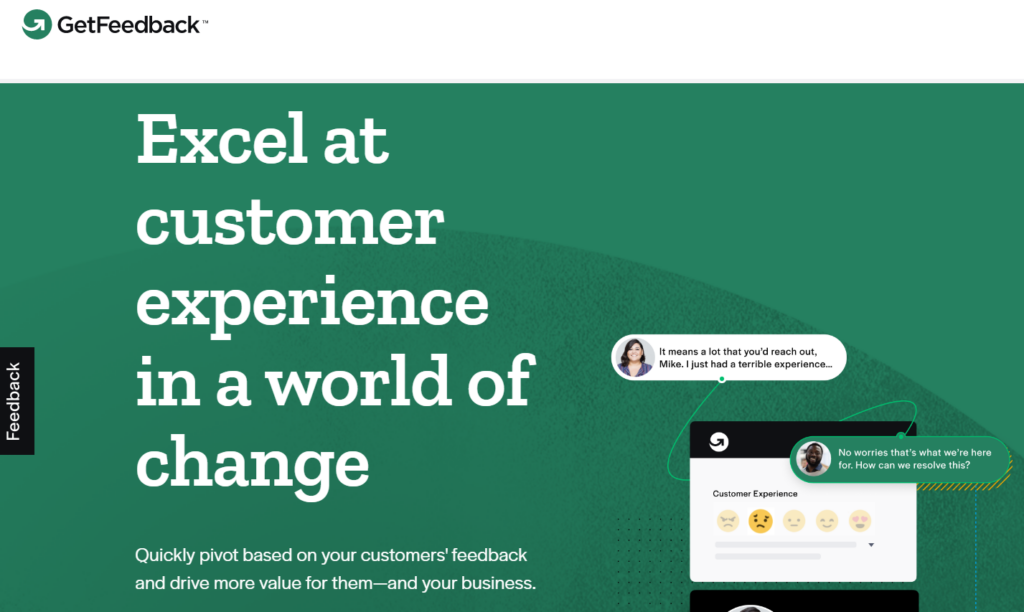 GetFeedback by SurveyMonkey is a turnkey NPS solution intent on helping customers capture nuanced insights and propel data-driven actions.
Trigger customized surveys distributed across touchpoints to connect with your customers at the exact right time. GetFeedback also employs cutting-edge analytics to identify areas of improvement using key drivers and industry benchmarks to see the next step.
Tip: GetFeedback allows you to connect with your audience across all channels. So if you want a higher response rate, be sure to take advantage of the numerous distribution options provided and see the answers rolling in!
7. Qualtrics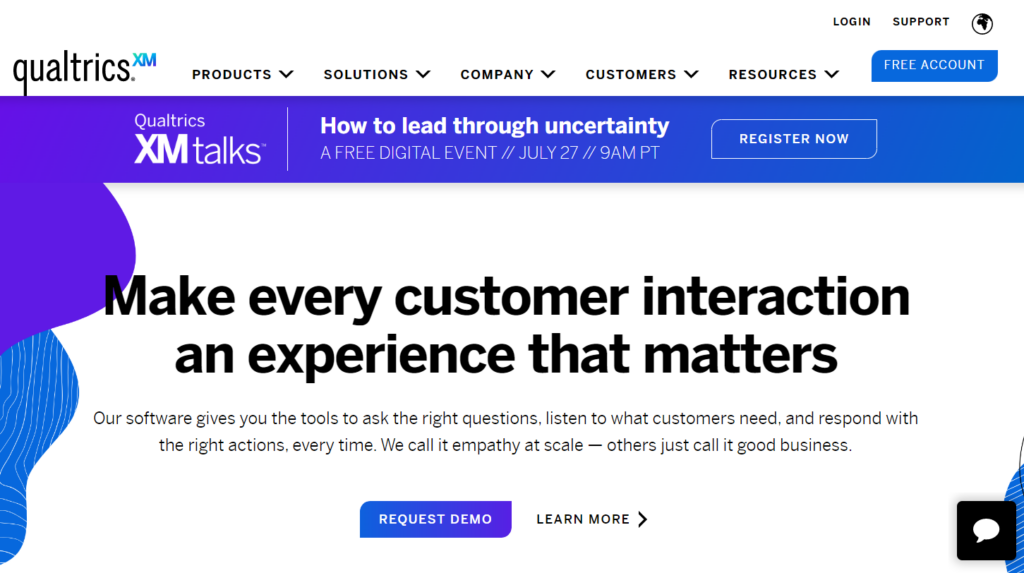 Get the most accurate insights with Qualtrics. Designed to offer custom solutions that cater to unique business needs, Qualtrics offers unique templates, powerful survey features, and more, alongside CX analytics keyed into retention objectives. It contains numerous cutting-edge features that integrate seamlessly with your current app network. These include:
Text IQ
Stats IQ
Predict IQ
Digital CX
Closed-Loop follow-up
Tip: You can test the Qualtrics platform via its free version, but note that the latter is limited and only suitable for a surface feel for its capabilities!
8. Medallia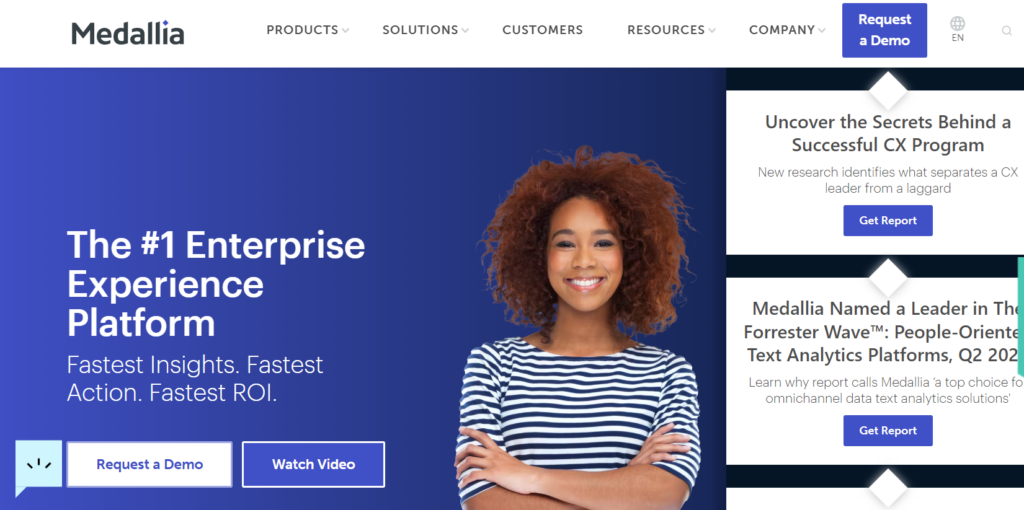 Medallia's Enterprise Feedback Management technology is at the forefront of the customer feedback arena, aligning it with actionable reports sent to your mobile.
Why is this something to take note of? Because a massive part of customer experience management is feedback. It's a complicated process that must embrace numerous sources such as the web, email, and phone. Moreover, the Medallia CX software scalability kicks in as data volume for all sized businesses is almost limitless.
Enterprise companies align Medallia's value proposition because it integrates with their resource planning systems, linking relevant financial metrics to customer experiences with improvement recommendations.
Tip: This is an option every enterprise-type business must include in its shortlist to develop a compendium of CX software resources that integrate for an optimal solution.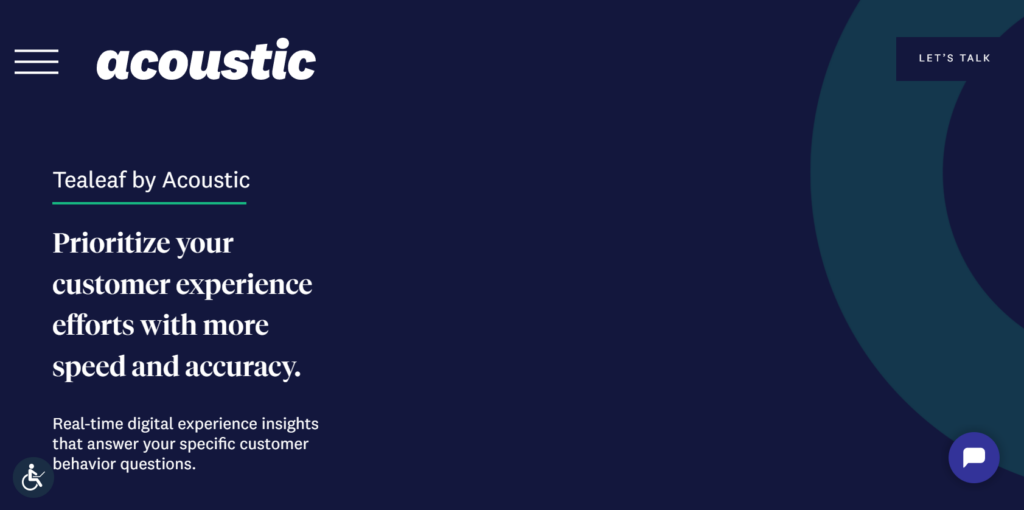 Tealeaf by Acoustic (formerly, IBM Tealeaf) is a popular customer experience management software that goes to the heart of understanding how visitors interact with your website and app. With this, you can monitor large traffic volumes without disrupting site performance, empowering easy recording and replay of sessions. With Tealeaf you can implement:
Advanced filtering. For example, it allows you to zone in and retrieve a specific mobile session connected to such items as device parameters, HTTP, or observed events.
A unique replay ability for quickly diagnosing disruptive touchpoints and initiating actions to re-establish stability.
An advantageous analysis based on page-by-page, browser-level recording of the actual customer experience alongside customized metric capabilities.
Tip: Tealeaf is an enterprise-scale option that focuses heavily on monitoring and aligning processes. So if you're looking to better understand how your audience impacts your UI, this is the solution for you!
10. Contentsquare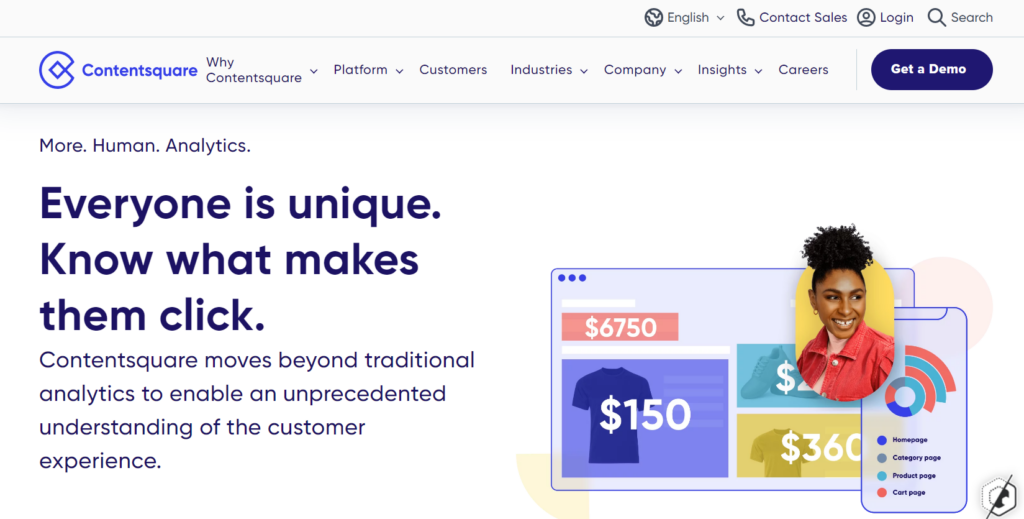 Contentsquare empowers businesses to move beyond traditional metrics to truly understand what makes your customers click. With powerful analytics, Contentsquare is an intuitive solution that makes insights more intuitive.
With customer journey analytics, nuanced heatmaps, session recordings, and much more, Contentsquare empowers businesses to seamlessly monitor CX on the website, desktop, tablet, and mobile.
Tip: Want to understand correlations better? The zone-based heatmaps that help you understand users interactions with individual pages better. Take this a step further by diving into individual session recordings and see how people truly interact!
11. SAS Marketing Analytics Solutions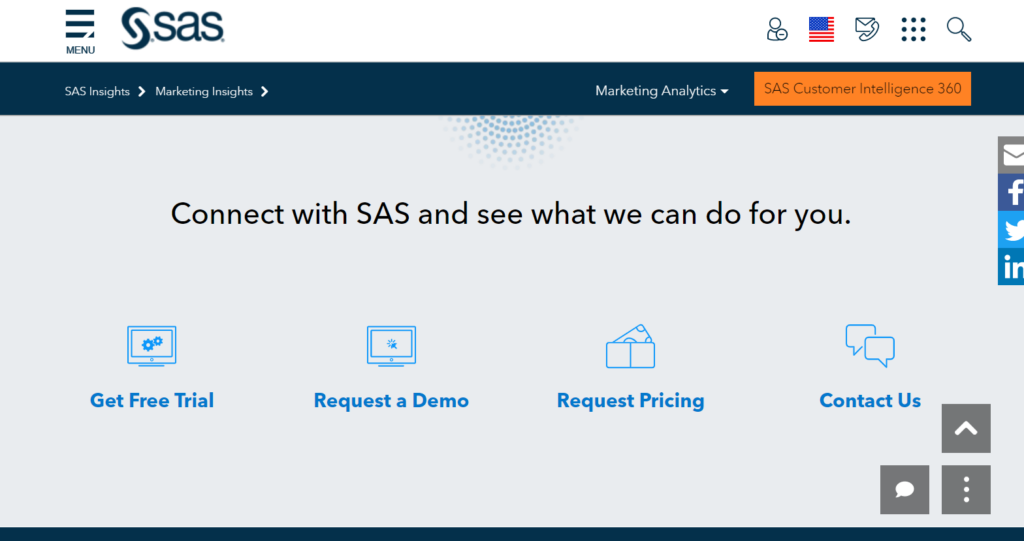 SAS is ideal for digital marketers who depend on big data intelligence to move prospects:
First, into the confirmed customer ranks
Second, upgrade them to loyalists.
The company's web analytics are a level above most, capable of:
Tracking customer journeys via customer browsing sessions.
Covering every aspect from on-site searches to mouse hovering.
Activating initiatives in real-time
Sending out compelling offers at the right time, using the SAS best enterprise business logic system.
Tip: SAS is a must-consider option for enterprise marketers interfacing vast data volumes and who want to map out every touchpoint over a customer's lifecycle to promote retention.
12. Sprinklr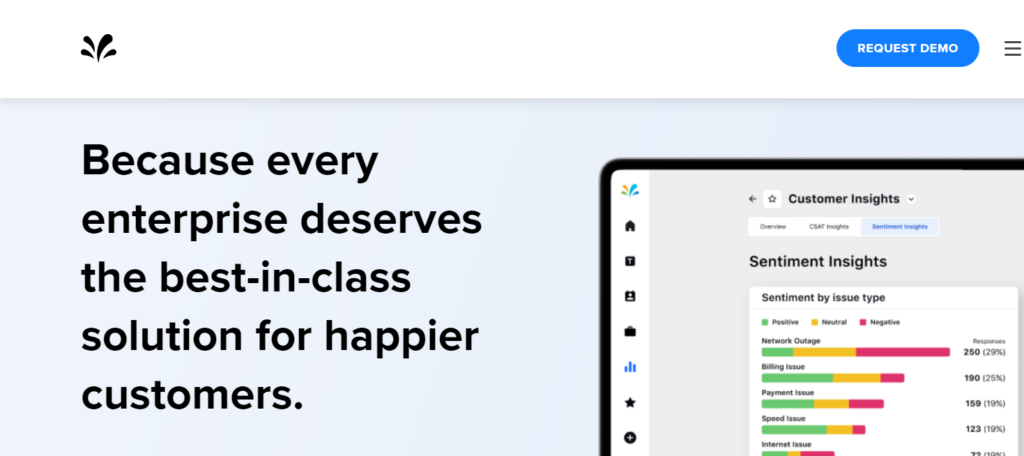 This is a Cloud-based customer experience management solution helping enterprise-scale entities to manage:
Content marketing,
Social media interaction.
Paid advertising methods.
The resources Sprinklr puts at your fingertips include AB testing, activity dashboards, alerts, escalations, API, and augmented analytics. In addition, it offers campaign-centric benefits like analytics, management, and planning. You also get automated publishing and responses, behavior analytics, benchmarking, and channel management.
Tip: Large companies with two hundred or more clients can look forward to the Sprinklr Modern Care Lite—a customizable and easy to deploy contact center solution. It'll free your team to focus on meeting customers' expectations versus wasting time wading through reports.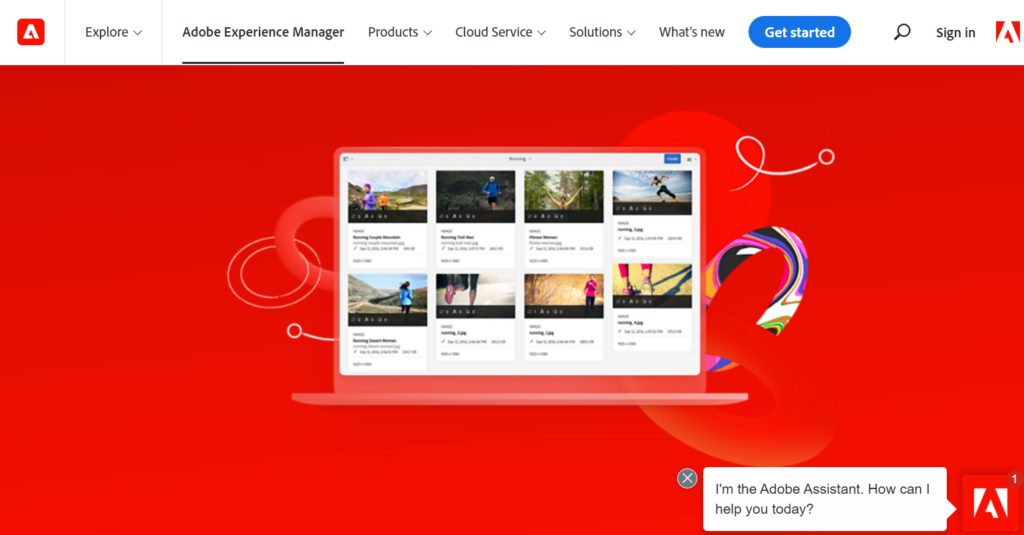 Adobe Experience Manager changed its name from Adobe CQ but remains one of the most powerful CMS (content management system) applications, allowing you to:
Manage content
Build assets for web, mobile, and social media channels.
Access Adobe Marketing Cloud—a massive benefit in the brand's armory as an all-purpose digital marketing solution.
Tip: Adobe is a versatile CX tool with features that can transform your marketing strategy. Implement web analytics and employ A/B testing to see what works and how best to connect with your audience, while the software's open architecture allows your to easily combine it with other software apps in your system!
14. ResponseTek
When website data and social media are vital considerations in the CX arena, ResponseTek has the answer. Focused on helping businesses open a dialogue and close the loop with their customers, it offers an easy way to remedy a bad experience. Moreover, their automatic notifications ensure you're instantly alerted to set situations!
ResponseTek is a platform that helps you deliver a superior CX with:
Customer sentiment and feedback analysis
Pinpointing severe CX disruptions and sending early alerts
Monitoring social media performance ratings
Tip: Use ResponseTek to give you insight into targeted surveys. With this you can survey randomly selected customers following key customer actions.
15. SurveySparrow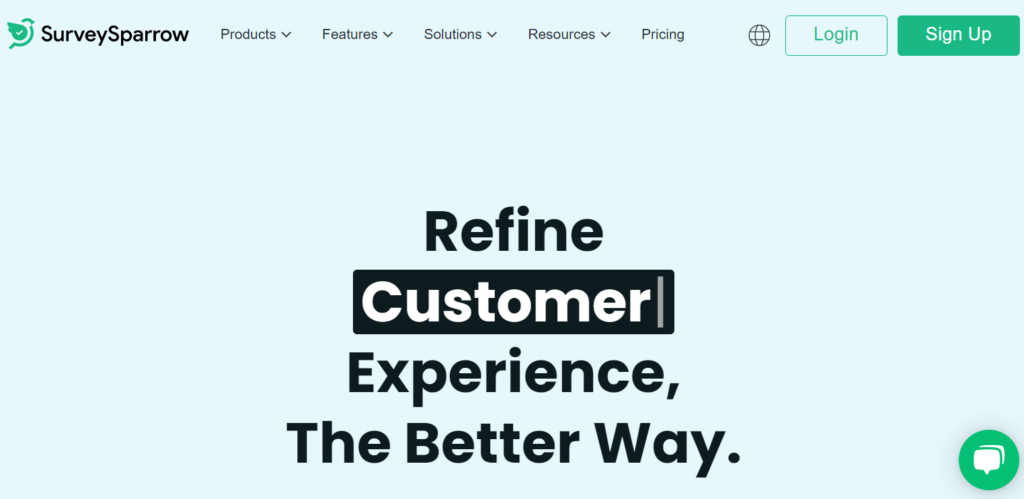 The platform offers user friendly surveys, simplifying survey creation and data analysis. The user interface is designed to increase engagement with the aim to improve participation, helping businesses gather more data for detailed insights. Moreover, you can easily integrate it with several other platforms, enhancing automation and implementing alerts for specific actions.
Tip: Use the customer journey map to understand and analyze customer interactions across all touchpoints.
16. OracleCX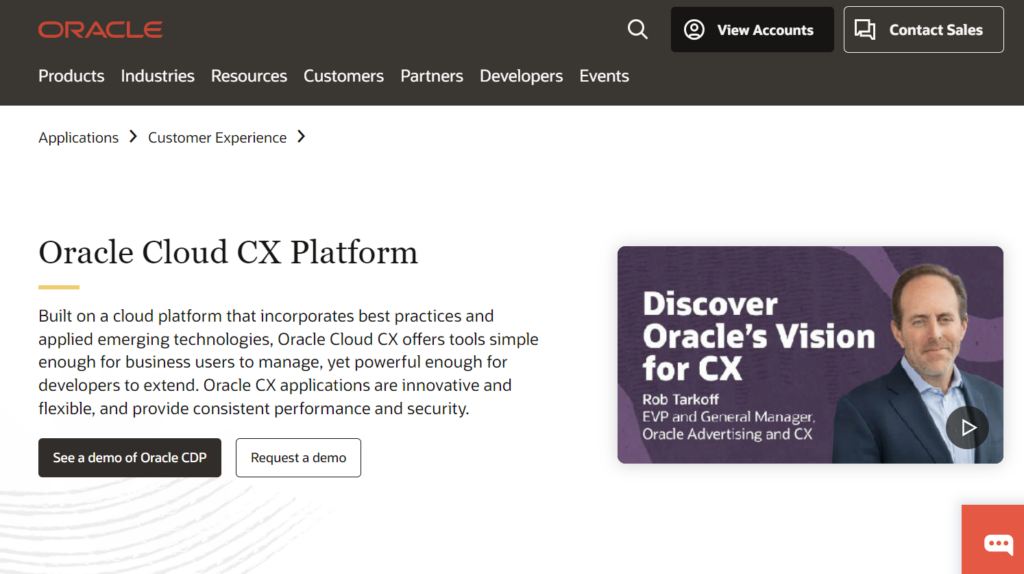 Designed to bring together data, processes, and analytics on a single platform, OracleCX offers a one-stop solution for brands looking to expand their ecosystem. Capture nuanced insights with leading analytics and adaptive artificial intelligence to understand experience gaps and deliver a superior CX.
Tip: We recommend OracleCX as a helpful way to enhance the customer experience, especially if you are already an Oracle customer.
Finding the best CX software for your business
Each company is unique, and therefore every customer experience strategy needs to reflect the same. To ensure you optimize your strategy to best resonate with your customers, it's essential to pick the customer experience solution and the right CRM that meets your needs.
In a market flooded with options, it can get overwhelming to find the right solution. That's why our list of top CX platforms offers a great starting point! What are your thoughts? Let us know if you feel any other platforms deserve a spot on the list!