Heading into a dark wood with a sputtering flashlight and eerie movie playing doesn't seem like it has much to do with surveys at all – but matching up these two seemingly disconnected topics can actually be a pretty spooky good time!
Horror movie clichés have long been used in the genre for one simple reason: they work. No matter how many times we see a film and groan when the main character tells everyone to split up or break into that scary asylum, we still head to the theaters for the next premier (or sequel!). That's the beauty of it all: the immersive experiences where we're on the edge of our seats—safely—experiencing what the characters go through.
Much of what comes from scary movies, however, can actually help you when it comes to survey design.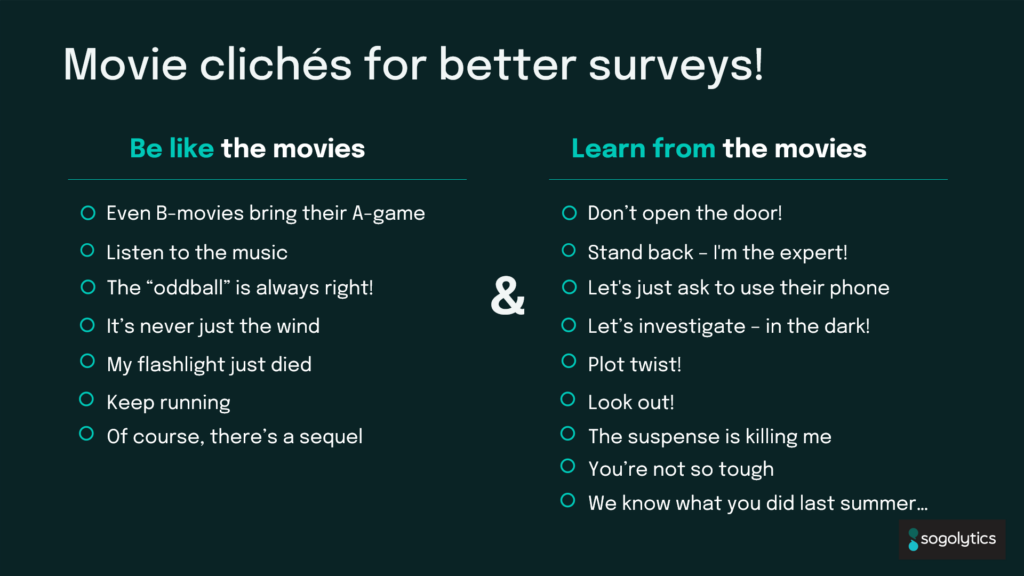 Be like the movies … or maybe not
That's right, there are a ton of scary movie clichés, but in our recent Skills, Chills, & Thrills: Better Surveys Through Scary Movies webinar we broke down the top clichés you can use as a checklist to improve your survey project, all the way from design and distribution to reporting and analytics.
Scary movie cliches can provide an interesting and unconventional perspective for creating better surveys by introducing elements of surprise, engagement, and relatability to your questions.
Don't believe me? Think about these aspects in movies:
Engagement: Scary movies often involve unexpected twists or shocking moments. Similarly, your survey questions can be designed to engage respondents by introducing unexpected or thought-provoking elements. For example, you could include questions with surprising answer options to capture respondents' attention and encourage thoughtful responses. Consider using a logical flow in your questions, building from general to specific, or using conditional branching to keep respondents engaged.
Emotion: Scary movies are known for evoking strong emotions, like fear and suspense, for an immersive experience. Survey questions can be framed to tap into respondents' emotions, making them more likely to provide genuine and meaningful responses. For instance, you can ask questions that trigger emotional responses related to your survey topic.
Anticipation: Scary movies build anticipation before revealing the "monster" or climax. In survey design, you can use a similar approach by gradually leading up to the core questions. Begin with broader, context-setting questions before diving into the more specific and critical ones. This can help respondents get comfortable and prepare for the main survey questions.
Surprises: Just as scary movies often include unexpected twists and turns, you can incorporate survey questions with unexpected elements. These can catch respondents off guard and encourage them to think more deeply about their responses.
Timing and pacing: Just as timing is crucial in creating suspense in a scary movie, timing can be important in survey design. Consider the timing of when you send out surveys, how long respondents have to complete them, and when you follow up with reminders. This can impact the response rate and quality!
Of course, you don't want to terrify your participants or drive them toward survey fatigue or other horrors, but you are starting to get the gist! Your primary goal should be to gather accurate and useful data, so be mindful not to overcomplicate or obscure your survey questions with too many dramatic elements. The key is to use smart techniques that engage and encourage thoughtful responses while maintaining the survey's core purpose and integrity.
Want to learn more about the clichés shared? Jump into the Skills, Chills, & Thrills: Better Surveys Through Scary Movies webinar now!