To start with, you should know that I'm on team "gif" versus "jiff". Wordplay and beyond, bear with me as I step outside my normal blog post style here. (Or maybe this is the real normal? 😉)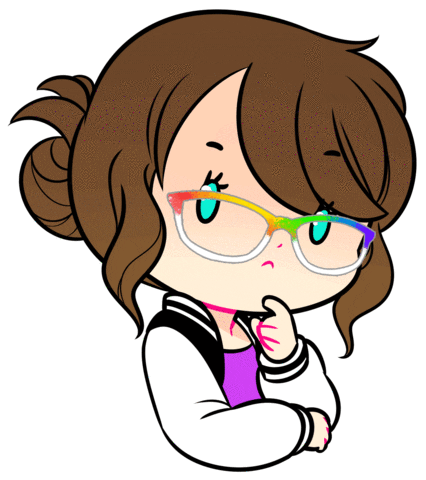 My colleagues will probably recognize right away why I chose this GIF to start with. I have a jacket like this, I wear glasses, and, well, it's a GIF! I'm not sure when it happened, but most people know me for my crazy accuracy at finding just the right GIF for any occasion (though, I'm not as good at the actual gifts, mind you 😉). But I know just who to blame…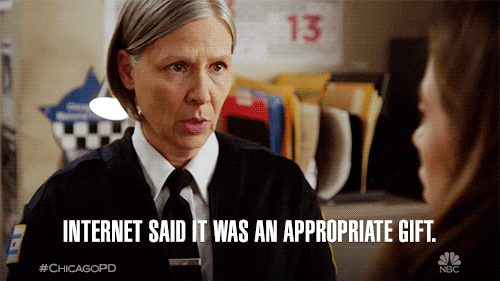 Honestly, "gifing" (yes, that's a made-up word there, but we're going with it!) is the way I contribute to culture—wherever I am. My friends and family are now used to conversations in which I share the perfect GIFs that seem to just "get" what I'm trying to say, and somehow this style bled over at work. I find myself breaking the ice, adding to conversations, or boosting morale with a well-placed GIF.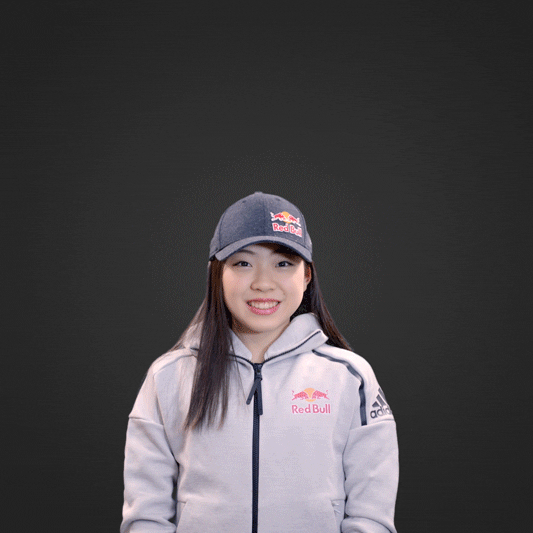 Ganbatte is Japanese for "do your best", similar to 화이팅 or "fighting" in Korean!
There are a ton of ways to improve corporate culture, but many of these are from the perspective of the employer. Let's take some time to explore a fun way employees can give back and improve culture—November is the month of gratitude and thankfulness, after all!
How can GIFs help to improve corporate culture?
GIF stands for Graphical Interchange Format. Technically, it's just an image format.
While "corporate memes" is an increasingly popular search term, GIFs are a step up from these simple images. That's because a GIF includes animation applied to still images so they look like a short video. That's it! GIFs are so readily available because  they're easy to make from the frames of a video or a collection of images.
But the real magic is in how they express what the sharer would like others to get. Much like memes, a GIF can be meaningful be for a niche group, or a broad audience, but you don't have to know exactly where it comes from to understand its sentiment.
Using GIFs at work can be a fun and creative way to improve corporate culture, if used appropriately. How?
Enhancing communication: GIFs can help convey emotions, reactions, and messages more effectively than plain text. This can lead to better understanding and empathy among team members. It can also make communication more engaging and relatable.
Boosting morale: Sharing GIFs that are humorous, motivational, or inspirational can lift employees' spirits and boost morale, with a proper balance of informality and formality. This can create a more positive and enjoyable work environment.
Building team bonding: Sharing GIFs can be a way to build camaraderie among team members. Inside jokes and shared humor can strengthen relationships, making the workplace a more enjoyable and friendly space.
Ensuring cultural Inclusivity: GIFs can be a way to express cultural diversity and Inclusivity. Employees from different backgrounds can share GIFs that represent their culture, thereby promoting a more inclusive corporate culture.
Acknowledging achievements: GIFs can be used to celebrate and acknowledge individual and team achievements. It's a quick and visually appealing way to give recognition and praise.
Reducing stress: Humorous or light-hearted GIFs can help reduce stress and create a more relaxed atmosphere. This can make employees feel more comfortable, which can lead to increased productivity and overall job satisfaction.
Inspiring creativity and innovation: Encouraging employees to create their own GIFs can be a creative outlet. This can foster innovation and out-of-the-box thinking, which can be beneficial for the company's overall culture.
Breaking the ice: GIFs can be used in team-building activities or ice-breaker sessions, making them more engaging and interactive. They can be used in virtual meetings or even in-person events to create a more relaxed and open atmosphere.
GIFs at work can enhance corporate culture in a lot of amazing ways. However, it's also important to use GIFs with discretion and in line with the company's guidelines and the overall professional atmosphere of the workplace.
To GIF or not to GIF
The thing is, it's not always the best time to use a GIF.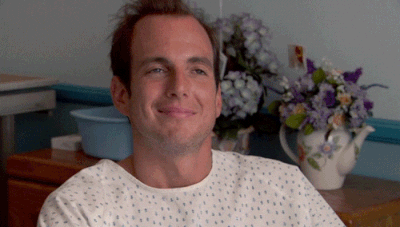 Not everything is "safe for work", as they say. While plenty of unsuitable content is is tagged under NSFW (not safe for work), that isn't always failproof.
Some things to keep in mind when gifing:
Appropriate content: Ensure that GIFs are appropriate for the workplace. Avoid any content that could be offensive, discriminatory, or inappropriate. This should not be something that will lead to a serious "What were you thinking?" kind of HR discussion. That's counterproductive to the spirit of using GIFs at work.
Company guidelines: Be aware of your company's policies regarding the use of GIFs. Some organizations may have strict guidelines, while others may be more permissive. If your company doesn't allow for this sort of interaction, consider alternate methods.
Respectful tone: GIFs should be used in a way that maintains a respectful and professional tone, even when humor is involved. It's not funny when it hurts or offends someone. What may be entertaining to you may not work for others.
Inclusivity: Consider that not everyone may understand or relate to a specific GIF, so be mindful of cultural and diversity considerations. (Later, we'll talk about ways to help navigate this!)
Productivity: While GIFs can be fun and engaging, they should not interfere with productivity. Ensure that work tasks remain a priority. I know, it's hard, but we have to adult sometimes.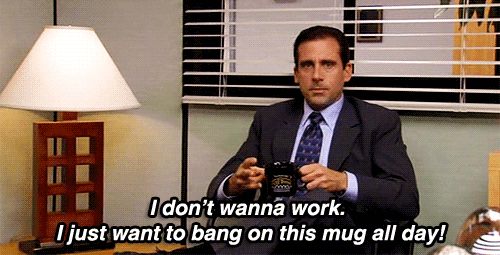 The idea is not to inundate others with GIFs or make it feel unnatural. It should be an extension of your personality to reach across with authenticity.
In short: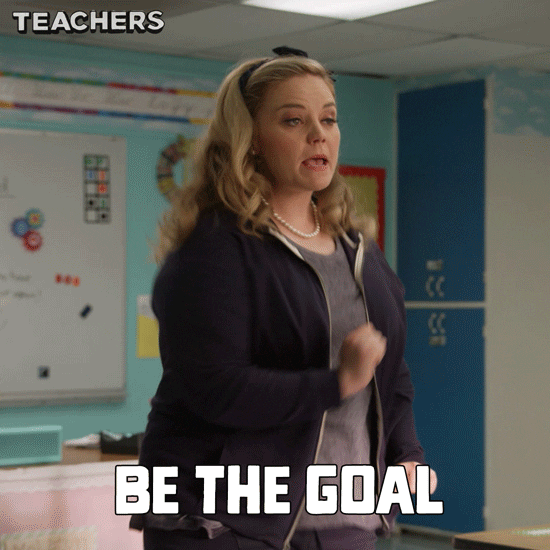 It's not just a gimmick, but a way to build connections with others and support your team. Among other opportunities, GIFs can help you to brighten Mondays, motivate on the hard Hump Day, and send them off with well wishes and a much-needed break on Fridays.
Or maybe you want to be the one who keeps people on task. You sure can, with supportive, rather than controlling, interactions. GIFs, by nature, create more informal environments, so they can be a good way to keep people accountable, without being that team member.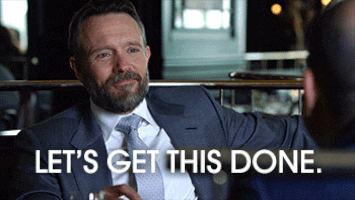 Just remember to not always reach for the GIF in professional situations when a call, chat, or email may work a lot better.
Cool? Awesome, now we can get to the fun stuff.
How to choose the perfect GIF
Yes, there is a formula, and I'm going to help you a bit. It's in the way you search and your own personal knowledge. For example, I know about ganbatte as a consummate anime/manga consumer, but also because Japanese was my language of focus through high school and university. Korean entered my life during college with So Ji-Sub (the OG oppa) and K-Dramas, and I haven't looked back.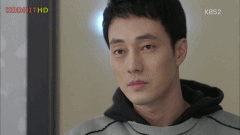 While these are pretty specific examples, that's exactly the point: Sometimes your cool "trivia" knowledge can be useful to you now, and that brings me to…
Method #1 for finding the perfect corporate GIF
Use what you know
Your first way to find the right GIF it is to think about what you know really well. For example:
Movies
Books
Comics
Cars
Fashion
Anime
And many more!
There are so many things your life experiences have exposed you to! Let's use a humorous example here. A peer you have a comfortable relationship with just sent you a chat saying, "Should I share my idea in the meeting?" about a project. You want to show your support — and you're a Star Wars fan.
If you wanted to be supportive you could choose: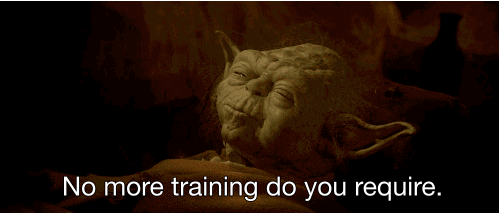 If you wanted to add humor, you can send "Do it!" and you could choose: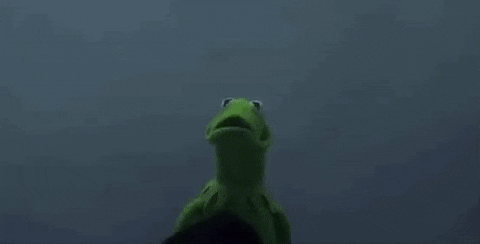 See? Doesn't have to be hard or overly thought out. This is about sharing your sentiment quickly with a GIF instead of a longer response. Using what you know can make it familiar.
Even if you aren't a Star Wars fan, you can get what I was attempting to say in the example without much more context. That is the sign of good gifing.
Method #2 for finding the perfect corporate GIF
Use who you know
Like the first method, this is pretty simple, but because it takes a bit more searching, it's #2. Who do you know better than anyone else in the world? Yourself! Remember my first GIF selection based on the glasses and jacket? Yep, that's me — ish. 😉
Using me as the example here, I'm a very expressive person and smile… a lot! Even now, I've got one on while I'm typing.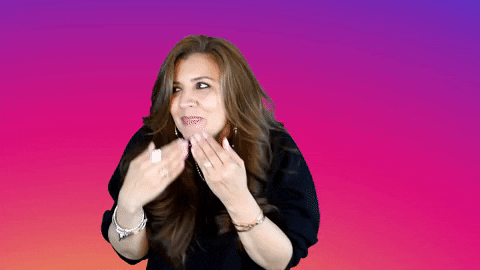 This GIF? I chose it not only for that smile, but her bracelets, hair, and lipstick. Why? Because I wear a similar shade when I do my makeup, have my Pandora bracelets and bangles on each wrist, and love my wand curls.
I'm also the resident cheerleader (yes, it is a sport, and I was at a competition level through college, thank you! 😊). So, I would have shared this GIF with the supporting-my-teammate-speaking-up-in-a-meeting example: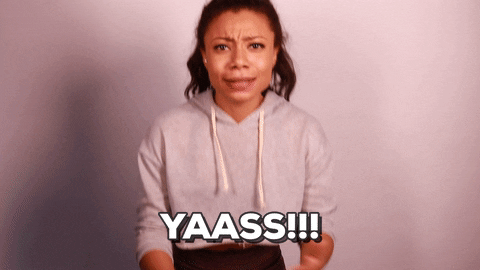 In fact, this is my very own go-to GIF for support or celebration! Either way, using you as a blueprint to find GIFs is a solid choice people will recognize. They will see you in the GIF and react to that relationship.
Ever sent a friend the rolling eye emoji and they said they could imagine you doing it? Or they saw a picture somewhere and the person's expression reminded them of you? This is the same recall you enact with GIF use — it's all about how we process information and deal with memory.
So, see? Gifing is scientific! (Or at least it can really make the day go faster! ;))
Method #3 for finding the perfect corporate GIF
Use phrases or keywords
Now we'll have to jump into what is not so easy, and why many people can't find the GIF they want or are looking for. First, understand that while there are millions of options available, the way each GIF is tagged can make it difficult to find what you want. Learning how to search properly can help with gifing.
This is where stemming and lemmatization in Natural Language Processing (NLP) help when thinking of a phrase. While these terms have pretty technical usages in this kind of analysis, thinking through the difference conceptually can help you to improve your search terms.
For example: You want to find a GIF that says "I don't feel like adulting today."
Stemming is a process that finds the root of a word. In the example, it would focus on "adult".
Lemmatization is a process of finding the form of the word in the dictionary. In this case, the same "adult" would be returned, but it takes in the meaning of it, too.
Why does this matter? Because most people search unconsciously using stemming, their results show anything that can do with the word "adult", and I won't be sharing those examples for obvious reasons.
Be the "lemmatization" when you search!
The root of what you're searching for is not wanting to be responsible or have to "adult" as a pop culture term.
In my search I put: "don't be responsible" in GIPHY, a leading GIF search engine, and here were my first few results:

Ding, ding, ding! We have a winner. I have a GIF that showed up that said exactly what I wanted almost. I'd send GIF #3.
It's not always about searching for what you want directly (though you can sometimes get a hit for niche or one you already know is out there), but to work in the idea, or the root of your word, then search.
Examples of GIF searches
For those who may need a little more help—or inspiration—I'm going to share my exact search for some of the GIFs and how I found them.
Girl with glasses: Searched "Thinking think"  – I like Winnie the Pooh, so I was looking for his normal thinking GIF, and this one popped up and was perfect!
Appropriate gift: Searched "appropriate gift" – I went with appropriate instead of perfect because I wanted to have some awkwardness built in.
Ganbatte: Searched "ganbatte" – Using what I searched directly for a GIF saying this and with a look that people could understand without knowing the word.
Arrested Development: Searched "mistake" – alternately, searching "made a mistake" brings it up closer to the first line of results from the third line.
Michael in The Office: Searched "don't wanna work" – I'm a big fan of The Office, so I gravitated to Michael, but the search was for this sentiment.
You see? It's a mixture of what I know, me, and how I search.
Now go out there and give the GIF that keeps on giving!