Picture this: you really want an amazing dinner but have no time to cook it yourself. You know the night when you want good home cooked food, but are not really interested in being the one to slave over the stove. You remember this hole-in-the-wall place you've gone to a few times and it's just what you need. It's known locally as a "mom and pop" location, and everyone talks about how amazing the food and service is, and you can't get it anywhere else.
That moment is community.
It's local, a bit small, and is more of a resident spot than a tourist location, and that's perfectly fine! Those places really add something to the local community, and people rally behind keeping their doors open. You can do much of the same thing in business, supporting the community your company resides in and building it up.
Why? Because it's a good thing to do as a human being, but it's also very good for your business. Follow along as we discover why community support is the next stop in our Know Better, Do Better series!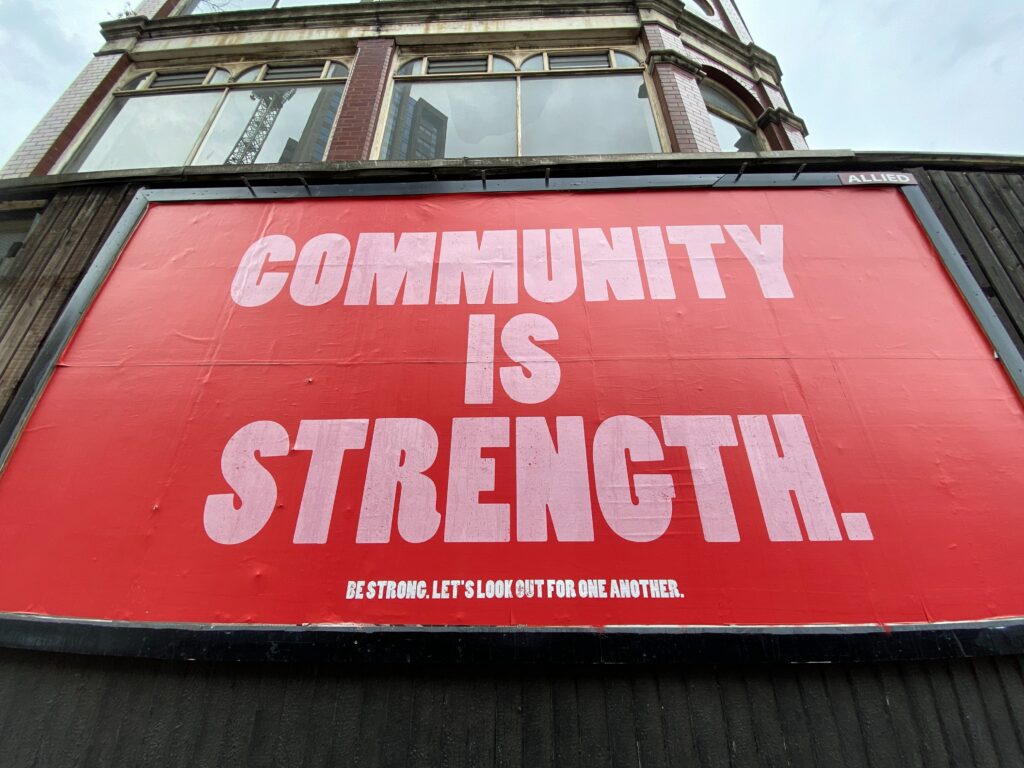 So, what defines your local community?
At the base, a local community is defined as a group of interacting people who are living in a common location. Note a couple of things in this definition: "interacting" and "location". It can't be much of a community without feedback, and that open communication is very important. Secondly, location can be as small as a street someone lives on or a neighborhood they're situated in, or as large as a country. They are all varying degrees of community. Getting more local typically shrinks a larger community to those that have more of a chance of direct interaction.
For example… a local McDonalds selling Szechuan Sauce in only particular regions. Or a credit union providing scholarships to the nearest high school graduates.
Any company that wants to invest in their local community will find several different benefits from this endeavor, even beyond corporate social responsibility initiatives. It's about getting to the essence of being about people. Many companies tout customer-centric philosophies, but do it with a focus on their bottom line. Changing this narrow scope to even those who are not your direct customers feels more authentic and selfless—the base of true CSR.
Benefits of supporting local community
There are many obvious ways of providing local community support: brand awareness, visibility, positive PR, marketing outreach, acquisition of new customers. These are more operations or business-focused benefits, however. When it comes to customer-centric—and honestly more sustainable—benefits, they may not be as recognizable.
Expansion revenue – Of course we want to point out the direct business connection between community support, and that is revenue generated through current customer base versus acquisition. CSR initiatives can increase customer loyalty, especially when they see your support of "the little guy".
Talent acquisition – Sometimes corporations can seem unattainable or even untouchable to people. Showing a human side, getting to know what your community can offer you, can lead to uncovering surprising talent to bring into your business. Not only would you be supporting the local economy by providing jobs, but you also gain engaged talent invested in your success!
Stimulating Local Economy – Beyond jobs at your organization, support of the community influences entrepreneurship, social relationship building, and growth in the area that translates to more dollars funneling into the area. This can give this area sustainability as well as economic advantage—something imperative in economically uncertain times.
Building well-being – A more intrinsic benefit, for both employees and community, but one that certainly brings the community together and creates more profitable relationships from every angle. A web, if you will, of connected people and specialties, that strengthens the foundation of the area by its very nature.
Reduce environmental impact – By working with local infrastructure and setup, you can find fewer costs and disruption through this form of expansion than opening other locations elsewhere. The community is already built for you, and you're supporting it while also increasing your own market share. The lower costs that are possible can also turn into further wins for your organization.
Companies that are inspirational
When looking for inspiration to support your local area, you should really think outside the box and listen to what members there truly need. It can be as simple as job offerings or gift cards to local shops, or only catering lunch from locally owned establishments. Or you can get bigger and build recreational centers or support major donorship. The sky is the limit here. But for starters, let's look at some companies that have done other cool things, too!
The Hollister Group – Community fueled the inspiration and start of this company for its CEO, and they continue to give back through a recent program. They focused on co-creating the programs that are part of RecoveryWorks – a non-profit program at Massachusetts General Hospital, an affiliate of Harvard Medical School. It's dedicated to connecting individuals who have substance use disorders with employment opportunities and matching their level of experience and skill sets.
The Mom Project – They have several projects for the community, but I'd like to highlight RISE, which is a scholarship program committed to accelerating equity for moms of color. RISE provides access to upskill certifications while harnessing the power of community, support, and job placement—all in as little as three months and at no cost to participants!
Getting into it!
If you're not sure where to start or looking for inspiration to develop a feedback survey to send to your community, look no further. Here are some great examples to help inspire you on the road to better connection with your community.
Now is the best time to get feedback from your employees and community about what matters most to them and use that info to decide which CSR initiatives to pursue. Checking the pulse of your employees and customers can lead to deeper knowledge and better relationships. Don't know where to start? We're here to support your efforts!