The healthcare industry is undergoing a significant shift in its workforce dynamics with the emergence of gig workers playing a crucial role in combating staff retention and nurse turnover challenges. This trend has gained traction due to the flexibility, adaptability, and efficiency that gig workers bring to healthcare settings.
Understanding the challenges: Staff retention and nurse turnover
Before delving into the role of gig workers, let's examine the challenges faced by the healthcare industry in terms of staff retention and nurse turnover. To put things into perspective, these issues have far-reaching consequences, including:
Increased workload for remaining staff
Decreased patient satisfaction
Compromised quality of care
The average registered nurse (RN) turnover rate in the United States is recorded at 22.5% and 22.7% for hospital turnover. This turnover can be attributed to various reasons, but those highlighted are long working hours, burnout, inadequate support systems, and limited career growth opportunities.
Those numbers may not seem high, but they can be highly detrimental to operations and patient care. The 2023 NSI National Health Care Retention & RN Staffing Report found that in the last 5 years, the average hospital had turned 100.5% of their workforce.
This is where gig workers stepped in to balance the scales.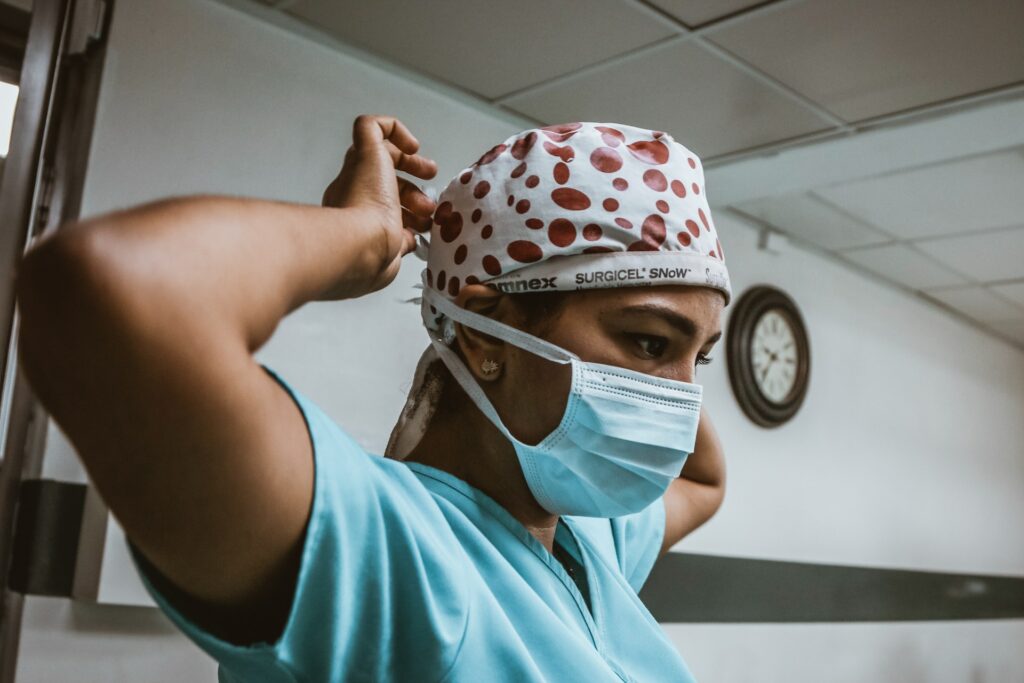 What is a gig worker?
A gig worker, also known as a freelancer or independent contractor, is an individual who performs short-term, project-based work for various clients or organizations on a temporary basis.
Rather than being employed in a traditional, full-time role, gig workers are hired PRN, or on a per-task or per-project basis. They often work independently, setting their own schedules and determining the scope of their work.
Gig workers can be found in various industries, not just healthcare. They offer their skills, expertise, and services to clients or companies seeking specific tasks or projects to complete.
How did we get here?
The gig economy has gained popularity in recent years due to advancements in technology and the desire for more flexible work arrangements.
In the healthcare industry, gig workers can include registered nurses, licensed practical nurses, healthcare aides, medical coders, medical transcriptionists, and other healthcare professionals. They may work in hospitals, clinics, long-term care facilities, or home healthcare settings, providing temporary staffing solutions and filling gaps in healthcare delivery.
You may have been seen by a gig worker without even realizing it!
Many are familiar in the healthcare industry with the concept of traveling nurses. Gig workers are an extension of this. Gig workers bring value to organizations by offering specialized skills, flexibility, and scalability to meet fluctuating demand. They can adapt to different healthcare settings and provide services as needed, helping to address staffing shortages, manage patient volumes, and maintain high-quality care.
The importance of gig workers in healthcare
There are several areas where you can see how important gig workers are in healthcare.
Flexibility and scalability
Enhanced patient care
Bridge to permanent staffing
Cost-effectiveness
Flexibility and Scalability:
Gig workers offer healthcare facilities the flexibility to address fluctuations in patient volume and staffing needs. By engaging gig workers, hospitals and clinics can ensure adequate staffing levels during peak periods, reducing strain on existing staff and maintaining high-quality patient care.
Gig workers can help alleviate the burden of understaffing, leading to improved patient outcomes.
Enhanced Patient-Centered Care:
Gig workers bring a diverse range of skills and experiences to healthcare settings, enabling them to cater to a broader patient population.
For instance, gig nurses who specialize in geriatric care can provide personalized attention to older adults, improving patient satisfaction and overall outcomes.
This approach aligns with the shift towards patient-centered care, ensuring that patients receive tailored treatment and support.
Bridge to Permanent Staffing:
Gig work can serve as a steppingstone for individuals transitioning into permanent healthcare positions. Many gig workers, such as recent nursing graduates or professionals seeking career changes, view these opportunities as valuable experiences that can enhance their resumes and open doors to long-term employment.
This mutually beneficial arrangement helps address the nursing shortage while allowing gig workers to use an app to find work and gain valuable skills and industry exposure.
Cost-Effectiveness:
Healthcare institutions are often burdened with high costs associated with recruitment, onboarding, and training of permanent staff members.
Utilizing gig workers can alleviate these financial strains as organizations can hire gig workers on a project-by-project basis or during times of increased demand, saving costs on benefits, salaries, and other overhead expenses.
Gig workers save businesses an average of 30% in labor costs compared to traditional employees.
Are your nurses suffering from burnout?
Find out where to make the most impact with
Key Driver Analysis and Sogolytics!
How to attract gig workers
Attracting more gig workers to the healthcare industry requires a proactive approach that addresses their unique needs and preferences.
Here are several strategies that healthcare organizations can implement to attract and retain gig workers:
1. Flexible work arrangements: Gig workers value flexibility in their schedules and work arrangements. Healthcare institutions can offer flexible shifts, part-time opportunities, and the ability to choose assignments based on availability and personal preferences. Providing options for remote work or telehealth services can also attract gig workers who prefer location independence!
2. Competitive compensation: Competitive compensation and pay transparency are crucial to attract gig workers. Healthcare organizations should research prevailing market rates and ensure that the pay for gig workers aligns with industry standards. Recognizing the value of their skills and experience through fair compensation will make the healthcare industry more attractive to gig workers.
3. Streamlined onboarding and credentialing: Simplifying the onboarding process and reducing administrative burdens can help as well. Establishing efficient systems for credentialing, licensing verification, and background checks will streamline the hiring process, enabling gig workers to start working quicker and minimizing delays.
4. Clear communication channels: Establishing clear communication channels is needed for gig workers to stay informed and engaged. Providing a designated point of contact or a dedicated platform where gig workers can access information, ask questions, and receive updates about assignments fosters a sense of connection and support.
5. Professional development opportunities: Offering opportunities for professional development and skill enhancement can attract gig workers seeking growth and advancement. Healthcare organizations can provide access to training programs, continuing education courses, or certifications to help gig workers develop their skills and stay updated with industry advancements.
6. Positive work environment: Fostering a culture of respect, support, and collaboration, regardless of employment status, contributes to job satisfaction and encourages gig workers to choose healthcare organizations that prioritize employee well-being.
7. Recognition and feedback: Recognizing gig workers' contributions and providing regular feedback on their performance helps create a sense of belonging and motivation. Acknowledging their efforts, achievements, and impact on patient care reinforces their value and encourages them to continue working in the healthcare industry.
8. Transparent rating and review systems: Implementing transparent rating and review systems can benefit both gig workers and healthcare organizations. Such systems allow gig workers to showcase their skills and professionalism while enabling healthcare organizations to make informed decisions when selecting gig workers for assignments.
9. Collaborative work culture: Encouraging collaboration and teamwork between gig workers and permanent staff fosters a cohesive work environment. Including gig workers in team meetings, professional development activities, and decision-making processes helps them feel valued and part of the healthcare team.
10. Strong employer branding: Effective employer branding can attract gig workers to healthcare organizations. Highlighting the positive aspects of working as a gig worker in the healthcare industry, such as flexibility, professional growth opportunities, and the ability to make a meaningful impact on patient care, can attract individuals seeking gig work.
By implementing these strategies, healthcare organizations can enhance their appeal to gig workers and build a sustainable workforce model that benefits both the healthcare industry and the gig workers themselves.
The rise of gig workers in the healthcare industry has become an essential solution for addressing staff retention and nurse turnover challenges. By embracing gig workers and integrating them seamlessly into existing healthcare teams, we can create a more sustainable workforce model that enhances both patient care and job satisfaction.
As the healthcare industry continues to evolve, leveraging the skills and talents of gig workers will undoubtedly play a vital role in shaping its future.
Looking to understand the growing demands in your healthcare organization?
Sogolytics can help!
Capture feedback from gig workers, hospital staff, and patients alike to get a holistic perspective of what you're doing right – and how you can improve!