Are you afraid of the dark?
Turns out, more people are afraid of low response rates.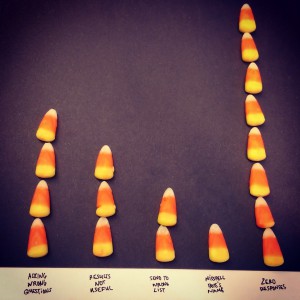 In honor of Halloween, we ran a quick survey to pick the juicy brains (too zombie?) of our community members on topics both ghoulish and practical. You've probably already seen some of the favorite jokes we collected from participants scattered across our social media streams.
The survey was shared out to users in our monthly newsletter, publicized through social media, and discussed on our very own SoGoLive. (Want some SoGoLove? Join us every Tuesday at 2 ET! Can't get enough? Follow us on Facebook, Twitter, Instagram, LinkedIn… ) If you're wondering how we chopped off such nice whole numbers, yes, they're rounded. And, yes, we'd always love to hear from more people, and we will next time!
For now, we proudly present THE DATA!
The prize for "best-ever Halloween costume" goes to… fictional characters, with 21% of participants. In second place, superheroes were catching up at 16%, and leaving ghosts and animals tied for third at 11%.
If I tell you the next question was about favorite candies, can you already guess the top answer? If you said candy corn, the spirit of the season has carried you away. If you said chocolate, your sweet tooth speaks the truth! When asked to identify their top three favorite candy types, 84% of participants said chocolate. At 47%, jelly beans finished a surprisingly (to me!) high second, and lollipops and gummies tied for third at 32%. (Does two tied thirds make a trend, or just a tongue twister?)
On the survey side of things, 84% of participants said they conduct surveys, and 69% said they use Sogolytics (Thanks for knocking on our door, friends!). Of those who don't conduct surveys, 0% gave their reason as "I already know everything!" Well played, answer options.
Bringing it all together, we asked participants to share their biggest survey-related fear. Results were more mixed, but the overwhelming topper was "Zero responses" at 42%. Next was asking the wrong questions (21%), results that aren't useful (16%), sending to the wrong list (11%), and "spelling my boss's name wrong" (5%). We were glad to see that nobody chose "Total embarrassment" — we've got your back!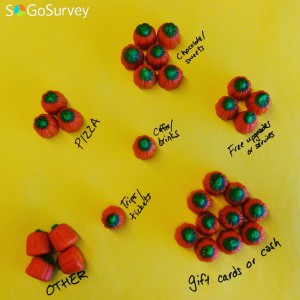 For a sweet ending, we asked "What treats have you offered to motivate participants?" The top result was no surprise — it's the same prize we're giving one lucky participant following our Halloween day drawing! "Gift cards or cash" ranked first with 53%, "chocolate or other sweets" came in second at 35%, and third place went to "Free upgrades or services" at 24%. Curious about the bottom of the candy barrel? "Pizza or pizza" finished just ahead of the two tied for last — "Coffee or other drinks" and "Trips or tickets"
Prefer tricks to treats? Participants also shared their best tips for successful surveying. Results include: "Reminders and follow-ups", "Test, test, and test", both "Make questions meaningful and straightforward" and "Asking questions that are emotionally meaningful to participants", both general "Marketing" and specifically "Sharing on Facebook with a video intro", "Be honest", and "Honestly, keep my attention and 100% love surveys 10-30min."
So, what have we learned? You might say our participants are literary chocolate lovers who fear low response rates but prepare well with meaningful questions, short surveys, and good marketing and communication strategies, perhaps including gift cards or cash. Even if some of these results matched our guesses, it's always better to ask! #butfirstdata
Happy hauntings!
Ready to get started? Learn more about Sogolytics today!