In the ever-evolving landscape of the modern workplace, organizations face a growing imperative not only to attract and retain top talent but also to nurture and develop their employees continuously. As the demand for continuous learning and professional growth intensifies, innovative approaches to employee experience (EX) have become essential for both the individual and the organization's success.
In our third installment of this series on immersive experiences, we delve into the realm of employee-centric immersive initiatives. While previous blogs explored immersive experiences for customers and the lifestyle aspects of CX, this edition takes a closer look at how immersive experiences are transforming employee learning and development.
Imagine a workplace where training doesn't equate to hours of monotonous slideshows or uninspiring seminars but instead transports employees into realistic, interactive scenarios.
Picture employees eagerly embracing diversity and inclusion through immersive empathy-building exercises or mastering complex technical skills through lifelike simulations.
These are just glimpses of the immersive possibilities in the realm of employee experience.
In this blog, we journey through the transformative world of immersive learning for employees.
Join us as we embark on this immersive exploration into the power of learning, development, and growth in the modern workplace. Let's dive into the experiences that are making work not just a place for employment but a space for continuous learning, improvement, and personal and professional transformation.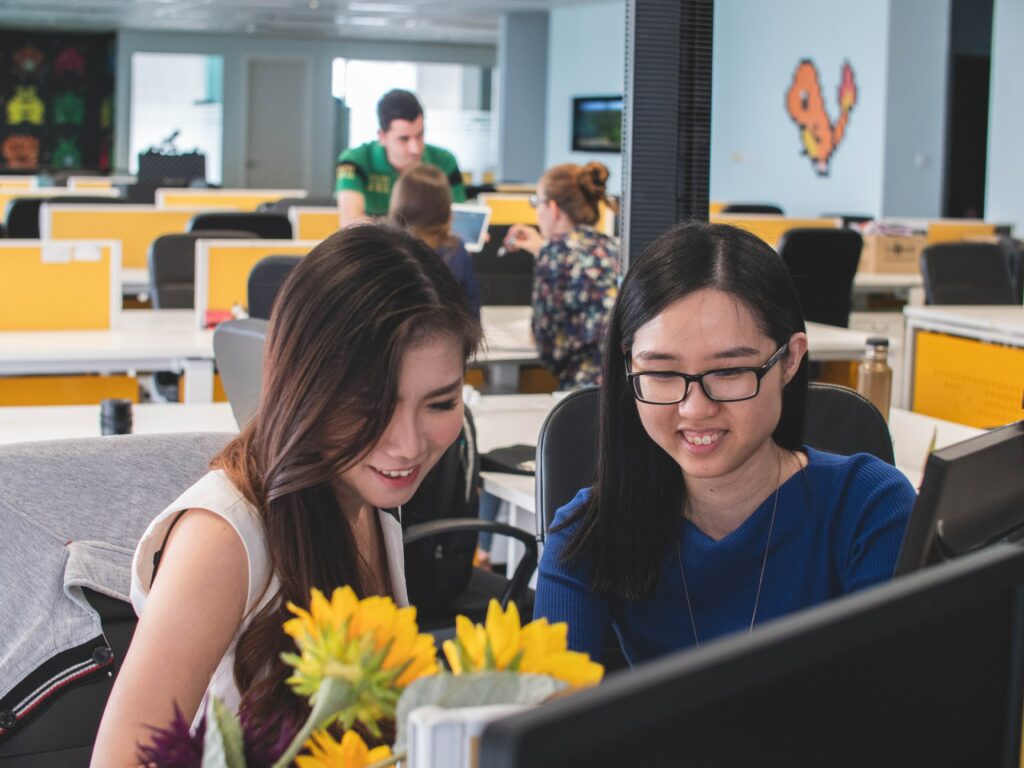 What is immersive employee experience (EX)?
Immersive employee experience (EX) is a strategic approach that focuses on creating a work environment and culture that deeply engages and involves employees in a way that goes beyond the traditional employee-employer relationship. It leverages various strategies and technologies to create an immersive and impactful workplace experience.
So, how can leaders and management use immersive EX to improve employee learning experience?
Through personalized experiences that drive employees' satisfaction and engagement skyward.
You would undoubtedly want to provide these sorts of experiences for your employees, and we'll show you how.
Here are some key aspects and components of immersive EX:
Sensory engagement
Sensory engagement can transform EX by creating a work environment that stimulates the senses positively. Incorporating elements like calming scents, soothing background sounds (like a soft rustling of leaves), and visually appealing surroundings (such as fall-themed decorations) can create a more pleasant and engaging workspace.
Visual realism
Visual realism isn't limited to customer experiences; it can significantly impact EX, too. Just as customers appreciate accurate representations in immersive experiences, employees value workspaces that reflect real-world aesthetics. A well-designed office with aesthetic interiors and décor that reflects the season and the mood (for example, fall-inspired décor) can create a comforting and inspiring environment, enhancing morale and productivity.
Spatial audio
Implementing spatial audio techniques within the workplace can also enhance employee experience. Imagine an office where the gentle sound of a babbling brook or the distant hum of a cool breeze is incorporated. These auditory cues create a soothing backdrop and help employees feel more connected to the environment.
Interaction and interactivity
Promoting interaction and interactivity in the workplace fosters a sense of community and collaboration among employees. For instance, hosting fall-themed team-building activities like pumpkin carving contests or apple cider tastings can break down barriers and create a more engaging work atmosphere.
Deep employee engagement
Immersive EX aims to foster a high level of employee engagement by making employees feel more connected to their work, their colleagues, and the organization. This heightened engagement can lead to improved job satisfaction and retention.
Use of Technology
Immersive EX often incorporates technology solutions to enhance the employee experience. This can include virtual reality (VR) or augmented reality (AR) simulations for training and development, immersive onboarding programs, and advanced collaboration tools.
Personalization
Just as customer experiences can be personalized, immersive EX seeks to provide personalized experiences tailored to individual employees' needs, preferences, and career paths. Personalization can enhance job satisfaction and productivity.
Inclusivity and diversity
Immersive EX emphasizes creating an inclusive and diverse workplace where employees feel valued and respected. This can include diversity and inclusion training, accessible workspaces, and initiatives that promote equality.
Learning and development
Immersive EX often includes immersive training and development programs that provide employees with hands-on experiences, simulations, and real-world scenarios to enhance their skills and knowledge.
Wellness and well-being
Prioritizing employee well-being is a crucial aspect of immersive EX. Companies may offer immersive wellness programs, stress reduction activities, and work-life balance initiatives.
Physical and virtual workspaces
The hybrid and remote world is here to stay, and immersive EX can extend to both physical and virtual workspaces. In physical workplaces, companies may design immersive office environments that inspire creativity and collaboration. In virtual or remote workspaces, immersive technologies can create a sense of presence and connection among distributed teams.
Leadership and communication
Effective leadership and communication are integral to immersive EX. Leaders should be trained in immersive leadership techniques to engage employees and create a positive organizational culture.
Performance feedback
Immersive EX often involves continuous feedback and performance evaluation processes that use immersive technologies to provide real-time insights and coaching to employees.
Community and collaboration
Creating a sense of community and collaboration among employees is a central goal of immersive EX. This can involve immersive team-building activities, virtual collaboration spaces, and social engagement initiatives.
Measurement and analytics
Companies often use data and analytics to measure the effectiveness of immersive EX initiatives. This data helps identify areas for improvement and refine the employee experience over time.
Adaptation and evolution
Immersive EX is not a one-time initiative; it's an ongoing effort that evolves to meet changing employee needs and organizational goals. Continuous improvement is key to its success.
Immersive employee experience aims to create a work environment where employees are not just passive participants but active contributors who feel deeply connected to their work and organization. When done effectively, it can lead to improved employee retention, increased productivity, and a more positive workplace culture.
Ready to evolve your EX?
Tap into insights from your own employees! Let us show you how Sogolytics can help.
How do you create immersive employee experiences?
Creating immersive employee experiences (EX) involves a thoughtful and strategic approach that integrates various elements to deeply engage employees and enhance their overall work environment.
Here's a quick and easy step-by-step guide on how to create immersive employee experiences:
Understand employee needs and preferences
Begin by conducting surveys, focus groups, and interviews to understand what your employees value and need in their work experience. Recognize their diverse preferences and motivations.
Set clear objectives
Define specific objectives and goals for your immersive EX initiatives. Determine what you aim to achieve, whether it's increased employee engagement, improved skills development, or enhanced well-being.
Leverage technology
Utilize technology to create immersive experiences. This can include virtual reality (VR), augmented reality (AR), Gamification, collaboration platforms, and interactive learning tools.
Design immersive training and development
Incorporating these aspects of immersive experiences into employee engagement efforts can lead to a more positive, productive, and satisfying work environment.
Personalize the employee journey
Tailor the employee experience to individual preferences and needs. Implement personalized learning paths, career development plans, and recognition programs.
Incorporate gamification
Integrate gamification elements to make work tasks and learning experiences more engaging. Leaderboards, rewards, and challenges can motivate employees and promote healthy competition.
Create inclusive workspaces
Design physical and virtual workspaces that foster inclusivity, collaboration, and creativity. Ensure accessibility for employees with disabilities and provide ergonomic solutions.
Prioritize well-being
Promote employee well-being through initiatives like wellness programs, stress reduction activities, flexible work arrangements, and mental health support.
Encourage continuous feedback
Implement regular feedback mechanisms that allow employees to share their thoughts, concerns, and ideas. Use feedback to make improvements and show employees their voices are heard.
Facilitate collaboration
Foster a culture of collaboration by providing tools and platforms for virtual teamwork, brainstorming, and knowledge sharing. Encourage cross-functional collaboration and idea exchange.
Immersive leadership development
Train leaders in immersive leadership techniques that promote engagement, active communication, and empathy. Leadership plays a crucial role in shaping the employee experience.
Measure and analyze
Implement analytics to measure the impact of immersive EX initiatives. Track metrics such as employee engagement levels, training effectiveness, and well-being indicators.
Promote social engagement
Organize immersive team-building activities, social events, and online communities to foster a sense of belonging and camaraderie among employees.
Continuous improvement
Immersive EX is an ongoing effort. Continuously gather feedback, analyze data, and adapt your initiatives to meet changing employee needs and organizational goals.
Employee involvement
Involve employees in the design and decision-making processes related to immersive EX. This participatory approach empowers them and ensures initiatives align with their expectations.
Communicate effectively
Keep employees informed about immersive EX initiatives, their benefits, and how to participate. Transparent and effective communication is essential for success.
Celebrate success and recognize achievements
Acknowledge and celebrate employee achievements, whether through virtual ceremonies, rewards, or public recognition. Recognizing efforts boosts morale and motivation.
Evolve and adapt
Be flexible and ready to adapt your immersive EX strategies based on feedback and changing workplace dynamics.
Creating immersive employee experiences requires a commitment to understanding employee needs, leveraging technology effectively, and continuously evolving to meet the evolving expectations of your workforce. When done well, immersive EX can lead to more engaged, motivated, and satisfied employees, ultimately benefiting the organization as a whole.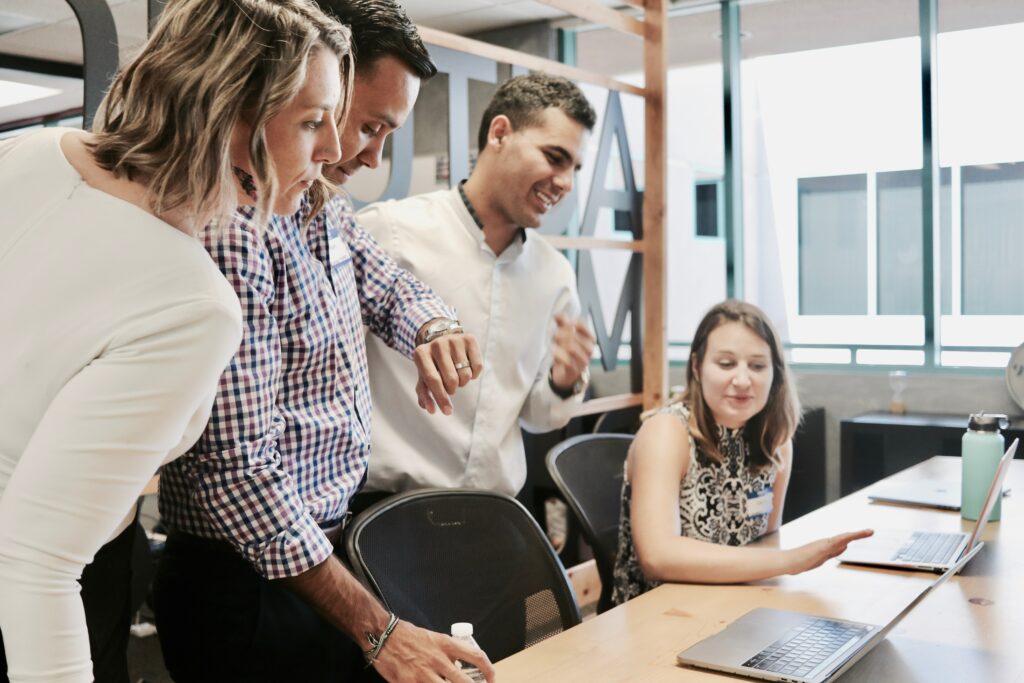 What makes good immersive experiences for employees?
Good immersive experiences for employees are those that deeply engage and involve employees, fostering a strong sense of connection to their work, their colleagues, and the organization. These experiences contribute to a positive workplace culture, enhanced job satisfaction, and increased productivity.
Here are key elements that make good immersive experiences for employees:
Relevance and personalization – Immersive experiences should be relevant to employees' roles and career aspirations. They should be personalized to cater to individual preferences and learning styles.
Learning and skill development – Provide opportunities for employees to acquire new skills and knowledge. Immersive training programs, workshops, and simulations can help employees grow both personally and professionally.
Interactivity and engagement – Immersive experiences should be interactive and engaging, encouraging active participation. Gamification, problem-solving scenarios, and hands-on activities can capture employees' attention and make learning enjoyable.
Realism and authenticity – Create immersive experiences that closely mimic real-world situations. Realistic scenarios and environments make learning more practical and relatable to employees' daily tasks.
Feedback and assessment – Incorporate mechanisms for employees to receive immediate feedback on their performance within immersive experiences. Constructive feedback helps employees improve and build confidence.
Accessibility – Ensure that immersive experiences are accessible to all employees, including those with disabilities. Provide accommodation and alternative formats as needed.
Leadership support – Leaders should actively support and participate in immersive experiences. Their involvement sends a message of commitment and importance to the initiatives.
Communication and transparency – Communicate the purpose and benefits of immersive experiences clearly to employees. Be transparent about how these experiences align with the organization's goals and their professional development.
Measurement and continuous improvement – Implement metrics and analytics to measure the impact of immersive experiences. Use feedback and data to continuously improve and refine the programs.
Alignment with organizational values – Ensure that immersive experiences align with the organization's core values and culture. This alignment reinforces the company's mission and vision.
Empowerment and autonomy – Give employees a sense of control and autonomy within immersive experiences. Allow them to make decisions and choices that impact the outcome, fostering a sense of ownership.
Flexibility and adaptability – Be flexible and adaptable in delivering immersive experiences. Tailor them to changing employee needs and preferences.
Celebration of milestones – Celebrate milestones and achievements within immersive experiences. This can create a sense of accomplishment and motivate employees to continue participating.
Good immersive experiences for employees prioritize their growth, well-being, and engagement. They create a positive and supportive work environment where employees feel valued, empowered, and motivated to excel in their roles.
What is an example of immersive EX? An in-depth look
An excellent example of immersive Employee Experience (EX) is provided by Accenture, a global management consulting and professional services firm, through its Virtual Reality Immersive Learning Program.
Virtual Reality Immersive Learning Program by Accenture
Objective: Accenture introduced its Virtual Reality Immersive Learning Program to transform its employee training and development processes. The objective was to provide employees with immersive, hands-on training experiences that enhance their skills and knowledge.
How it works
In this program, employees use virtual reality headsets to enter realistic, three-dimensional virtual environments where they can engage in various training scenarios. For example:
In the cybersecurity training module, employees simulate real-world cyberattack scenarios and learn to respond effectively.
Sales and customer service teams participate in immersive role-playing exercises that mimic customer interactions.
Engineers and technicians receive hands-on training in complex machinery maintenance and repair within virtual environments.
Let's look at the key elements of immersive CX in Accenture Virtual Learning Program:
Relevance and personalization: Training modules are tailored to each employee's role and level of expertise, ensuring that the experience is directly applicable to their job.
Realism and authenticity: The virtual environments are highly realistic, providing employees with a sense of presence and the opportunity to practice real-world tasks.
Interactivity and engagement: Employees actively participate in the training scenarios, making decisions and taking actions that impact the outcome. This engagement enhances learning.
Feedback and assessment: Employees receive immediate feedback on their performance within the virtual training scenarios. This feedback helps them identify areas for improvement.
Continuous learning: The program encourages continuous learning by offering a library of VR training modules on various topics, allowing employees to expand their skills at their own pace.
What are the benefits of immersive CX for Accenture?
Enhanced skills: Employees acquire and sharpen their skills in a safe and controlled virtual environment, reducing the risk associated with on-the-job training.
Engagement and motivation: Immersive experiences are engaging and motivating, making learning more enjoyable and effective.
Cost savings: Accenture reported cost savings by reducing the need for physical training facilities and travel expenses associated with traditional training programs.
Efficiency: Employees can complete training modules more efficiently, reducing the time required for skills development.
Flexibility: The program offers flexibility, allowing employees to access training modules whenever and wherever they prefer.
Accenture's Virtual Reality Immersive Learning Program is a prime example of how immersive EX can be used to enhance employee training and development, ultimately resulting in a more skilled and engaged workforce.
Incorporating these aspects of immersive experiences into employee experience efforts can lead to a more positive, productive, and satisfying work environment.
Looking to find ways to improve your EX with immersive experiences for your employees? Sogolytics is the perfect solution for you!