When you're ready to launch your survey, the first thing you need to do is decide how you want to distribute it. With Sogolytics, you can launch your survey via email, website, social media, or text message. This post will show you how to launch your survey via email invitation, along with some best practices tips. You can also watch the video at the end of this post.
1. Go to Launch a Survey and select your survey.
2. Select Customize Invitation/Customize Email Invitation.
3. Add the Sender Name. This is the name invitees will see in their inbox. This should be a name that is very recognizable to your participants so they will be more likely to open it.
4. In the Sender Email Address, add the email address of your survey's point of contact. The invitations are actually sent by the Sogolytics server, but any replies to your invitation will go to this address. This is important so that respondents can ask any questions they may have about the survey.
5. Add your Subject. Some things to keep in mind:
Keep it short
Be specific as to the content of the survey vs. something general such as "We Want Your Feedback"
Include a call to action / action verb
6. Type in the content of your email. Keep it short and to the point, but be sure to include the following:
Why you're doing the survey
Who is authoring the survey
What you will do with the data
How long it will take to complete
When the survey will expire
Special information – whether it's anonymous, whether there are any incentives, and whether participants can Save and Continue later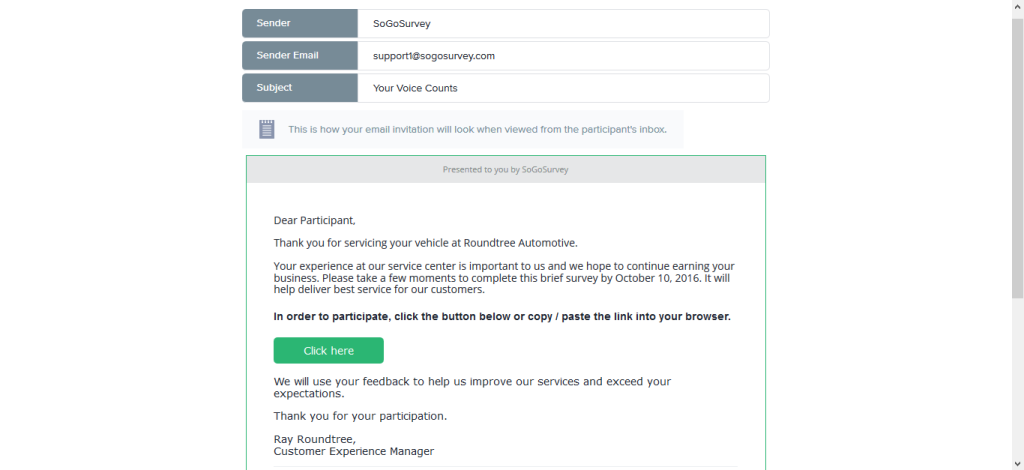 7. When you've completed your invitation, click Save & Send Invitation.
8. Select Unique (Single Use) URL. This ensures that you receive only one response per invitation. The wizard will walk you through the rest of the steps.