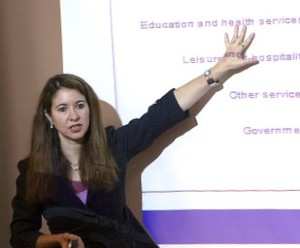 It's time. You need customer, employee or membership feedback. Or, you need to collect research data or find out why donations are down for your nonprofit organization. So what do you do? Deploy an online survey. Sounds good, as long as you're using an online survey tool that's up-to-date, easy to use, and effective. And if you're not… hello teeth-grinding.
Many if not most online survey tools do not offer up-to-date features or the features are priced out of reach. Customer support can be bad and your data unsafe.
Here are 10 essentials for online survey tools — so you can gather the answers you need to grow business, take action and build relationships.
Let's start with up-to-date features:
1. Advanced Design and Layout
OUT. Plain, old boxy surveys. IN. Visual appeal that engages participants and boosts response rates. Advanced Design and Layout allows you to customize the look and feel of your survey with an array colors, fonts, headers, and footers. You can insert your logo, use your brand colors and add columns and rows. You can even embed multimedia and surprise your survey takers.
2. Advanced Branching with Skip Logic
As opposed to simple branching, Advanced Branching with Skip Logic provides for a smooth survey experience by routing respondents past irrelevant questions based on their answers to previous questions. This eliminates irrelevant questions (which erodes trust), along with useless data.
3. Secure Collaboration for Multiple Users
This feature is a boon for survey teamwork and data privacy. It eliminates password sharing, confusion, multiple licensing, duplicated efforts and snooping. Secure Collaboration for Multiple Users also allows you to enforce control over who can access certain features or view reports. For example, only the team leader would be able to launch the survey, and department heads would only be able to access results.
4. Guaranteed Anonymity
If your online survey tool requires you to launder your survey though another URL to retain anonymity, then anonymity is not guaranteed and the results you get are often useless. True Guaranteed Anonymity encourages useful, candid answers with sophisticated software that blocks identifying participant data or the ability to track it. This feature is powerful enough to meet the legal and data privacy standards of HR and healthcare professionals.
5. Mobile Distribution
With Mobile Distribution, you can reach survey participants via multiple channels including mobile phones and tablets. Two notes here: Be sure it works well because lots of times it does not, and be sure you can analyze responses by channel to see which one works best.
6. Prepopulation with read only, editable or hidden questions and answers
Prepopulation allows you to shorten the length of a survey by filling in information that is already known about the participant. Sophisticated prepopulation should also allow for read only, editable or hidden questions and answers.
In addition to up-to-date features, your survey tool must also offer the following:
7. Affordable Pricing
A price that works for your budget AND provides the features you need.
8. Responsive Customer Support
Not just any ol' customer support, we mean when-you-need-it, fast, smart customer support that makes you really happy when you hit a snag.
9. More Customer Support
In addition to rapid response email support, there should be instructional videos, a user guide, and other outlets to get your questions answered quickly and right. Speaking of, check out Sogolytics's new Community Forum.
10. Secure data
Participant data is private and sensitive. Be sure your survey tool hosts your data in secure data centers and is safeguarded with restrictions. Your survey tool should also have a TRUSTe Web Privacy Seal.
Whether your survey tool is a freebie or paid for, if you're not getting these services and features, upgrade now.