How often do you check in with your employees? Do you have your finger on the employee pulse?
While employee experience is often seen as a top HR priority, only 33% of employees truly feel engaged at work. The outcome is often high employee turnover, leading to another top HR challenge: Hiring.
So, what can companies do to improve retention rates and create a culture that employees love? We explored this issue during our latest SogoX webinar on "Rethinking Employee Engagement: How to Fix What's Broken", available in its entirety here.
The webinar, led by Sogolytics' Melissa Krut and Natasha Safronova, explored critical concerns and solutions regarding employee engagement.
Understanding the drivers behind employee engagement
What does engagement really look like?
While some people confuse employee satisfaction with employee engagement, engagement includes being connected, productive, and communicative as you work in collaboration with your team to deliver results. So, what drives people to engage? Most often, it's questions — but it could be concerns, compliments, or general feedback.
The employee's real life
Events in "real life" — marriage, adopting a pet, illness in the family — may prompt employees to reach out. They might want to clarify some concerns, seek an adjusted schedule, or understand how some company policies and benefits may help them in their current situation.
The employee's work life
Among other changes, moving to a new team or transitioning to a new role can prompt employees to seek help on being able to better deliver on their tasks and responsibilities.
The events within the company
What's happening in your company, such as a structural change or a new policy, may nudge your employees to reach out. Seeking feedback and support can help them to be more prepared for the potential impact rather than being stressed by the uncertainty.
The world beyond
Whether directly or indirectly, "big world" events can have a significant impact on employees. From local issues to global crises, our world is increasingly interconnected and you might not know how distant events may hit home.
What helps you improve employee engagement?
At the core of employee engagement is being able to understand the concerns that plague your employees – and addressing them. Here are the top things you need to do:
Always be listening
It's not enough to have an open-door policy. Sometimes employees need the certainty of anonymity to be able to speak their mind.
We use SogoConnect for our employees to reach out and register their complaints. Here, they have the choice to do so anonymously or as a "hidden customer" – in doing so, our platform allows us to respond to queries without ever knowing who they are from.
This foundation is what will tide you through employee engagement at various stages of the employee journey.
Get the full picture
An employee journey is not a straight line, and that's why it's important to always be listening and ensure you're addressing the right conversations at the right time.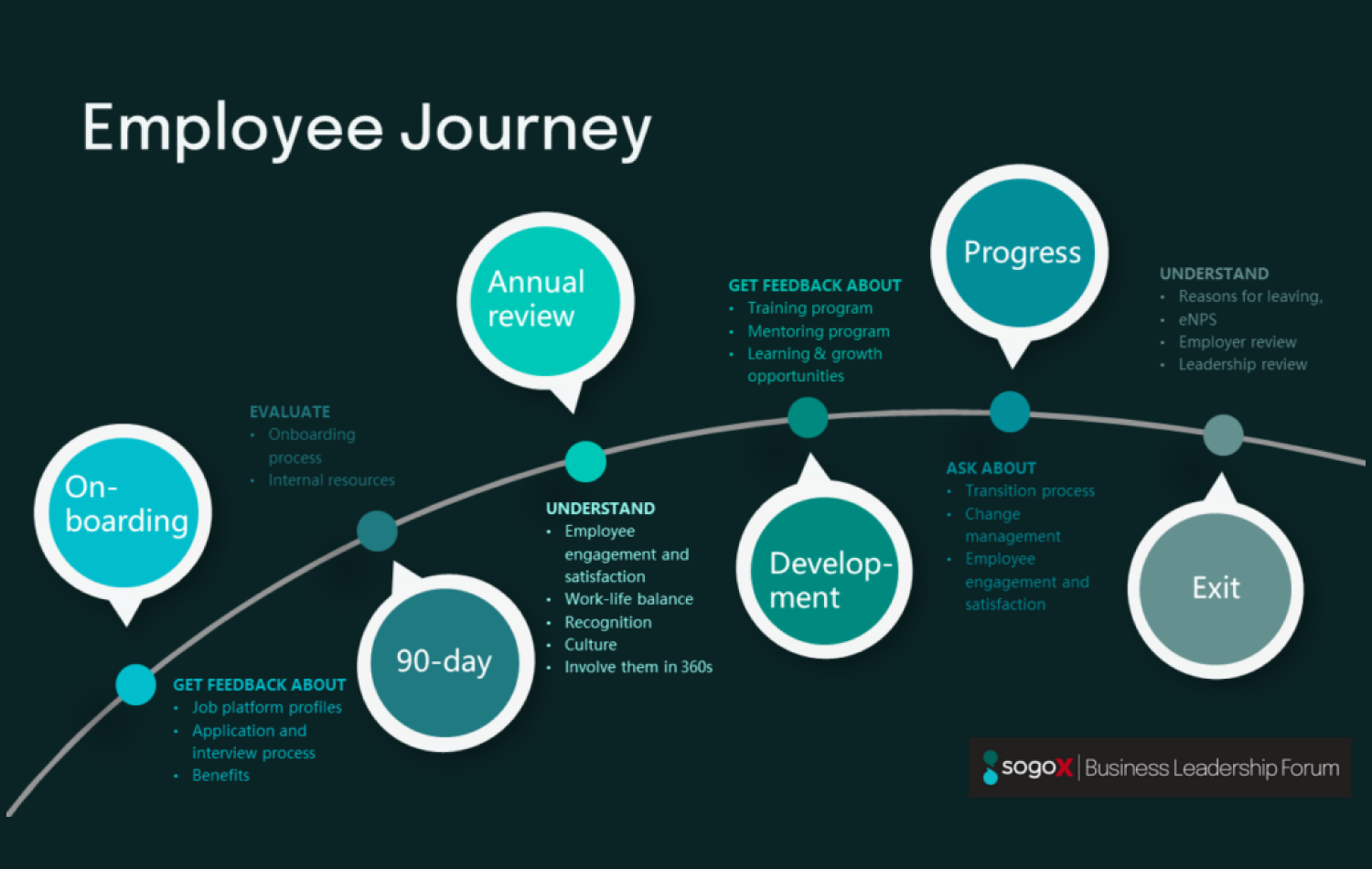 While this is a beautiful illustration of one employee's path, it doesn't necessarily cover all of the opportunities for engagement. When you consider a broader map — the employee's "real life", their timeline as an employee, and the important events and conversations from the company perspective — there can be a lot more overlaps!
Beyond setting up always-on listening, it can be helpful to nudge employees for periodic feedback by sending out pulse checks and watching for trends. Sometimes, you might notice trends that take place over time or – with the help of the magical powers of segmentation – you might identify differences based on location or even teams. This will allow you to target your engagement efforts to improve employee satisfaction and retention.
Be flexible and responsive
No matter how straightforward an employee journey is, there is always so much more happening in the life of an employee – they might get a new pet, have surgery, or just about anything else.
When you check in and proactively ask employees about their life and their work, you'll be able to create an experience that truly matters to them – ensuring they remain engaged and productive.
Lead the change
There's a lot to consider when rethinking your employee engagement strategy, and there's still plenty to explore! You might be wondering how you can best collect the data you need to get started, focusing your efforts where they'll matter the most. You can watch the complete webinar here, but remember that some of the best ideas will come from your own employees' feedback!
After all, as Melissa said, "Nobody knows your work better than your employees. Being able to keep that conversation going means that people are more likely to engage with you and give you ideas that will help your business."
Ready to elevate your company's employee engagement? Connect with us today and we'll be glad to share how we can help! Plus, check out additional sessions on our SogoX series to broaden your professional development!