"Once upon a time…" We hear those words and immediately want to settle in for a story. While you may not start your business story with those same familiar four words, there's little doubt that using storytelling in employee engagement is effective. This article will discuss the many reasons why.
We probably don't need to convince you that employee engagement matters. But, just in case, some reminders about the value of engaging your people, especially when they work remotely. Prioritizing employee engagement:
Increases enthusiasm among employees
Gets people invested in the company's growth
Helps build relationships among your team members
Fosters more support for your vision and mission
Turns your employees into brand ambassadors
With employee engagement supporting a healthy company culture, you can see increased productivity, improved retention, and a better bottom line overall.
Maybe you're already putting in the engagement work. Regrettably, people remain disengaged. In Gallup's most recent research, US employee engagement declined two percentage points from 36% to 34%. The drop marked the first annual decline in a decade.
Gallup also reported, "The ratio of engaged to actively disengaged workers in the US is 1.9 to 1, down from 2.1 to 1 in 2021 and 2.6 to 1 in 2020. The annual record high is a ratio of 2.7 to 1 in 2019."
So, now that we agree on the need for continued effort around employee experience. Let's move on to storytelling in employee engagement and how it can help.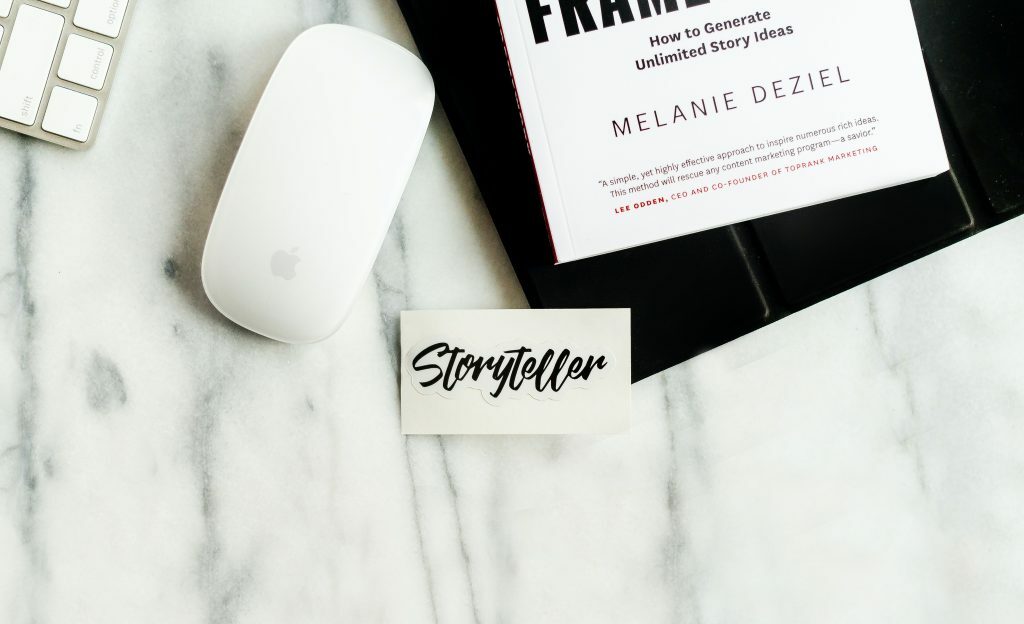 1. Triggers Emotion
This is a scientific fact. Character-driven stories have been shown to trigger the release of oxytocin. That's the same hormone that new moms feel when breastfeeding their babies. It's a hormone that motivates empathy and bonding. It's no big leap, then, to say that storytelling in employee engagement can strengthen loyalty.
Rather than giving people a PowerPoint presentation with bullets listing why a new mandate is necessary, think about creating a story to help people understand the reason for the change. The message is much more likely to resonate with your employees.
2. Personalizes the Message
Storytelling that involves real, personal experiences can be an effective way to engage employees. Imagine the dry recitation of percentages gained or lost with a graph in the background. Compare that with a founder getting up and walking employees through the origin story, and explaining how the business has grown exponentially from its humble beginnings. The latter gives the listener someone to connect to and gives them a sense of the human effort that went into the upward arrow in that quarterly review.
3. Enhances Employee Recollection
If pressed, you might still be able to name all seven of Snow White's dwarfs. Or you can likely remember what was wrong with each bear's porridge when Goldilocks committed her famous fairytale B&E.
Maybe it's because our brains are better at holding on to descriptions and details we can visualize. Or that we've felt what storytelling researcher Paul J. Zak terms "transcendent purpose." Feeling the pain of the character and the pleasure of a resolution motivates people to relate to how the organization improves lives (transcendent), more than how it sells goods and services (transaction).
4. Connects Employees
"Stories are an entry point to understanding a different experience of the world," said Clare Patey, Director of the Empathy Museum in the UK. "Stories have a transformative power to allow us to see the world in a different way than we do if we just encounter it on our own."
With the oxytocin kicking in while we're learning about someone else's experience, storytelling encourages empathy and inclusion. This can help connect team members, which not only supports employee engagement, but can simultaneously benefit your diversity and inclusion efforts.
5. Builds Brand
Stories are active. There is the storyteller and the story's recipient. While listening to or reading the story, the receivers apply their own interpretations. This involvement in the story can encourage brand ownership. When employees apply their own experiences to the brand narrative, they are more likely to feel connected to it. This can help make them more valuable assets in enhancing company reputation as they come to embody the values and brand culture.
 6. Communicates Caring
Whether consciously or not, hearing or reading a story takes us back to sitting in the lap of a loved one when we were little. Since engagement starts with people believing they work for an organization that cares about them, storytelling is a powerful way to communicate that message to employees.
Begin your employee engagement story today with the help of Sogolytics.