So, is this the new normal?
When we checked in last week, our team had begun working from home — although not everyone prefers that term, according to a recent internal study…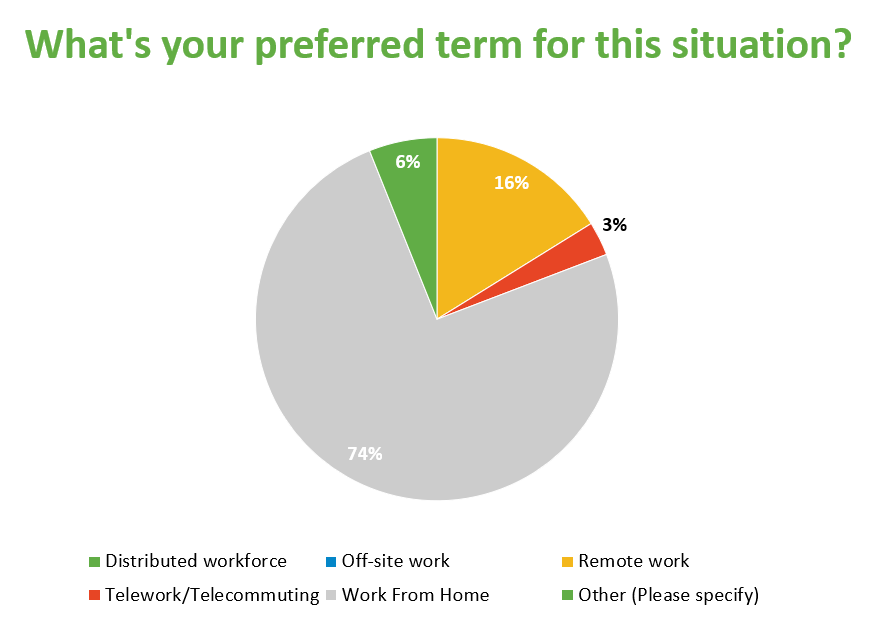 Now, while our WFH status hasn't changed, the rapidly changing global environment pushes us to expand the support we're offering.
A few more templates…
Last week, we offered a few free templates that may be of use to you. 
Now, we're expanding this offering to address many of the evolving needs we're seeing. If any of these sound good to you, fill out this form and we'll copy them into your account for free.
The Partner Response Survey idea came to our attention through a client project, and we love the idea. While the content here is completely original, we were inspired by this use case: While you know how your own organization is responding to this crisis, how are your partners — vendors, contractors, sub-contractors, and more — adapting or adjusting? Sharing this questionnaire with your contacts is a smart way to get fast answers and to adjust your own practices as needed.
As more and more people are adapting to remote work, the WFH Healthy Habits Check-In is another pulse survey designed to help you keep in touch with your employees, as well as to encourage and inspire healthy habits. Part informative suggestion and part data collection, we're using this same form for our own internal check-in this week, too.
Can you believe how many emails and messages you're getting these days? Some are great offers or important operational updates, but some are just over the top. Make sure you're hitting the right notes with your audience with a Customer Communication Check. While a complete communication audit can provide powerful data at any time, it may make sense to narrow down to a few key questions to make sure your tone, content, and frequency are serving your customers well rather than turning them off.
A few more offers…
To support your research, we're expanding our support. Beyond copying any of our free templates into your account, we're also extending a few additional offers:
If you have a Basic or Trial account and you need to conduct COVID-19-related research, reach out to us by March 31 and we'll upgrade you to a Pro account for three months for free. 
If you need to expand your research capabilities during this complicated time, take 20% off of your first payment on a Plus, Pro, or Premium account when you sign up by March 31. Learn more here.
If you're conducting COVID-19-related research, we'll waive the cost of responses collected within your existing Sogolytics account if you reach out by March 31. Submit your request here.
A little extra fun…
As part of our effort to stay connected with our employees and customers, we've launched the second season of our Facebook Live show — SoGoLive! Tune in on Fridays at 1 ET for a fun check-in on what's happening around here, numbers in the news, and plenty more.