It's 2022, and it's time for hotels to step it up.
Gone are the days of making your guests wait in line to fill out forms and manually check in. These days, it's a race to see how many processes you can automate: the goal is to streamline all the administrative tasks traditionally associated with a hotel stay, and minimize any inconveniences to your guests. Don't know where to start? In this article, we'll teach you how to use technology to delight your guests (and potential guests), and give them a better experience.
Read on to find out more!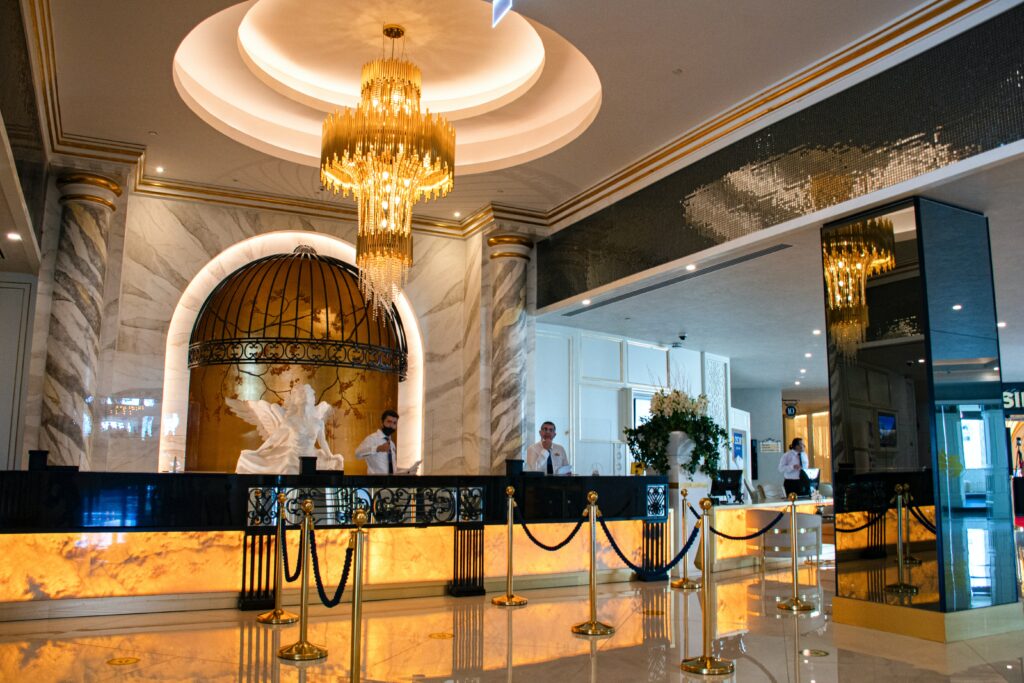 1. VR tours
There are plenty of ways in which you can use technology to improve your guests' stay… but before we even get to that point, it's worth thinking about how you can use technology to convert potential guests into actual paying customers.
How do you do that? One easy way is by setting up virtual reality (VR) tours.
Here's the thing—pretty much every hotel has beautiful, professionally-taken pictures of their lodgings and amenities up on their website. That's the industry standard.
So if you want to stand out from your competitors, and showcase your property more effectively to potential guests, why not create VR tours that they can go on from the comfort of their own home?
For the uninitiated, a VR tour is a sequence of panoramic images that are stitched together to create a virtual experience. Users can view VR tours on any device—their desktop computer, laptop, or mobile device—to "explore" your hotel and its amenities as if they are really there.
Obviously, a VR tour is a lot more compelling and immersive than just looking at pictures of a hotel online. By offering a VR tour of your property, you're likely to improve your conversion rates, and attract more bookings for your hotel.
2. Mobile check-ins
One problem that we see over and over again in the hotel business? Long check-in times.
Picture this: your guest takes a 5-hour flight, then gets on a taxi and travels an additional hour to reach your hotel.
They're exhausted when they finally arrive, but instead of being able to freshen up in their room immediately, they need to wait another half hour to check in. The reception is swamped, and there's a long line of people waiting in front of them.
Does that sound like a good time? Nope, didn't think so.
The good news? You can easily implement mobile check-ins, and allow guests to check themselves in. This reduces waiting time, and provides your guests with a better experience.
Of course, we're not saying that you should forego manual check-ins completely. There will still be some folks who prefer checking in manually (typically, older guests who may be less familiar with apps and technology, and want to interact with a friendly face).
However, by providing the option for mobile check-ins, you'll definitely make a large portion of your guests happy.
3. Mobile room access
In a similar vein, it's also a good idea to provide your guests with mobile room access via a smartphone app.
For your guests, this saves them the hassle of having to remember to bring their keycards out, and ensuring that they haven't misplaced their cards.
On the hotel's end, this also means that your staff won't need to manage the keycard inventory, and troubleshoot problems with the physical keycards (for example: demagnetization).
4. Smart home automation (for hotels!)
These days, many folks have set up some degree of automation in their homes, be it smart lights, or thermostats, or robot vacuums.
For hotels, there's an opportunity to offer the same automation in their properties, and allow guests to use a smartphone app to control their environment.
Once you've got all your devices connected, your guests can use the app to dim the lights, close the blinds, and turn the air-conditioning on and off, providing them with more convenience than ever.
5. Using chat and chatbots
These days, consumers are accustomed to using live chat as a support tool.
This is especially the case for millennials and Gen Z consumers—if they're having a problem with their phone plan, for example, their first instinct wouldn't be to call a toll-free number. They'd much rather chat with a support rep online, email the support team, or file a ticket.
Bearing this in mind, consider implementing a chat tool in your hotel's app, as well.
If guests have any requests or questions, they can simply chat with someone, instead of having to call or head down to the reception.
Within your live chat tool, you can also integrate a chatbot or use canned responses to share answers to frequently asked questions. This lets you reduce the number of queries, and the workload on your staff.
Lastly, if your hotel sees a large number of international guests, consider configuring your chatbot to support a variety of languages. For guests who aren't fluent in English, this will definitely be appreciated.
6. Predictive maintenance
What is predictive maintenance? It's the practice of using sensor data to identify wasteful or hazardous trends, and setting up a system to alert hotel staff when an issue is likely to arise.
How does this work? With sensor data, you can look at various factors (such as system usage and past failures) and predict maintenance needs.
For example, the system might pick up that your toilets are in need of maintenance, and they're likely to break down in the next month if they're not maintained. Now that you have that information, you can act on it and prevent the fault from happening, translating into a win-win for you and your guests.
Of course, your guests won't be able to see the impact here. This technology doesn't explicitly make a guest's stay better; rather, it prevents problems from arising in the first place.
But you know what they say: prevention is better than a cure. At the end of the day, predictive maintenance is definitely worth investing in.
7. Smart parking
If many of your guests drive to your property, consider providing smart parking as an option.
With smart parking, you're using smart sensors and your hotel app to allow guests to reserve parking spots on your property, and have a space assigned to them when they arrive.
This makes things more convenient for your guests: they can simply reserve a spot using an app, instead of having to call up the hotel to make a request.
At the same time, it also saves hotels the trouble of manually managing parking inventory and requests.
8. Personalization for guests
As anyone who works in the hotel industry will tell you, the name of the game is personalization.
A little personalization goes a long way. This doesn't have to cost the hotel much, and it typically makes a huge impact on guests.
How can you use technology to facilitate this? Simple: when your guests make a booking, have them fill in a simple questionnaire about their preferences—for instance, whether they prefer firm or soft pillows, what type of coffee they drink.
With this information, you can go the extra mile for your guests, and personalize each guest's room according to their preferences.
At the end of your guest's stay, also make sure to input any feedback that they have into your CRM system. This way, you can easily access all the information you have on them should they return and stay with you in the future. This will, again, allow you to personalize your offerings to the guest and provide them with a great experience.
A final word on wowing your guests with technology
If you ask us, technology has changed every inch of the hotel industry. With technology, hotels are now able to offer their guests much more, and better and faster to boot.
Remember: the goal is to reduce any inconveniences for your guests, and delight them wherever possible.
So go ahead and invest in the right technology that helps you do that—bonus points if it helps to streamline your operations and improve your workflow, as well! Technology is increasingly important to managing your guest experience and accomplishing more than ever before. SogoCX can be one of the right pieces to take your customer experience to the next level.