From collection to analysis to action, data is paramount for any organization. The right data can lead to improved customer experiences and smarter, informed decisions. In the case of the 360 feedback assessment, data enables strategic focus, targeted development, and a more energized workforce.
How? It's all in the beauty of connecting the comprehensive 360 feedback review with deep analytics that make sense of your data in useful ways.
Key benefits:
However, to unlock these benefits, you'll need a flexible and powerful 360 feedback tool.
What is 360 feedback (and what isn't…)?
360 feedback—also known as a 360 employee review, 360-degree assessment, 360-degree feedback, or multi-rater feedback—is a process that gathers feedback from multiple sources about an employee's performance, behavior, and impact within an organization. Data here can come from peers, supervisors, subordinates, and sometimes external stakeholders. These surveys are typically anonymous to foster authentic feedback focused on assessing the employee's strengths and weaknesses and identifying areas of improvement.
Some organizations think of (and use) 360 feedback projects as performance evaluation surveys, but they differ greatly. The easiest way to think about it is who it's for. 360 feedback is more for the employee, whereas performance evaluation is more organizational.
When you want to see if an employee should be promoted, want to make decisions on raises, or want to look at overall productivity or performance, this would fit better into an annual performance evaluation. Sound about right for your goals? Here are 100 useful phrases to get you started on performance evaluations for your organization!
If you want to find ways to develop your employees, to help them find areas of improvement, and get kudos for what they do well, use a 360 feedback review.
The overall scope of the 360 feedback review are as follows:
Multiple perspectives: traditional performance evaluations are typically from a direct supervisor or manager. In contrast, the 360 feedback review gathers input from multiple sources to provide a broader view of an employee.
Comprehensive assessment: Instead of just focusing on assessing an employee's job-specific skills, accomplishments, or meeting performance goals, expand into a complete picture of the employee. What about their communication skills or leadership abilities? How about how they collaborate with the team or inspire others? You can find this information in the 360 feedback review.
Developmental focus: Go beyond making decisions on promotion, salary increases, or performance ratings into a world full of developmental emphasis. This can catalyze personal and professional growth, self-reflection, skill development, and behavioral changes.
Multi-rater anonymity: Anonymous surveys ensure confidentiality and encourage honest participant feedback. This creates a safe environment for respondents to provide constructive criticism and suggestions.
The performance evaluation and the 360 feedback assessment both have their place in any company, so knowing when to use them is critical.
Why you need 360 feedback
360 feedback is important for energizing the workforce because it provides a comprehensive and holistic view of an employee's performance and impact within an organization. When leveraging the data gained from this assessment, you want to know why it's important. From the why, you know how you want to use it.
Multiple perspectives: Yes, it's a benefit too! In this instance, gaining feedback from multiple sources offers more balanced, unbiased feedback for employees to use in their development. Stronger than self-appraisal, they can better understand how they fit into the corporate structure, where they are, and where they'd like to be.
Developmental opportunities: The 360 feedback assessment highlights blind spots and prides insights into how employee behavior and performance impact others. Using feedback constructively can help employees modify their behavior, develop new skills, and enhance their overall performance!
Enhanced self-awareness: You can uncover valuable information that employees may not know or have overlooked. By clearly seeing where their strengths and weaknesses are, they know what to keep doing and what to improve on.
Collaborative and inclusive culture: By involving different stakeholders in the feedback process, 360 assessments promote a culture of collaboration, open communication, and inclusivity. Employees feel valued when they are allowed to provide input on their peers' performance, and it fosters a sense of teamwork and shared responsibility.
Strengthened relationships: Open dialogue and communication between employees, regardless of hierarchical positions. The review facilitates constructive conversations about performance and expectations. This open communication leads to stronger relationships, enhanced collaboration, and improved teamwork. Employees feeling connected and supported contributes to a more positive and energized work environment.
We've compiled the top ten 360 feedback tools here that offer unique features, robust analytics, and an intuitive design to help take the guesswork out of your decision.
Top 360 feedback tools
Now it's time for the fun part! Let's help you find the best 360 feedback tool for you and your company.
Our top ten 360 feedback tools:
SogoEX – best overall 360 feedback tool with a suite of products to leverage data with in-depth insights from compelling analytics
CultureAmp – options for employee or manager-driven feedback
Qualtrics – hyper-individualized employee reports
SpiderGap – dedicated cloud-based 360 feedback software
Alchemer – use key features to customize surveys
Typeform – leading form-building application with dynamic survey capabilities
SurveyMonkey – enterprise-ready management software
SurveySparrow – a richly featured tool focusing on chat-like interactions for ease of use
Trakstar – employee-engagement focused software to build culture
15Five – completely online-based feedback software striving for simplicity in use
Want to energize your #workforce? Meet the top ten #360feedback tools that can help!
Click To Tweet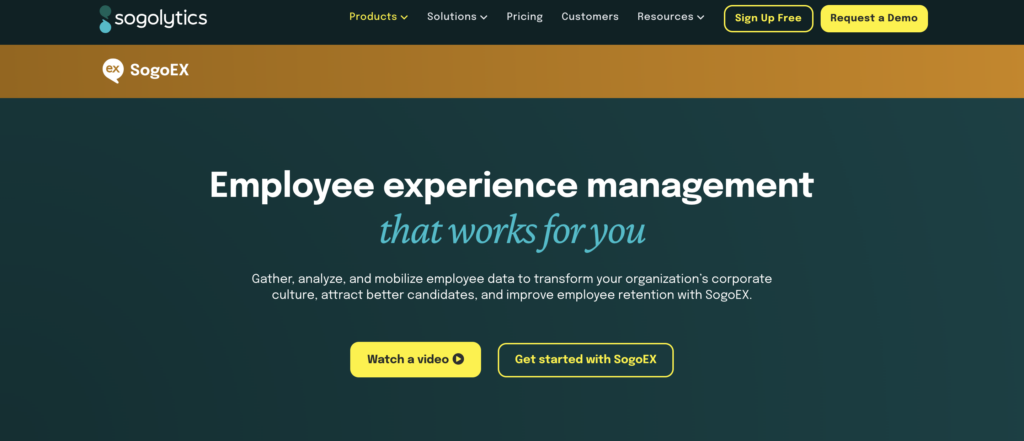 SogoEX
is an all-in-one 360 feedback tool with experience management intuitively built in.
Key pros
customizable surveys
User-friendly interface
Comprehensive, easy-to-understand reporting
Advanced logic and branching options for survey design
Integrations and anonymous feedback
Top-tier data security and privacy
24/7 and 365 days of the year support
As the clear choice with all-around features, SogoEX is an employee experience management solution allowing you to understand your employees better, improve engagement, and prioritize people operations. Quickly implement pulse surveys or check on your eNPS while you empower your workforce with this online 360 feedback tool.
Implementing Sogolytics' best practices and proven strategies can increase your survey response rates!
With SogoEX's 360 feedback tool, you can:
Have detailed, presentation-level reports at your fingertips with ease.
Increase response rates and engagement with automated pulse surveys and response tracking.
Parse down data with integrated analytics to develop strategic action plans that work.
Improve the end-to-end employee experience.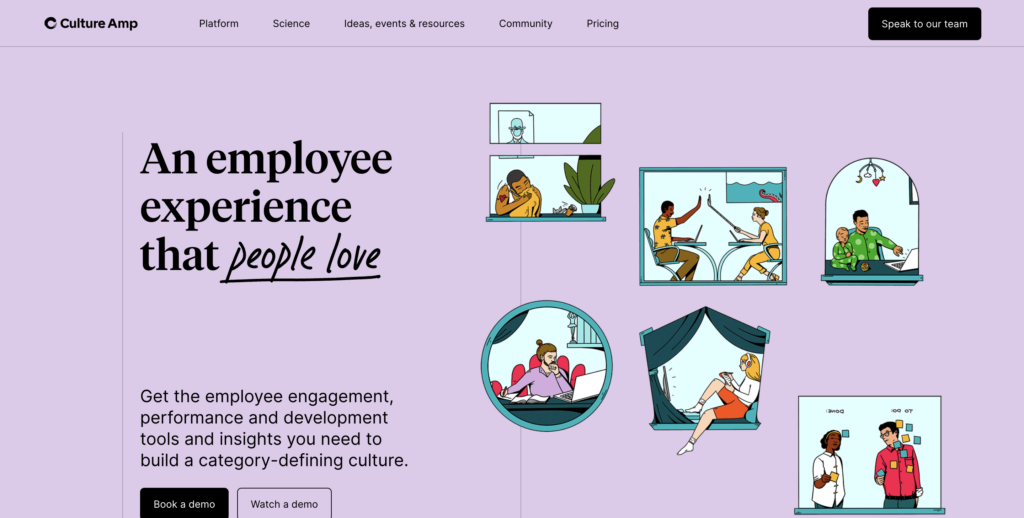 CultureAmp
back
s
its
reports with psychologists and data scientists
.
Key pros
Psychological aspect of experience brought in
Mobile friend surveys
Action-oriented feedback
CultureAmp is a study in simplifying the review cycle approach. With options to allow for employee-driven or admin-driven processes, CultureAmp's software makes a clear distinction between the two purposes. It's a boon if you plan on creating peer-to-peer vs. admin-to-peer projects.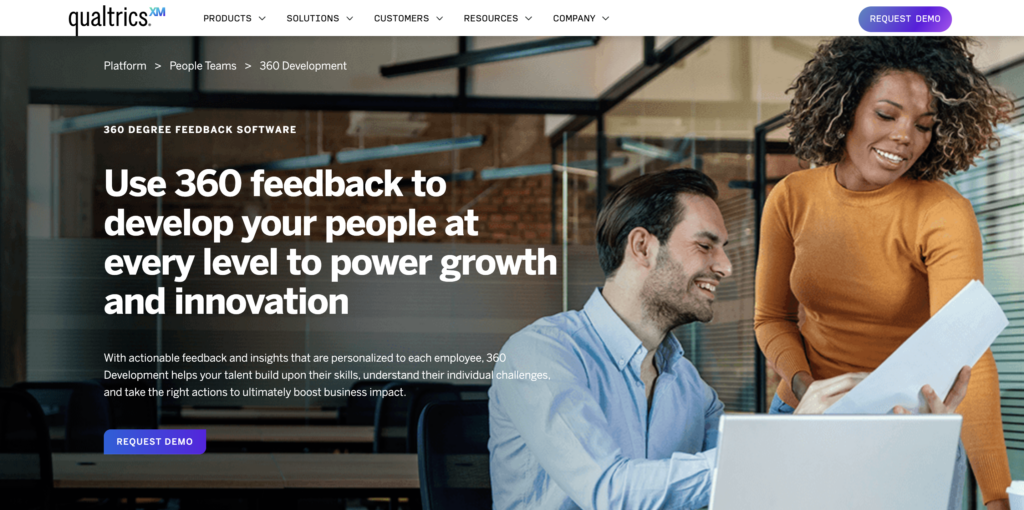 Qualtrics
helps employee development using an out-of-the-box developmental framework
.
Key pros
Individualized reports
Confidentiality features
Real-time progress updates
360 feedback is part of Qualtrics' Employee XM and takes a highly personalized approach. They have individualized reports for every employee for you to get a detailed image of who they are. The steep learning curve of features aside, the customizations can have a significant developmental impact on your organization.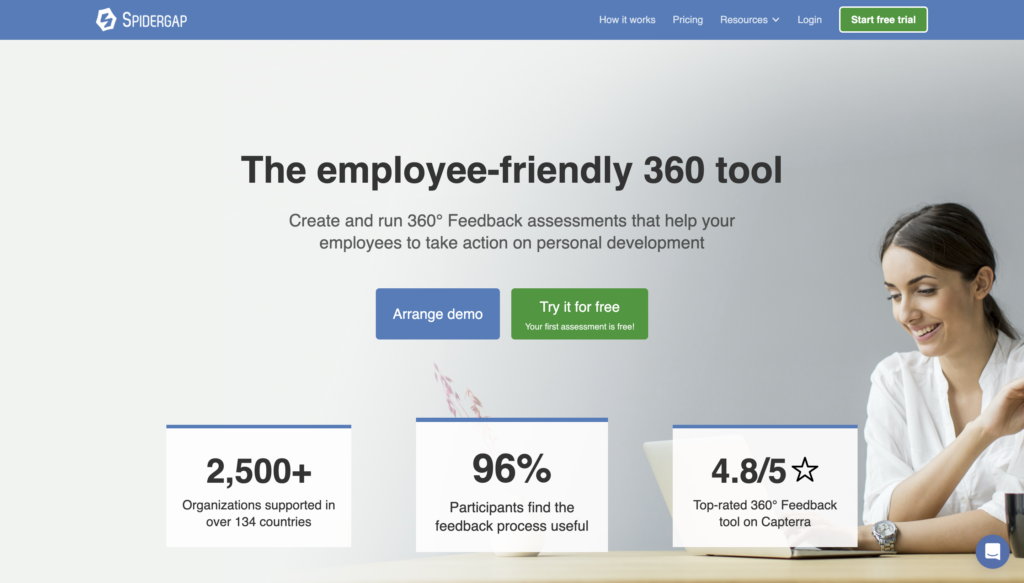 S
piderGap
is a dedicated
360 feedback cloud-based tool
.
Key pros
Dedicated 360 feedback tool
Cloud-based software
Drag-and-drop design interface
Whether your organization is a team of 5 or 500,000, you can use SpiderGap to run your 360 feedback assessments in their cloud-based software. It's user-friendly, and the survey design is as easy as clicking, dragging, and dropping. Features include ways for employees to choose feedback providers and customized reports.

Alchemer
is
a platform geared to experience management
.
Key pros
Flexible design capabilities
Self-service options
Advanced logic features
Alchemer's 360 feedback tool is built on features like varied question types, advanced logic and branching, and ease of usability. They have automated and customizable reports to evaluate your employees easily and quickly.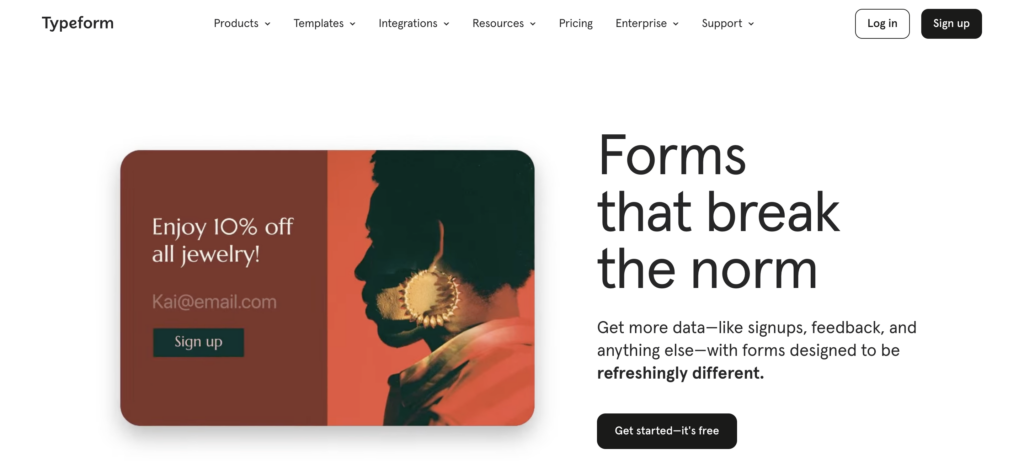 Typeform
is a leading
form-building
app whose survey capabilities have
greatly expanded
.
Key pros
Include and exclude questions easily
Ample question type bank
Customize branding and design
One of the best form-building apps today, Typeform also has survey capabilities. While not as robust but increasingly popular, Typeform's 360 feedback solution comes with tools to help you collect responses, personalize surveys with branching and logic for each respondent, and customize design.

SurveyMonkey
takes
a tactical approach to employee experience and feedback
.
Key pros
Anonymous surveys
Customize reports and surveys
Simple survey implementation
Ever popular, SurveyMonkey allows you to go from ideation to implementation of surveys in minutes with easy, user-friendly design options. Make sure you're getting authentic feedback as you distribute anonymous surveys to your employees and align your teams and departments with one solution.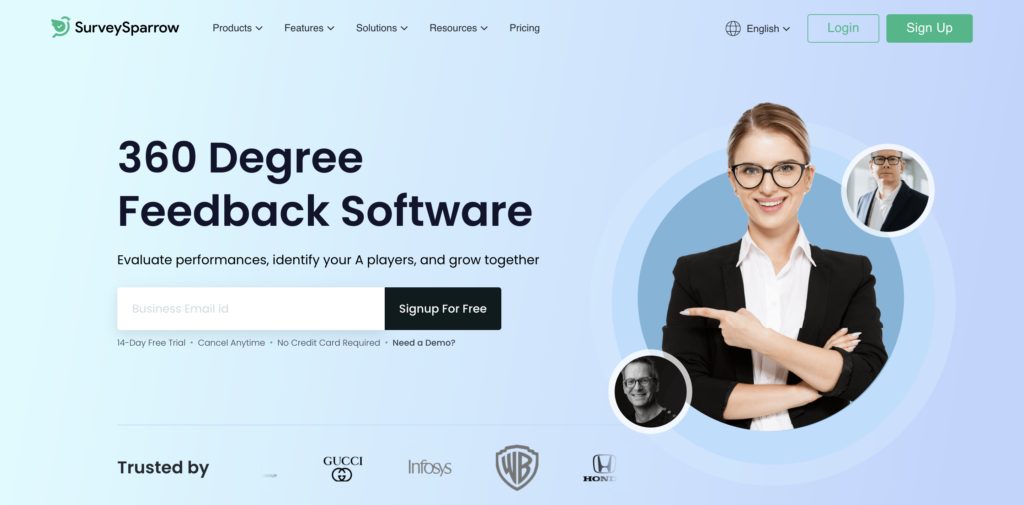 SurveySparrow
features personalized surveys and conversational forms
.
Key pros
Customizable surveys
Chat-like focus for easy interactions
Simple creation
SurveySparrow is a multi-UI platform that fosters collaboration and makes the 360 feedback review familiar in design and use. This familiarity boosts survey response rates with ease. Automated alerts make sure your employees know what's expected and get reminded during a busy work week.
Trakstar
is a performance
-driven
management solution
.
Key pros
Integrations with other apps
Module or platform choices
Employee engagement focus
An employee engagement-focused 360 feedback Tool, Trakstar promotes a comprehensive employee assessment and view. You can create customized surveys, produce easy-to-understand reports, and rate competencies intuitively, fostering collaboration in development.

15Five
is a continuous performance management
solution.
Key pros
360 feedback as part of performance management
Feedback cycle framework built-in
Templates available
15Five is an online 360 feedback tool integrating feedback into an overall performance management solution. It has features like automation, trigger emails, and templates to help you collect the data you need to make decisions.
What you should look out for in your 360 feedback tool
No matter which option you choose, make sure your 360 feedback solution has these important features!
User-friendly interface: The tool should have an intuitive and user-friendly interface that makes it easy for participants to navigate and provide feedback. A well-designed interface enhances user experience and encourages participation.
customizable assessments/surveys: The tool should allow organizations to customize the assessment questions based on their specific needs and objectives. This flexibility ensures that collected feedback aligns with the organization's goals and desired competencies.
Anonymous feedback: Anonymity is crucial in 360 feedback to encourage honest and candid responses. The tool should provide mechanisms to ensure that feedback providers can share their opinions confidentially without fear of repercussions.
Multi-rater capabilities: The tool should support the collection of feedback from various sources, such as supervisors, peers, subordinates, and external stakeholders. It should enable participants to select and invite their raters easily.
Comprehensive feedback reports: The tool should generate comprehensive reports that compile and summarize the feedback received. The reports should present the data in a clear and actionable format, highlighting strengths, areas for improvement, and any trends or patterns identified.
Developmental guidance: An effective 360 feedback tool should offer guidance and resources to help individuals interpret and act upon their feedback. This may include suggestions for improvement, recommended resources, and development plans to support individuals in their growth journey.
Integration and compatibility: It is beneficial for the tool to integrate with other HR systems or platforms, such as performance management software or learning management systems. Integration streamlines processes, facilitates data analysis, and enhances the overall user experience.
Data security and privacy: The tool should prioritize data security and comply with privacy regulations to protect the confidentiality and anonymity of feedback participants. Robust security measures and data encryption are essential to maintain the integrity of the feedback process.
Scalability and flexibility: The tool should be scalable to accommodate organizations of different sizes and adaptable to changing needs and requirements. This ensures the tool can grow with the organization and support it's evolving feedback and development initiatives.
Support and training: The availability of customer support, training materials, and resources is crucial to assist users in navigating the tool effectively and maximizing its potential. Timely support and comprehensive documentation contribute to a positive user experience.
We hope this helps you find your next 360 feedback tool!
Are you interested in using SogoEX for your 360 feedback project? We'll be glad to help. Let's chat and create the perfect solution you need.