Within Design, you'll create and customize your survey project to ensure it meets your research needs and your brand demands. When you create a new project, you'll be taken directly to Design. For existing projects, click All Projects, then find the right title, hover, and click on the Edit icon to dive into Design.

Navigate to
Designer
Here you can create your survey project either from scratch or by utilizing a template. You can add relevant questions, and answer choices, rearrange the questions, apply logic, choose visual settings, add brand logo and perform other actions to design an ideal project.

Options include:
Beyond the content, be sure your survey project looks good and represents your brand and purpose well! Customize your options, then save templates based on your preferred style.
Here are a few of the available features that you'll see:
Themes: Choose from a variety of pre-set themes, then customize to your preference. You can also save templates to make customizing future projects fast and simple. Plus, modify the width to customize your display.
Colors: Customize primary and secondary colors, as well as the background. Whether it's a color, gradient, or default or custom image, your project has never looked so good! If you prefer, get specific with advanced color options for detailed project elements.
Text: Your style shines through in every word with customized font settings! Keep it simple with overall settings or modify your choices for specific text elements.
More: Choose whether to display the same style on both web and mobile, or to create separate settings for each.
Behind every successful project, there's more than meets the eye! Every project is assigned default settings, but this section allows you to modify numerous options to meet your needs.


By exploring the options available here, you can customize your survey to ensure that it meets your unique requirements:
Words count! Be sure to review and polish all of your text before you launch – in every language you choose to include!

Here's what you can choose to do:
Text & Translations: Review and revise all of your project's text and messages at once, as well as auto-translating and revising content in additional languages.
Spell Check: It never hurts to check!
Find and Replace: Quick fix? Save time by replacing incorrect or outdated language all at once!
Providing participants with a clear and logical path improves engagement and response rates. Since logic makes it easier to ask participants only relevant questions, data quality benefits as well.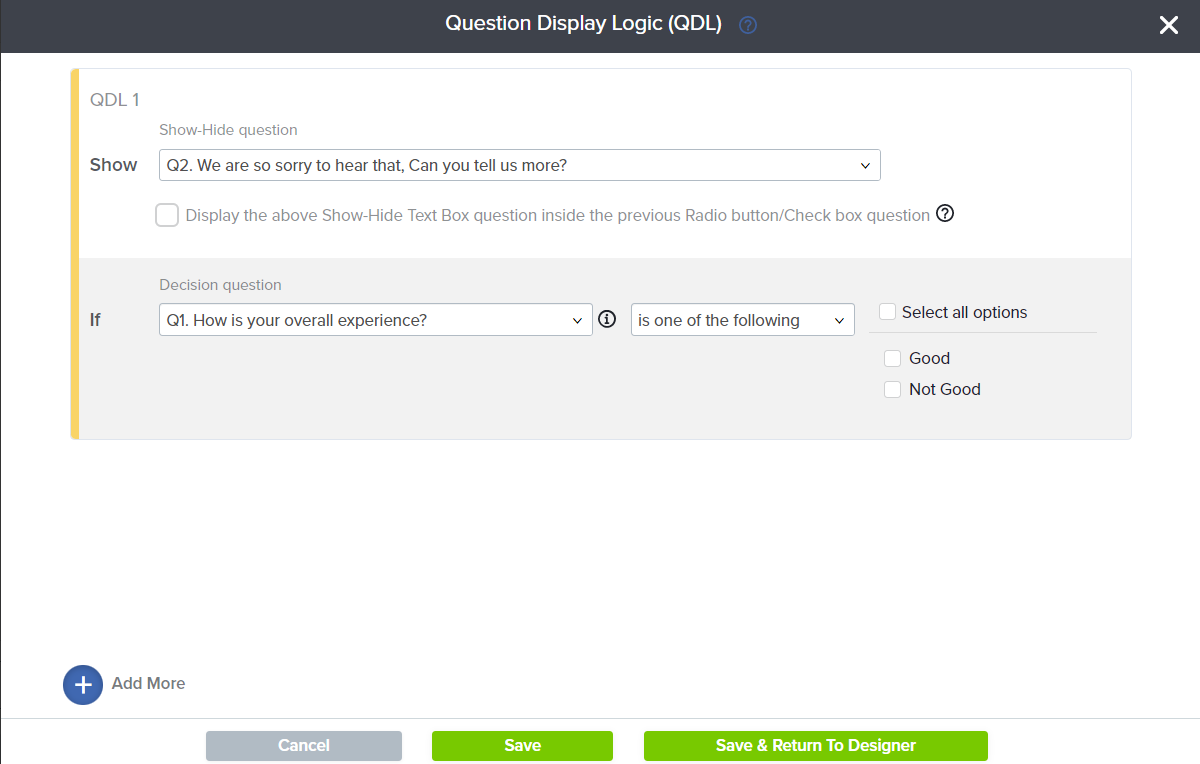 Receieve faster feedback with automatic email follow-up to your participants, your team, or yourself!
Instant Thanks: Send follow-up thank-you emails to your participants once they have participated in your projcet, including any important details like registration confirmation.
Rules and Alerts: Send follow-up emails based on the triggers of your choice, like upon completion or a low (or high!) rating.
Raise a Dialogue: If you have a SogoConnect account, you will see this option under Instant Alerts. Using this option, you can create dialogues when your participant's responses meet certain conditions.
More
Use these tools to speed up your project design process.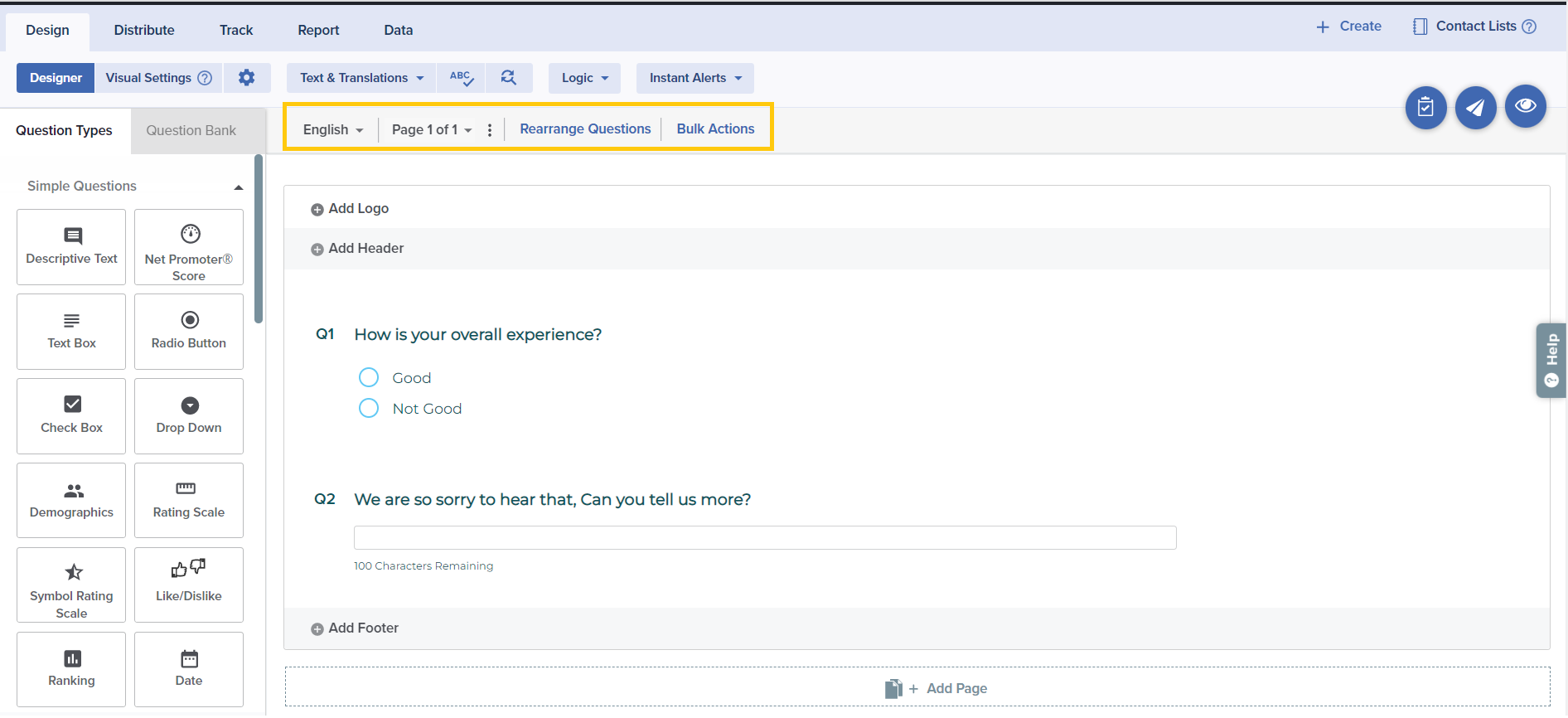 Page Actions: Use the three dots next to the displayed Page number to take quick action on an entire page. You can even edit page names, delete or preview a selected page.
Bulk Actions: : Use this feature to hide, copy, move, deposit to bank, set as mandatory or delete multiple questions at once.
Rearrange Questions: Ensure your project's flow is good to go with this smart feature. Add all of your questions, then arrange them into the right order. From there, add logic and other features to make the experience as smooth as possible!