Need help? Click the Help tab on the right to access support options. Items within the Help Center vary by account type, and may include: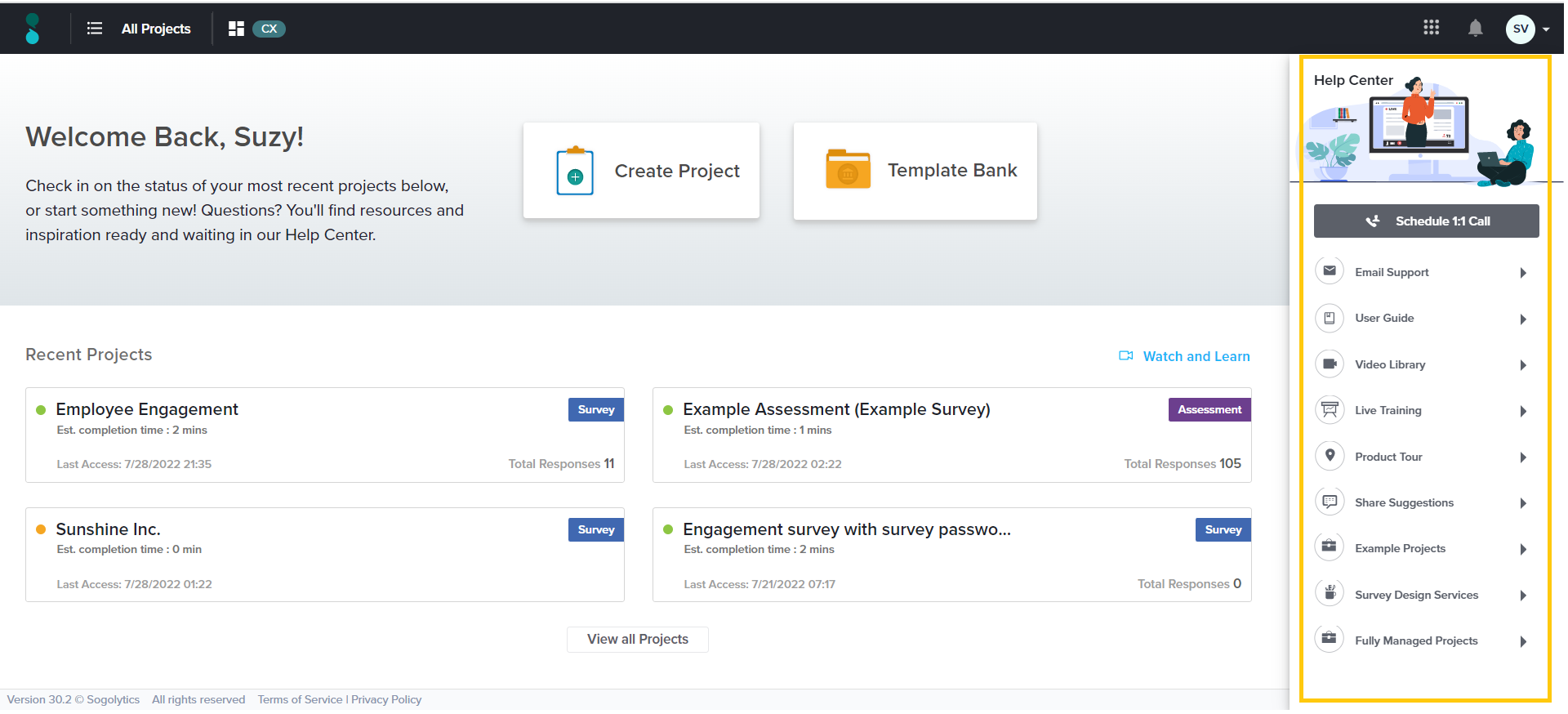 Schedule 1:1 Call
Depending on your account type, you may see an option to schedule a quick consultation with one of our survey experts. Use these calls to check in on technical questions or ensure you're following best practices in your project.
Chat with us now!
An option to consult with our Support team in a real-time chat is available in Premium and Enterprise accounts.
Email Support
Use this form to submit your questions directly to our Support team. Plus, including additional details like browser and operating system can help us help you!
User Guide
This comprehensive knowledge base is designed to address all of your questions about our platform. You'll find videos, step-by-step tutorials, and even feature descriptions to help you explore new options you might not have considered. Relevant help options will be highlighted based on the features you are using, but you can always jump to the complete User Guide for further exploration.
Video Library
Get the picture with a visual exploration of the features you're using — or would like to use! Relevant options will be suggested based on your current use, but you can also explore the complete Video Library for more options.
Training and Webinars
Join a training or webinar for insights on how to make the most of the platform, improve your practices, and more.
Product Tour

Whether you are a new or experienced user, this option provides a guided tour of key steps to make your next project a success.

Share Suggestions
Got an idea for a new feature or an improvement on a current feature? We're all about feedback, and we love hearing from you! Your suggestions will be carefully reviewed by our product management team in planning future releases and updates.
Example Projects
Just getting started and want to see a sample? Check out this example for a quick exploration of a polished project with report-ready results
Survey Design Services
Our Survey Design Services package makes your next project a breeze! Give us your content, and we'll build your survey for you! Click this option to find out more or to get started.
Fully Managed Projects
Need more help? Opt for our Managed Project service, then put your feet up! From start to finish, we'll help design, distribute, and report on your next survey project. Share your requirements and we'll be glad to follow up and discuss.