If the answer you're looking for is a date, the Date question type is – no surprise! – the best choice. Rather than asking participants to write out the date in a Text Box, using the formatting options available in this question type allows you to ensure that all responses are received in a consistent format. Depending on your audience, for example, 3.12 might mean the 12th of March or the 3rd of December!
When setting up this question, you may choose your preferred display format, as well as a default date. Depending on the purpose of your question, you may choose to identify today's date (the date of participation), to set a certain date many participants are likely to choose or to provide no default.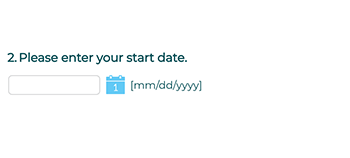 To add a Date question to your project, drag and drop the question type from the panel on the left to the correct spot on the right. From the panel on the left, choose whether to set a default date.


Within this question type, the following options are available: