Simplify the participant experience and make data collection quick and easy by getting right to the point: Yes or no? Like or dislike? Thumbs up or thumbs down? This visually appealing single-select question type allows you to customize the labels displayed to participants and within reports.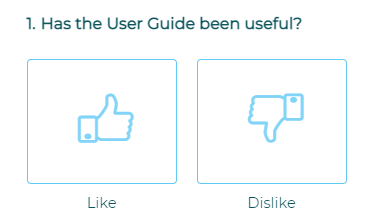 To add a Like/Dislike question to your project, drag and drop the question type from the panel on the left to the correct spot on the right.
You can also choose to change the style of the icons by clicking Customize Icons on the left menu.

For example:
Thumbs up and thumbs down.

Heart and broken heart.

Happy and sad face.

 
Within this question type, the following options are available:
Mandatory Response: Require participants to respond to a critical question.
Encouraged Response: Nudge participants who skip a question to reconsider by displaying a customized request message.
Question Hint: Add extra information that can help provide clarification for participants.
Show Labels: Display the answer option labels that will be used in reporting.
Show in reverse order: Display Thumb Down and then Thumb Up
Data Population: Pre-fill the response during distribution or post-fill after participation.
Add Media: Add an accompanying image, video, or audio file.