Sogolytics offers you a well-equipped platform to create surveys, quizzes, and online polls. We offer all the question types required to create projects, plus advanced customization options and numerous settings choices to ensure everything works exactly the way you want.

Navigate to
Creating your perfect questionnaire is easy! Just follow the instructions below.
Choose to start a new project from one of the three places – from the Home page, from All Projects or while working on another project.
From the Home Page: Click on Create Project and choose from the project options available.

From All Projects: Click on the Create button on the top right and choose from the options available.

While working on another project: Click on the Create button on the top right and choose from the options available.
Next, choose your project type. Based on your account type, your project options may include:
EX Project
Next, choose your starting point. You'll see the following options: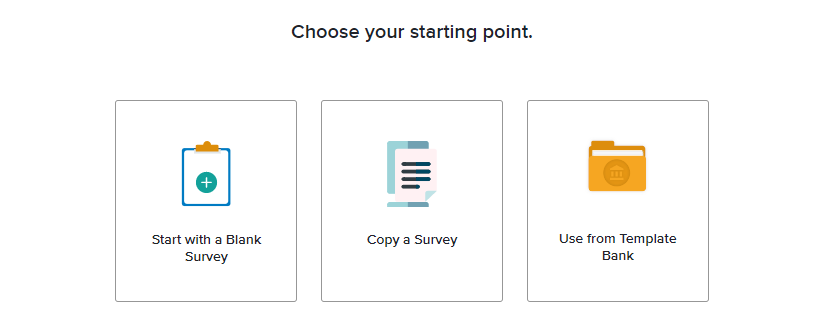 Start with a Blank Project
A blank project offers a clean canvas where you can start sketching out your questions and answers.
Bring your ideas to life, adding content and features to meet your needs. This method is the perfect choice if you have a unique project in mind and a good idea of where to start.
It may seem intimidating to start from scratch, but having a clear plan can make a big difference in helping you to organize the structure to meet your goals, maintain your focus on key priorities, and save your time.
Copy a Project
If you're repeating a project, make a copy to save time. You may stick with an exact replica, or modify the project to meet your updated requirements.
This method is the perfect choice if you want to repeatedly launch the same project, perhaps on an annual basis.

By default, you'll see only the type of project selected on the first step, but you may update the filter to view or choose other project types.
Use from Template Bank
Your account comes loaded with a full set of professionally designed survey templates covering a wide range of popular topics and purposes.
This Template Bank is designed to save you time and offer research-backed inspiration. You may review these sample surveys to gather ideas, or copy them directly into your account to use or modify.
This method is the perfect choice if you know your topic but you're not sure which questions to ask.

Categories include:
Once you've chosen your method, make the project your own:
Name your project.
Keep your account organized by using the dropdown menu to assign your project to an appropriate folder or create a new one.
Select your project's default language and choose whether to add more languages.

The default language you select cannot be changed once you have added questions. Secondary languages can be added or removed later in the process. Learn more

Click Create to begin building your project.