Sogolytics's Single Sign-On (SSO) feature lets you use your work email credentials to log in to your Sogolytics account. Forget the hassle of remembering multiple passwords and just keep it simple with SSO!
This feature is available only in our Enterprise plan. Contact us to take advantage of this option.
Here's how to enable SSO in your account:
Click on your account initials in the top right corner, then choose Account Settings from the dropdown menu.
Click Single Sign-On in the menu on the left.
Choose from the two methods available:

LDAP
You'll need to create a user within your active directory so that our team can authenticate the connection.

You'll need to fill in the following details:

LDAP URL
LDAP ID
LDAP Password

You'll need to whitelist https://www.sogolytics.com.

You can also upload an organizational logo to be displayed on the login page.

SAML
You'll need to attach the following:

IDP Metadata file
Certificate to establishing SSO

Once you have filled in the right details, your request for SSO will be submitted.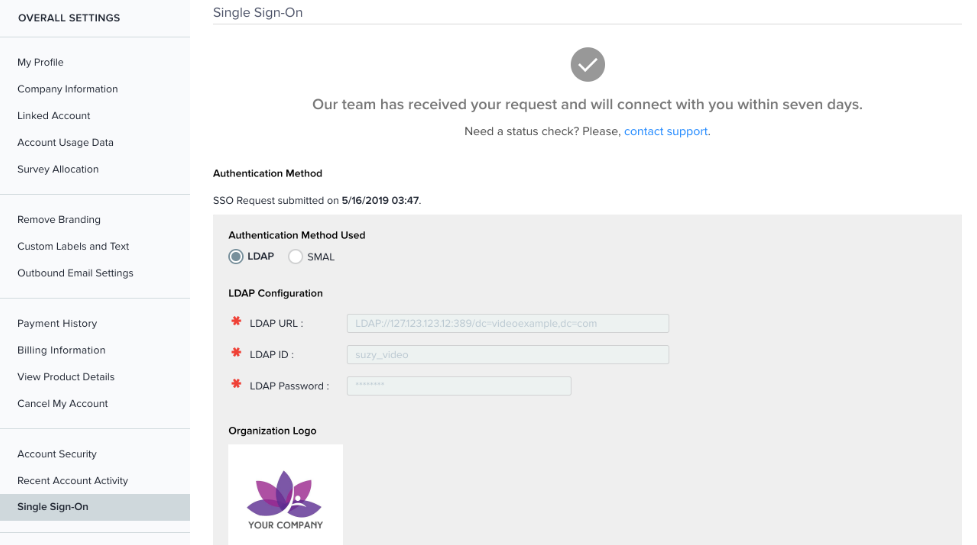 You'll also receive a confirmation email with details for whitelisting and other instructions.
Our Support Team will reach out to you within 7 days once all verification is completed.
Once your account is set up, you'll receive an email with your URL and you'll find the same update in your Sogolytics account under Single Sign-On within Account Settings.

Access the URL to get started with SSO