Have a short list of contacts but want to hear from more people? Our Chain Invitations feature makes it easy for those who receive your questionnaire to share it with others who may be interested.
For example:

You may have the email address of only your main point of contact in an organization, but you might want feedback from others on their team. This option allows your contact to enter the email address of the new recipient, expanding your participation pool.
While forwarding a Single-Use Link email invitation is never a good idea, Chain Invitations works by allowing your participants to send a brand new invitation to someone else.
Here's how you can set this up:
Create a new project or select a project to edit.
From the Design menu bar, click on the Options icon and choose Thank You Page.
Enable 'Would you like to allow participants to invite others to participate?'

Click on Save.
Once this feature is enabled, the post-submission Thank You Page will show participants an option to invite others. Each participant may invite up to 10 contacts.

If the survey or assessment includes Read-only or Editable Pre-Population, the participant may complete these fields for their contacts. Hidden Pre-Population fields will not be shown.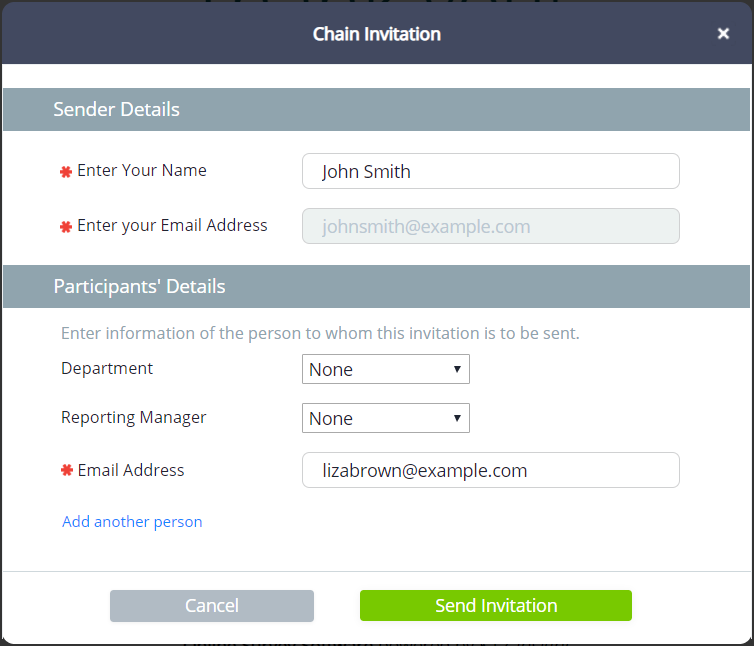 Within Track, every email address invited through Chain Invitations is indicated with an arrow icon. Hover over the arrow to see who sent an invitation to this address.

All Chain Invitations are unique links and will be displayed under Single-use Links in Track.
Note: Chain invitations may also be sent from email invitations. Learn more here.