While other plans are useful for some purposes, the Premium package allows you full access to all of our platform. Features such as Auto Save, Save on Next, Edit Response make this package distinctive from the rest.
Highlights of some of the most popular features in the Premium package are included below:
Pre-Population: Send Invitations Pre-Filled with Known Participant Information:
Options Include:
Pre-Editable: Allows participant to modify the pre-filled response
Pre-Read Only: Allows participants to view but not change the pre-filled response
Pre- Hidden: Neither question or answer visible to participant, but data can be viewed by you while generating reports
Delete, Exclude, or Edit Responses: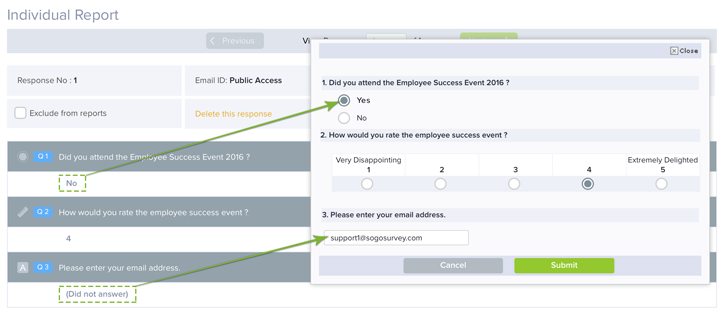 Merge Responses from Multiple Surveys to Expand Analysis:

Click here to learn more about features available in this plan.
In accordance with our fair usage policy, Sogolytics sets limits in each package. To learn more about the fair usage limits, Click here.