Your Quiz, Your Way
Start from scratch or from one of our beautiful templates. Brand your quiz using your colors and logo, and match your communications, website, and more.
One Quiz, All Devices
Your quiz is automatically optimized for any delivery platform - smartphone, tablet, laptop, or desktop. Design once and distribute everywhere.
Keep Quiz Data Secure
Data security is essential in all online interactions involving personal data. Our quiz tool features include top-tier, end-to-end security to guarantee peace of mind.
Custom Quizzes in Real-Time
Launch a quiz and conduct tests live, then view scores and reports immediately for a big impact and quick follow-up.
Multiple Choices for Multiple Channels
Our quiz tool features offer multiple options for connecting with your audience - send as an email, a public link or a password-protected link.
No Time Wasted
Our quiz features include a built-in timer to keep participants on task and give everyone the same amount of time to respond.
Instant Scores for Powerful Insights
Our quiz tool automatically provides scores and tracks participation in real time. Send unique links to each quiz taker and segment reports for specific insights.
Sights and Sounds
Upload images, video, audio clips and more. Our quiz features include media options which increase engagement and improve completion.
Take a Quiz Anywhere
Online quiz features for any organization and use case: market research, marketing, education, business intelligence, lead-gen, training, social, or even just for fun.
Sogolytics's quiz software gives administrator and participants tremendous flexibility and control.
Design or respond on one device and complete on another (begin on mobile, finish later on desktop) within the timed period.
Expand beyond traditional test environments with our tool today.
Ask the Questions That Matter
To ensure you get the information you want, our online quiz features include question types that cover all the bases.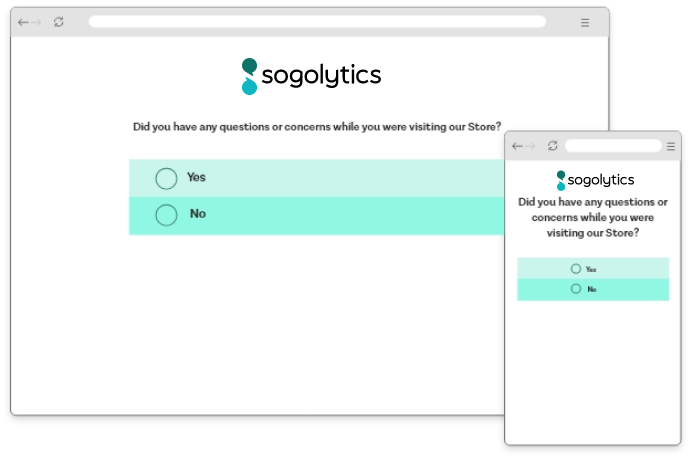 Single Select Question
Prevent spamming and lock participants in to a single answer.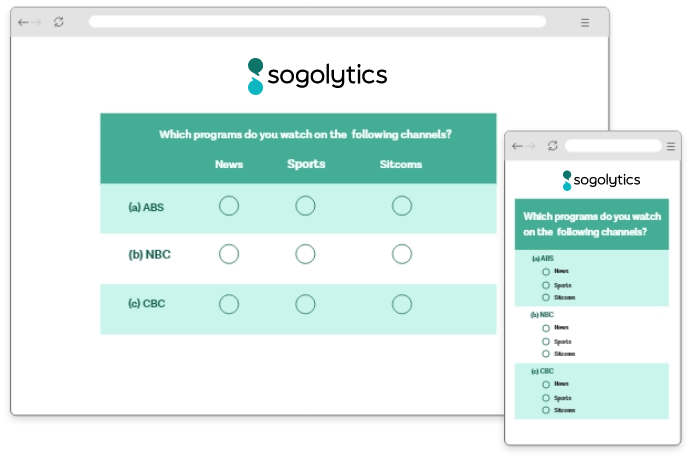 Multi Select Grid
For complex ideas that include more than one feature. Gives the chance for full or partial credit on a question.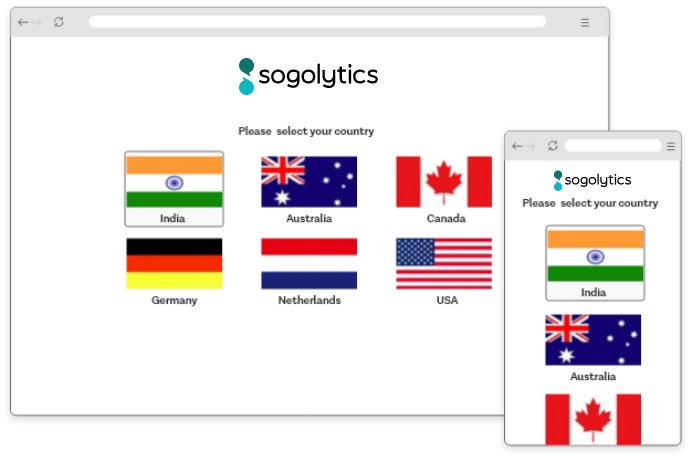 Image Choice
Use multiple images to help test for recall and/or pattern recognition.
Ready to build a solution that's right for you?
Looking for a self-service survey platform for small teams or individual needs?
The most important quiz tool feature? Data security
Nobody should access any data without your permission, whether it's a draft quiz, participant responses, reports on the results, or contact information.
We are committed to the highest levels of data security to ensure that you can have confidence that your data is always protected.
Does your custom quiz maker make the grade?