As businesses begin to return to in-person work, many of us are faced with the tragic truth of having to leave our furry, feathered, scaled, or hairless friends at home. Regardless of whether you've recently adopted a quarantine kitten or have had the same tortoise for 10 years, after 16 homebound months, parting ways – even for just nine hours – may present challenges for your pet.
As I transition back to the office, I'm lucky because I don't have to worry too much about my pets. My partner is working from home indefinitely so our cat and dog have him for comfort and some semblance of normalcy.
But that doesn't mean they aren't affected. Upon returning home from my first day back to the office, my partner said that my dog didn't move from the bed all day – not eating or looking out the window and only getting up when my partner took her out to go the bathroom. Of course, this was concerning to me so I did some research on how to help my pets feel more at ease when I'm gone for the day.
I'm sure I'm not the only one worried about how her pets will fare when she returns to the office. To help my fellow pet owners, I've compiled some of my research on how to make the transition easier for your pet.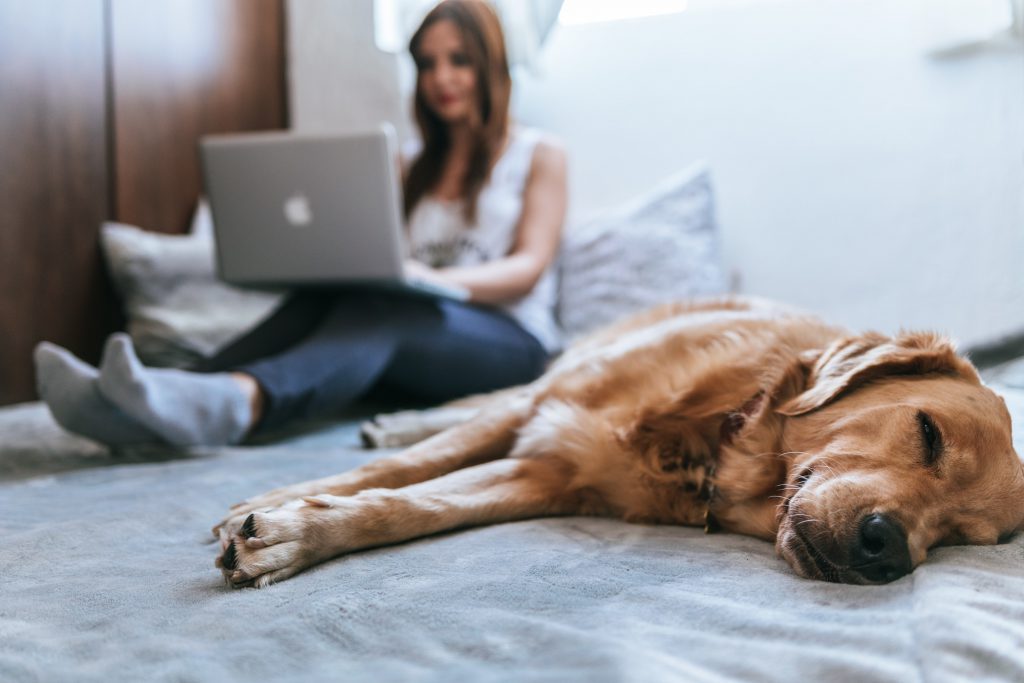 Your Pet's Mental Health
Believe it or not, just like humans, your pet can suffer from depression and anxiety. In fact, some pets can develop depression or separation anxiety when they're alone for too long. To make sure your pet is as healthy as possible, you might want to monitor your pets for these signs and symptoms.
Signs of Depression
The signs of animal depression are similar to those found in cases of human depression, although they manifest slightly differently for each species.
Symptoms for dogs include:
Changes in sleeping or eating patterns
Loss of interest in activities (playing, going outside)
Inactivity
Cat depression can show up in the same ways as dog depression but can also manifest as:
Decreased activity
Hiding or withdrawing from family members and pets
Changes in bathroom patterns
Insufficient self-grooming
Sensitivity or jumpiness when others try to interact with them
According to The Spruce Pets, bird depression symptoms include:
Fluffed-up feathers
Loss of appetite
Change in droppings
Irritability
Feather-plucking
Aggression
Change in vocalizations
Constant head bobbing
Stress bars on the feathers
Signs of Separation Anxiety
The Humane Society says that separation anxiety appears in dogs as:
Destructive behavior – like chewing and scratching furniture and walls
House-trained pets having accidents
An increase in vocalization (howling, barking, and whining)
For cats, signs of separation anxiety include the same as above and:
Over-grooming
A shift in overall mood
Hiding or withdrawing
Aggression
Change in eating patterns or weight
Trailing owners around the house
Inactivity
Vomiting
Separation anxiety in birds shows up as:
Stress bars
Feather plucking or self-mutilation
Aggression toward others
Aversion to food
Repetitive behavior – like pacing, tapping, vocalizing
If your pet is none of the above species, be sure to research how depression and anxiety can manifest themselves in your pet. And remember, consult a veterinarian if you have any serious concerns about your pet's behavior or health.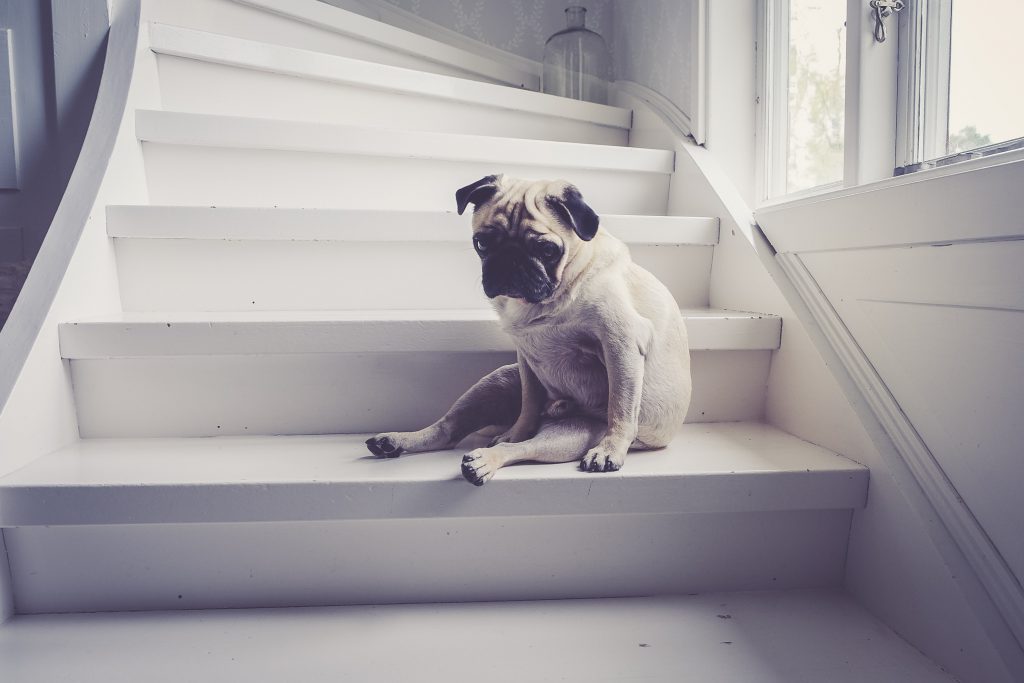 Taking Action
Now that we know some signs of depression and anxiety in pets, here are a few tips for reducing your pet's uneasy feelings that are associated with your absence.
Slowly get them used to being home alone.
Start with leaving the house for an hour or two. Slowly increase the amount of time you leave them by themselves until you work up to the time of your normal work shift. For an in-depth instruction on the best way of doing this, check out this ASPCA article.
Be sure to exercise your pet.
Exercising your pet will help them be less destructive while you're gone. They may even sleep for most of the time – meaning less time to be anxious!
Have a trusted friend or neighbor check in on them.
Having someone pop in to see your pet can break up the monotony in your pet's day and help them feel less alone. However, be careful who you choose. Having a (relative) stranger enter the house when their owners aren't home can upset some pets. Therefore, I'd recommend against having a new dog walker or pet sitter stop by without you home.
Try CBD treats and other relaxation medicines.
My cat gets anxious on car rides and usually ends up vomiting. If we pop him a CBD treat about an hour before we get in the car, he's good to go! CBD can also work for separation anxiety by calming your pet.
Leave clothes that smell like you.
Pets' sniffers are usually more sensitive than ours, and your worn clothes can provide comfort to your pet. The worse the separation anxiety, the stinkier the clothes can be.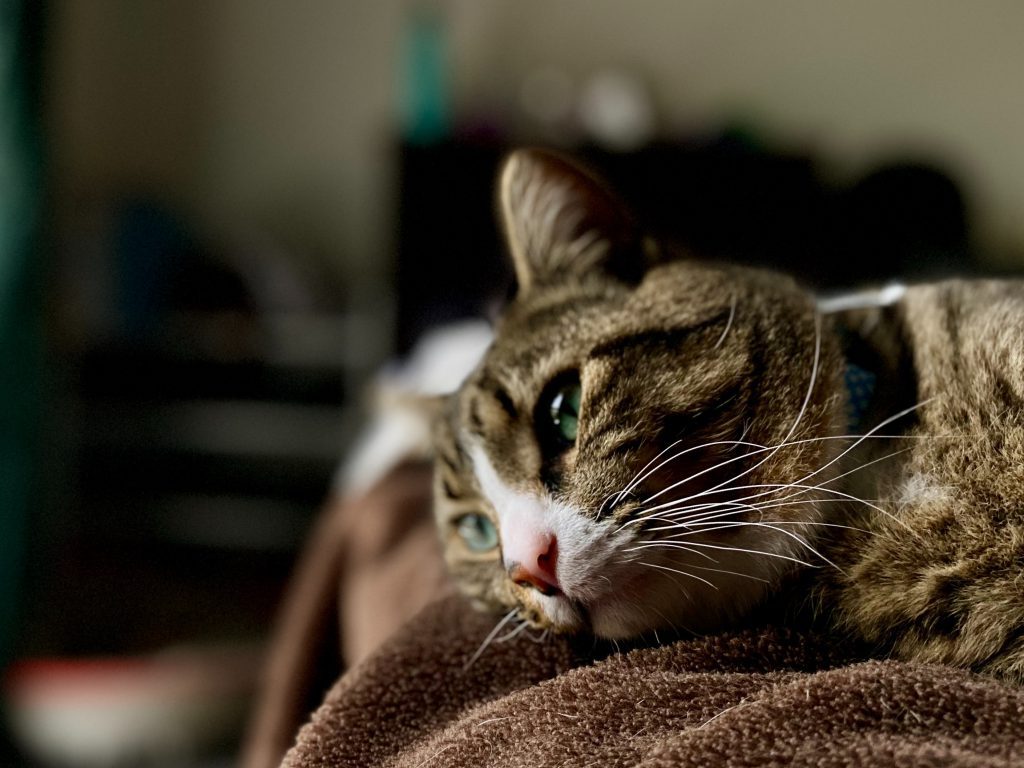 Saying goodbye – even if we know we'll be back in a few hours – is never easy. While these tips are a good starting point, there are countless sources online that can give you different and/or more specific solutions – be sure to check those out! And please, reach out to a veterinarian if you're ever unsure how to best treat your pet.
Here's to returning to the office and feeling (a little) less guilty about leaving our pets.
For more reads on RTO, check out these blogs on speaking to your employees in the "new normal" and professional social interactions post-COVID.