As we continue through this ongoing pandemic era, it can be harder and harder to motivate ourselves to just regularly get up and stay active. Personal health through exercise is still as important as discussions on ways to keep COVID-19 at bay. More and more countries and states are dealing with lockdowns and temporarily closing the doors of more and more businesses. Some of the first establishments to shut their doors to the public included gyms and fitness centers. Many individuals — including myself — who relied on these weekly exercise routine venues found themselves cut off. 
Now that the sun is out longer, the flowers are blooming, and the temperature outside is getting warmer, some people prefer taking a (socially distanced) stroll or a run outside for their daily dose of exercise. For others though, these gyms and centers were some of our only ways to motivate ourselves to regularly get up for a routine heart-pumping session. It was our opportunity to step away, whether from our work or from the distractions of the TV, couch, or other entertainment at home. What options do us indoor gym goers have now that our only avenue for exercise has been closed?
Stay in, get fit
Our fitness progress doesn't have to go by the wayside during these times. If you want to keep it up, #SoGoGetUp! This is my story of how I managed to stay on track while isolated inside of my home. Now I'm not here to tell you about the "5 Best Chest Exercises You Can Do At Home!" workout routine, or anything along those lines. There's plenty of resources online now that are going over these types of content instead. What I want to talk about is much simpler, and simplicity can help aid in sticking with it as a routine. A regular exercise routine is what many of us have lost, and I'd encourage anyone to give this challenge a try.
On March 1, I began a 30 day personal exercise challenge. At that point, my workouts had been getting a bit stagnant, so I wanted to throw something into the mix to try to challenge myself and improve on something. Therefore, I took a dive into the deep end and decided to do this particular 1000 burpees in 30 days challenge that I found through a Google search online. I was no stranger to burpees, but as someone who was only decently fit and could still stand to lose some weight, an improvement on performing burpees could greatly help my overall physical performance.
Before we proceed further, let's be clear on what a burpee is in the first place. The term itself sounds strange indeed, especially for anyone not familiar with exercise names. The name actually comes from the man who invented the exercise back in the 1930's: Royal H. Burpee. As a quick historical fun fact, the original version he created for purposes of a fitness test is not the modern version we know of and see today.
So what exactly makes this burpee so hard, you might ask? A burpee is a bodyweight exercise that acts as a full body workout without requiring any equipment. One repetition of this exercise will work your arms, legs, core, chest, and back all in one go and involves the following set of movements:
Bend over into or start in a squat position with your hands on the floor in front of you.

From this position, kick back both of your feet at the same time behind you so that you are in an extended arm plank position.

Perform a full push-up back to the extended arm plank position.

Jump forward to return to a squat position.

Jump up into the air.
It's an odd set of movements to define in steps, so a video like this one helps to demonstrate this movement better. Mr. Burpee's original exercise did not include either the push-up or the jump at the very end as outlined in steps 3 and 5 above. For the purposes of this challenge, I chose instead to do the full modern burpee outlined above.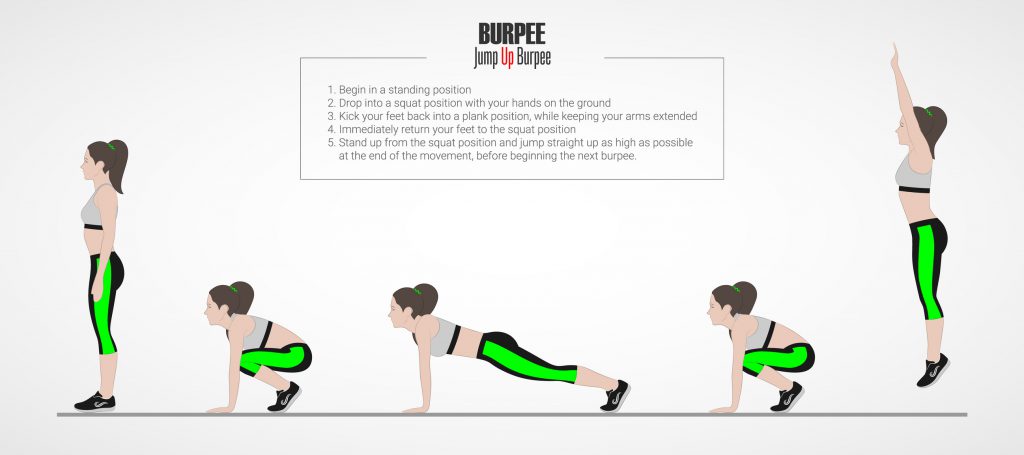 Ready, set, burpee!
When I first began this challenge on March 1st, the gyms were still open and I was doing this challenge there alongside my regular workouts. For these first 14 days, the challenge progressed rather smoothly. The first hiccup came on March 13 when my chest and arms were so sore from the gym workout the day before that it was hard to even perform a push-up. Luckily, with the exercise being so compound and modular in nature, this allowed me to make modifications when needed and on that day I ended up skipping the push-up portion of the burpee.
Little did I know though that in two short weeks, the effects of the pandemic would snowball into the US, temporarily shutting the doors of my gym. This left me with very little equipment at home to work out with, but for the few weeks afterwards, this challenge is all I would need. 
However, the second half of the challenge was not as sunshine and rainbows as the first half. As the number of burpees increased, I soon found out that these burpees were all I would need for a heart-racing workout. Days passed and as the volume increased, I ran into another hurdle on March/day 19 as my heel on my left foot was feeling pain from any impacts like stepping down a stair too quickly or jumping. For this day, I once again did a modified burpee, removing the jump from the end of the burpee instead, but I kept on going and then resumed full burpees on day 20.
Days 22-30 were the real challenge as each set left me winded with my heart racing as I sat on the ground gasping for air. I started timing myself and was making slow progressions, improving a minute at a time for the whole session of burpees until volume increased as each day passed. Each session left me dripping in sweat now as the days progressed. Day 26 came and this time, my whole body felt achy and not in the best condition, so I took a rest day there instead. I then resumed on March 27 with the next 3 days of burpees, days 26, 27, and 29 on the challenge calendar. I made up for needing to insert a rest day by doing an extra set of 10 burpees for day 26, totaling 70 burpees that day before volume ramped up to 90 per day. I decided to take one extra rest day on day 30 before tackling and finishing the final set of 100 on March/day 31.
In the end, I ended up with 1010 burpees in 31 days rather than 1000 burpees in 30 days. On the final day, it took me 21 minutes to finish. While this is by no means an excellent time, I accomplished (most of) the challenge. I did something that over a month ago I wouldn't have imagined being able to finish.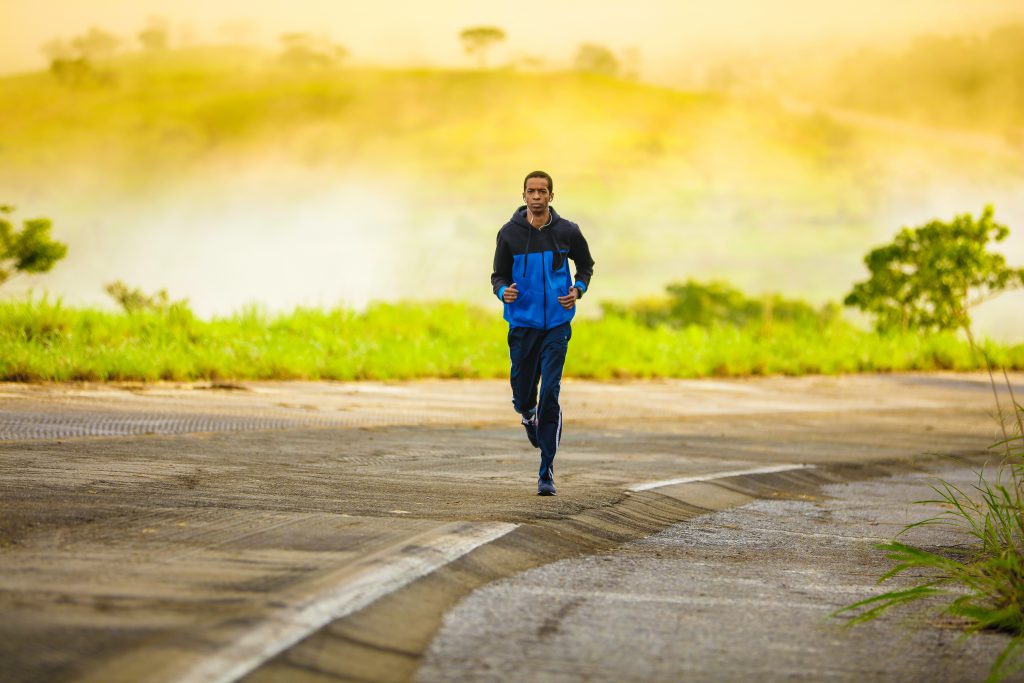 Work it out
What's the moral of this story then? This isn't a story just for me to be able to gloat about my personal accomplishment, but a story and an encouragement to everyone stuck indoors that personal health improvements can always be made even without access to facilities like a gym. In these strange times, now that we're locked away with few places to go due to the effects of COVID-19, many of us have extra time to make personal improvements to not only physical health, but also skills, knowledge, hobbies, or whatever else comes to mind.
A challenge like this that has a schedule and target for each session and is simple and easy to follow can make it easy for you to have a regular workout routine again. It doesn't have to be a challenge as intensive as the one I've chosen here with burpees, or require any equipment, as you can see. Pick an exercise that works for your skill level, whether crunches, push-ups, planks, bodyweight squats, or whatever you want to improve on. Everyone has to start somewhere, and from there you can make improvements and work your way up. 
Need some guidance on what to do once you pick an exercise? Do a Google image search for "'exercise name here' 30 day challenge" and take a look around at those that look achievable for your skill level. If needed, be flexible and make slight adjustments to your challenges when needed to prevent injuries, and stay aware to any signals your body may be sending you. 
So now that I finished with the burpee challenge, what's next? Since I finished the challenge in March, I've gotten to reflect on these experiences and decide on some next possibilities. I recently purchased a doorway pull-up bar that I plan on using to improve my ability to do pull-ups. I've also considered trying to make my own challenge with another less-than-easy complex full body exercise with just a pair of dumbbells that I own. This exercise is known as the "man makers." You can see more details on what they entail in this video here. 
I'm sure not everyone is as (potentially) crazy as me in trying to tackle these difficult exercises, but one thing I'm sure on is that I will continue to #SoGoGetUp during these strange days of social distancing.
Ready? SoGoGetUp!