An introduction to the world of online surveys and free survey software
What is an online survey tool?
Online surveys are a way for companies to understand customer motivations and the quality of the customer experience (CX) around their brands. Brands typically give respondents the option to complete a survey with a range of searching questions at a time that's convenient for them, and removed from environmental pressure (versus sometimes intrusive face-to-face interviews). Frequently, these surveys come with a reward, thus incentivizing customers to participate. However, that's only half the story.
Likewise, one can apply your online survey tool with compelling results in the HR arena to get feedback from employees. The need for employee experience (EX) insights ranks equally high with understanding customer experience (CX). Strategists' priorities include retaining employees at all costs, in order to resist churn factors (i.e., spiking terminations and resignations). Thus, online employee surveys are designed to unearth a mountain of discontent that may be building to a climax, while also revealing key drivers of customer satisfaction on the other end of the spectrum.
It makes the online survey software you use and how you conduct your surveys important.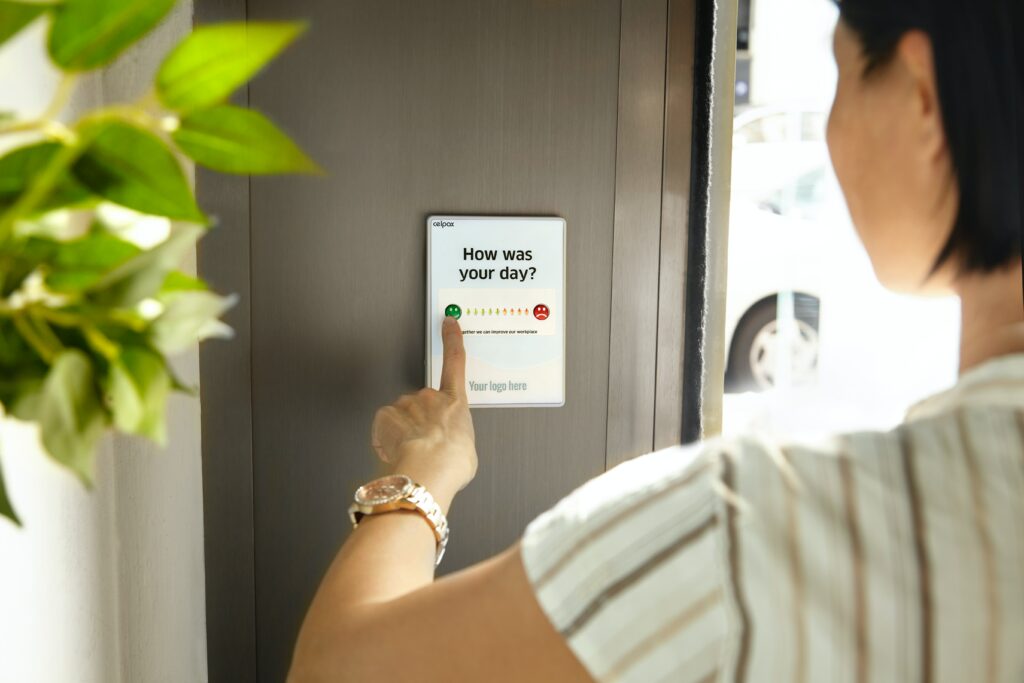 Why use online surveys, and what are the benefits?
Improving CX and EX depends on getting feedback at vital touchpoints in the employee and customer journeys. Why? Because, it doesn't take much to derail momentum and upset customer/employee equilibrium in an intensely competitive environment, thus giving people a reason to join or follow a competitor instead. Moreover, if there are defects in your EX or CX value proposition, the earlier you detect them, the better you can erase or rectify the problems. In short, deploying an effective online survey tool is indispensable for generating feedback, thus developing valuable metrics.
It should be the goal of every business to retain customers and employees by attacking churn with a vengeance. Improving brand and company loyalty costs significantly less to sustain than constantly looking for recruits and new customers. Moreover, customers who love your company will try new products and services with less resistance, and happily pay more for the privilege of being first in line. So, it's crucial that businesses find the best online survey software and use it to determine the factors contributing the most to keeping essential people in the fold and, conversely, the primary factors that turn them off your customer or team interactions. Consider the following:
Online surveys and survey software open up better methods for engaging with your customers/employees and creating cross-selling opportunities.
However, accurate data depends on online survey tool designs that allow respondents to speak their minds on the issues that genuinely matter most.
Frequently, cookie-cutter email templates and other online surveys from some free online survey tools often fail to relate to your business and the arena you want to investigate.
From the customers' and employees' perspectives, surveys should look branded, non-intrusive, and appear to value their views and suggestions. Indeed, the surveys themselves can appeal to the ones you need to impress the most.
What this article covers:
In this piece, we'll comprehensively cover the best free online survey tools to deliver:
Results that can take your company's efforts to another level.
Meaningful CX and EX connection.
We're confident that you'll find the survey platform that best fits your marketing and HR programs here. Moreover, you'll likely uncover ideas from various online survey platforms that will lead you to the ideal customized online survey tool that works whenever you need it.
Although the focus is on the term "free," in most cases, maximum benefit emerges when you upgrade at fees ranging between $25 and $100 monthly. Still, the no-pay versions are diamonds in the rough that can help many inexperienced companies enter the surveying arena for the first time.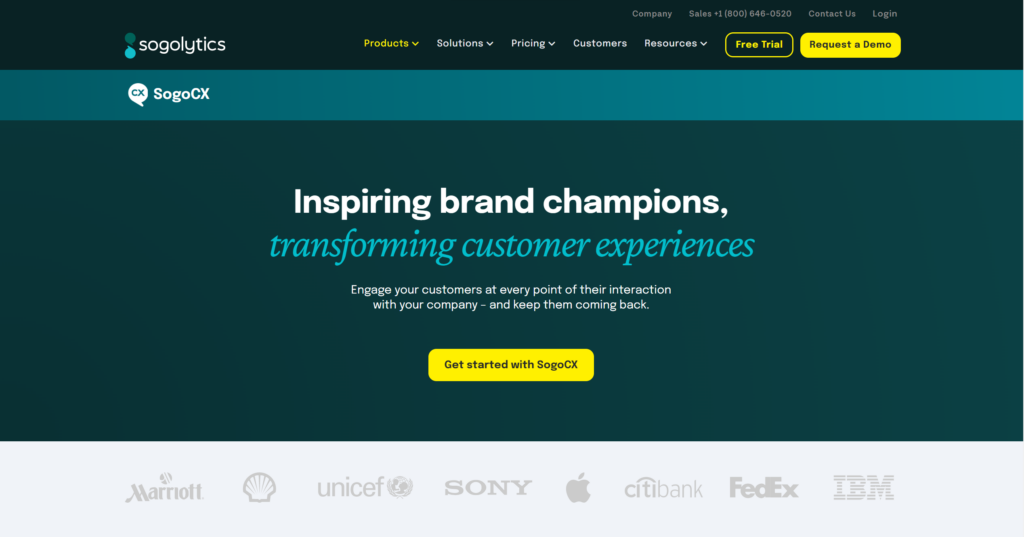 1. Sogolytics – One of the best online survey tools available
You won't find better free online survey makers anywhere on the internet; that's why we're listing Sogolytics as #1.
This company offers arguably the most powerful online survey tool accessible for no charge, that's one step ahead of other freely available survey software options.
Moreover, their resources take you beyond just analyzing customer and employee responses on a surface level, revealing inner meanings that get to the truth of feelings and thinking around your company/brand. It's arguably the best free survey maker tool you'll find on the global web.
You can apply the Sogolytics solutions only a few times to see emerging patterns and pick up on crucial trends; simultaneously, zone in on environmental obstructions that other online surveys fail to unearth.
The company's survey creators are a step ahead of competitors in reducing survey abandonment. The secret, it seems, is engaging respondents with unique features that solicit enthusiasm and customer feedback. Then, they go to the crux of the matter by providing:
Market research via NPS surveys and the best free survey tools functioning at optimal capacity for compelling results.
Sogolytics reviews that tell the story better than a thousand words. Droves of customers applaud the company's online surveys as the go-to solutions for understanding customer and employee motivations.
The ticket for insightful employee engagement surveys from every angle.
The one downside is that the free version has limitations, but still gives the user a good feel for what comes with an upgrade. So, yes, the reality is that most of the professionalism and expertise behind the brand emerges with the paid-for upgrade. However, starting at $25 monthly, the latter is highly competitive, and a value buy compared to more expensive survey tools.
What is the best tool for a free survey?
The verdict: Sogolytics.
What are the kinds of online survey?
Soglytics give you the capabilities to do any sort of survey project you want, not limited to: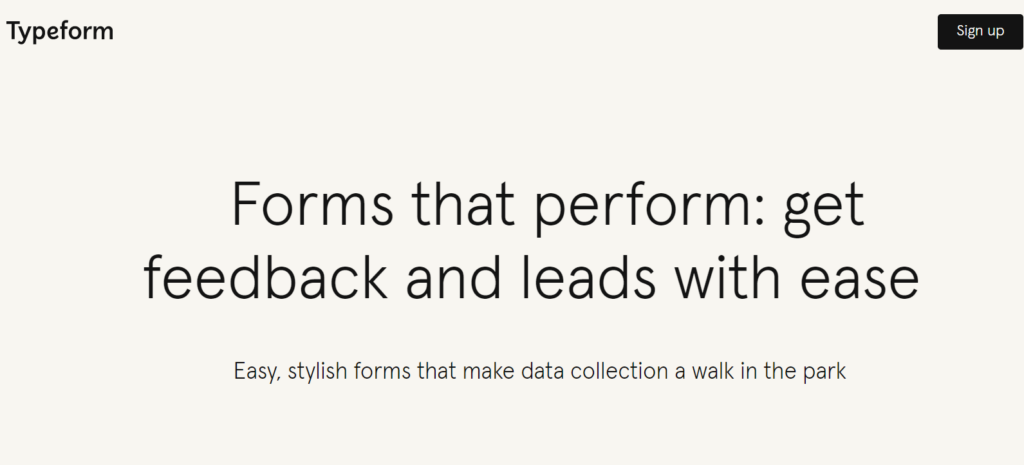 2. Typeform – Another in the range of best online survey tools in the research environment
Building a simple online survey tool around easy-to-create questionnaires is what Typeform is all about. Their online surveys can kick off with just an email address – enough to get customer and employee responses beyond your expectations. The free version connects to Typeform basic, which gives you an excellent feel for one of the best free survey tools accessible to marketers and HR staff in the US.
With a free Typeform online survey tool, you can execute employee and customer feedback surveys that produce results. In one package, you get access to:
An unlimited number of Typeforms that are shareable with team members.
Design flexibility, allowing the user to add customized images and insert color palettes.
Customizable questions and endings, but only up to ten (i.e., comparatively limiting and a free version disadvantage).
The online survey tool Logic, which focuses on branching principles. The latter provides the ability to calculate scores, thus weighing variables and response importance.
Features that :

Save and show respondent information in Typeform URLs (easy as counting 1-2-3.)
Embed online surveys on your website in many different ways.
Seamlessly download and export your results, an accommodation found in the best free survey tools.
Alert you via email each time your online survey tool generates a completed form.
Offer basic reports and metrics, integrations with other mainstream survey entities, a Google Form import feature, and numerous other developer tools.
In summary, Typeform ranks as one of the foremost survey creators providing the framework to construct an online survey tool that makes all the difference to your customer/employee feedback data.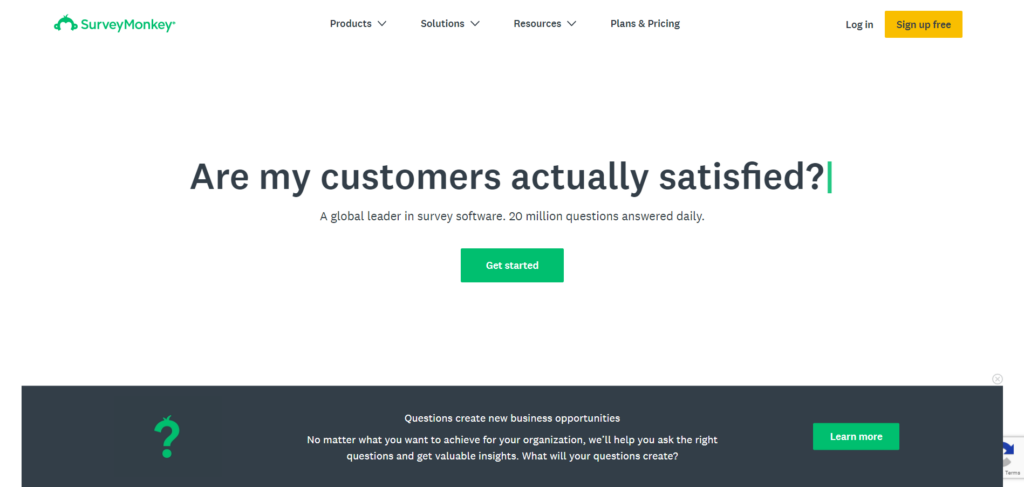 3. SurveyMonkey – A staple choice when looking for the best online survey tools
SurveyMonkey stands close to the front of the lineup as your most penetrative online survey tool. Many markets review it as the best online survey creator around, with expertly written templates that connect to various research needs.
The exciting thing is that you can deploy online survey tool formats as they exist, or customize them with surprising flexibility. Indeed, this company has a broad range of popular sample templates that allow you to:
Feel out your customers and employees, thus making significant EX and CX alterations.
Delve into the academic landscape to obtain parent and student feedback.
Break down consumer demographics and segment markets for a better route to sales revenue.
Branch out into healthcare, employee satisfaction, event planning, and many other fields with tailored online surveys establishing market traction.
Create benchmarks that keep your CX and EX standards climbing higher and the chances of churn dwindling.
In short, this company's reputation speaks for itself. There's an online survey tool waiting for you to use for free, and from there, get closer to a team that understands customer/employee research dynamics like no other.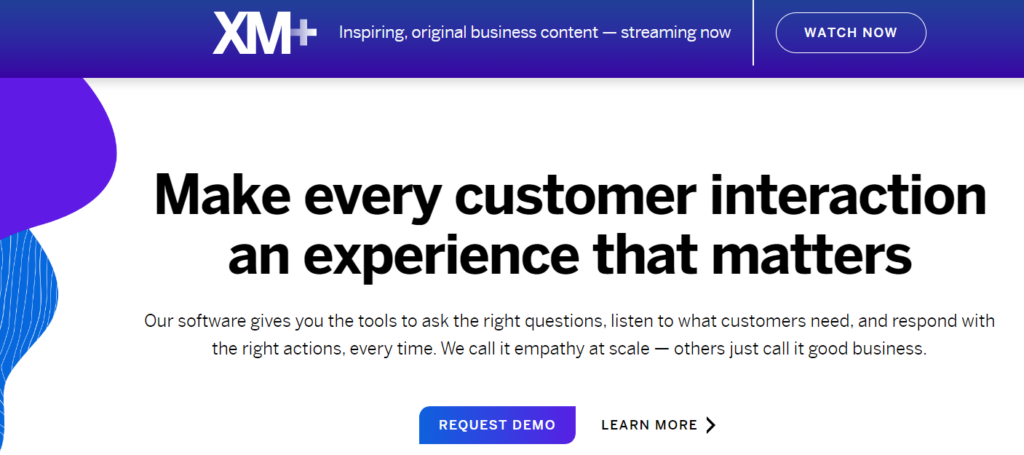 4. Qualtrics – Another popular choice in the free online survey tool market
Qualtrics prides itself on offering free online surveys that work for every scenario. In addition, its team delivers an online survey tool that gets results with minimal hassle. Consider the following:
It doesn't matter if you're engaging with employees, wanting to hear back from customers, or uncovering brand insights; Qualtrics has a survey design format that'll work for you.
Two choices:

Sign up and select a pre-built template to energize your research campaign.
Alternatively, design your own online survey tool from scratch, injecting content specific to your business.

The company represents the opposite of unstructured question lists. Instead, it provides a valuable channel for feedback connecting to significant CX and EX motivations.
Every aspect of the platform points to understanding your audience better and learning from them to build meaningful brand messages and promotions.
Access close to 50 commonly used surveys for free. The templates address almost every vertical you can name.
Qualtrics stands proud with experts in survey design, execution, and results interpretation. It's an online survey tool that can give you fast, in-depth insights.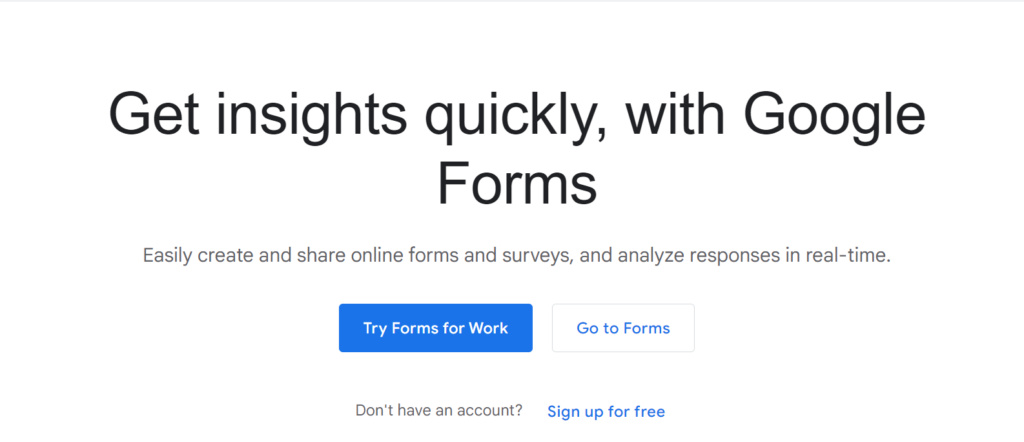 5. Google Forms – A compelling option for a free online survey tool
It's a demanding task finding the "best online survey creator" amongst all the expert entities listed in this article, but Google Forms is a strong candidate. Moreover, it's 100% free to everyone with a Google account to build the online service tool that aligns with their customer journey and employee journey insights. The following critical aspects are worth taking into consideration:
Amazingly, you can get advanced versions without moving from "free basic" to costly "premium packages."
Google Forms align with every other aspect of the Google offer compendium.

Because millions of people google things every day, they trust the brand, no matter what arena it connects to.
As a result, you'll find customer and employee audiences you're surveying are less resistant to Google surveys, and responses are generally more authentic and reliable.
Try them for developing your next online survey, and it won't cost you a dime today or in the future, no matter how complex the research becomes.

6. Alchemer
Alchemer (formerly known as SurveyGizmo) is an online service tool that contains excellent automation capabilities and a broad question list. The limitations, however, can't be ignored:
Only 3 free surveys.
With a maximum of collecting only 100 responses per survey.
Implying that it's suitable primarily for narrowly defined targeting.
Still, you'll be impressed with its filtering process that seamlessly slots in the right questions for every research vertical. Notwithstanding that the premium options are costly and the reporting reflects notable gaps, it rates as a first-class app in the free survey arena against other competitors (above and below) with restricted latitude.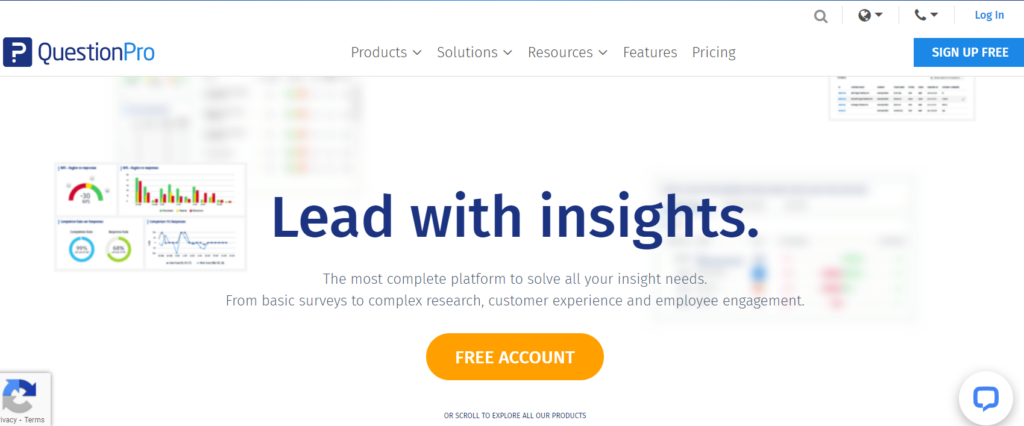 7. QuestionPro
Undoubtedly, an outstanding online survey tool consumers regard as a leader in the space, QuestionPro contains technology to help users quickly develop efficient surveys, polls, and quizzes. In addition, the robust reporting functions promote shareability and flexible analysis. A compelling feature list includes:
Multilingual customizable surveys.
Numerous survey templates that connect to over 30 question types.
However, deployment bumps into a technical learning process, and "iffy" customer support, thus obstructing a smooth workflow and posing challenges for new users.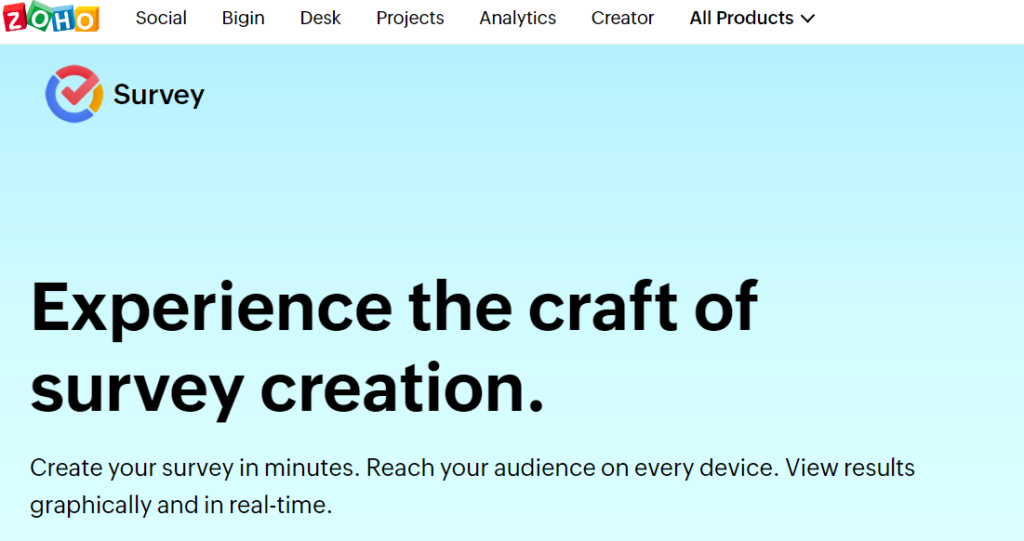 8. Zoho Survey
This alternative leans more toward basic use than the other online surveys described above. As a result, Zoho Survey doesn't function well for more complex applications. However, easy-to-use online features compensate for the lack of customization leverage. So, you'll likely find a suitable template to meet your needs from the extensive range of available options.
Unfortunately, there's little difference between the paid and the free (lowest level) options. Therefore, we don't recommend forking over any dollars if your needs move into the customization arena. In addition, the user interfaces are noticeably behind the times, thus requiring a contemporary upgrade. Nonetheless, the online survey tool offers excellent user-friendly features within the lower range option described above.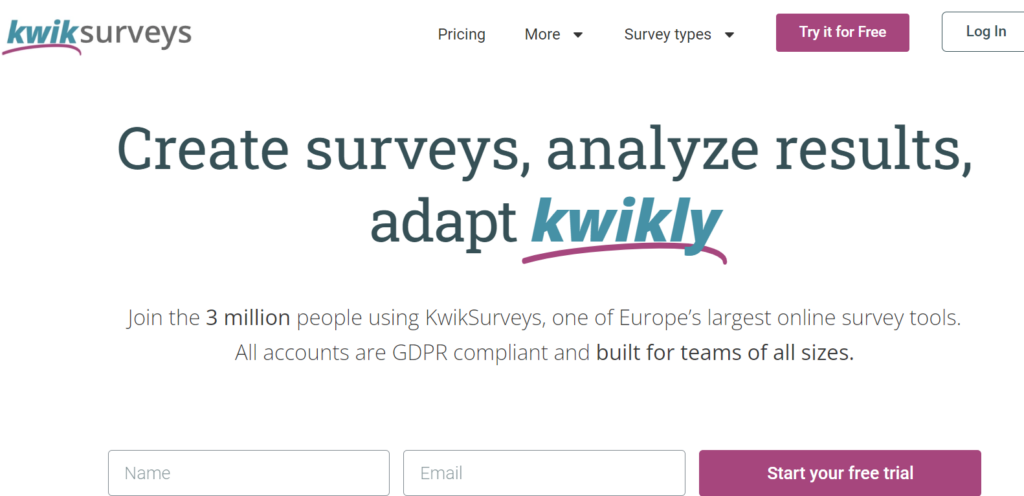 9. KwikSurvey
From a user-friendly viewpoint, KwikSurvey is one of the most convenient online survey tools, thus living up to its name. Once in the system at the free level, users will benefit from a seamless and fast process from start to finish. In addition, it offers many of the same features covered in most of the other apps in this article.
Users will likely see enticing upgrade features, but they don't come cheap. Nonetheless, it may be worth taking the step up to shape things to your liking with attractive features offered by a compelling customization framework. Sometimes reviewed as "boring," KwikSurvey takes that criticism as a compliment to its simple and easy user interface.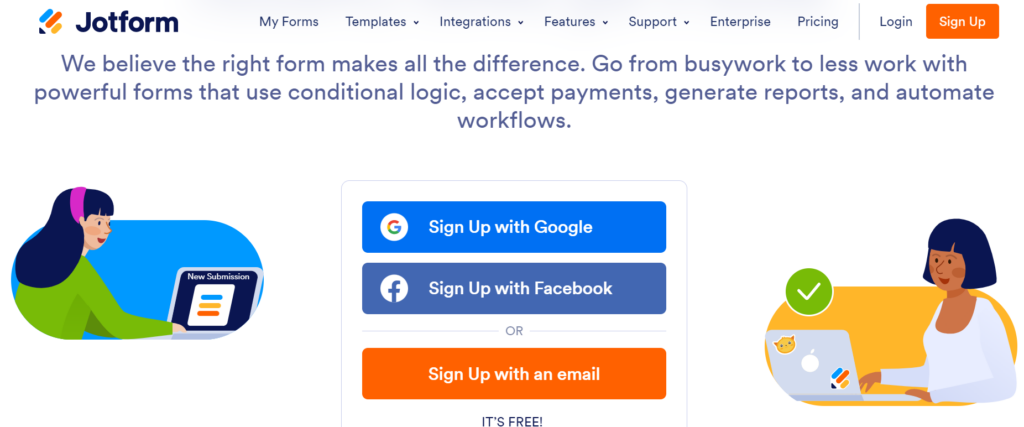 10. Jotform
One of the leading online survey authorities, Jotform has gone overboard to provide intuitiveness and free-flowing usage to its customers. Although its analytics and integrations compare favorably to expert-rated competitors, Jotform's basic features are the most significant customer attraction. The latter helps you in the processes that drive leads, distribute surveys, and collect payments.
Customization is not the company's strong suit, ranking as "limited," and its billing practices are inconsistent. Other gaps exist in logic branching (lacking sophistication), and the customer support offered to free users also leaves much to be desired.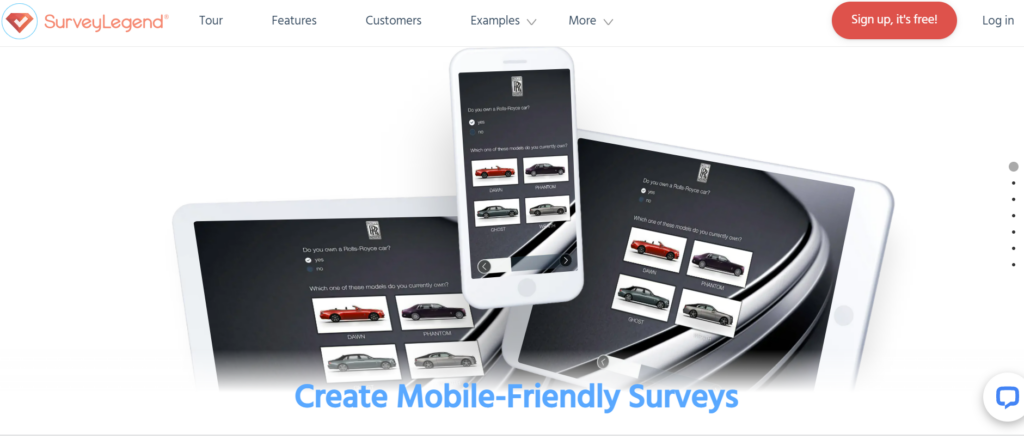 11. SurveyLegend
Free users, usually entering the arena for the first time, love SurveyLegend because it allows them to develop surveys in minutes, with a reasonably quick learning curve and polished results. However, promotionally it goes a little overboard, overclaiming its user-friendliness. Notwithstanding, the brand's drag-and-drop interface is particularly engaging, forming the backbone of a feature set that delivers compelling customization.
Numerous templates for email, text, and social media are instantaneously accessible and shareable. In addition, the data feed, analytics, and insights into customer activities are well reviewed by many.

12. SurveySparrow
SurveySparrow, as a free online survey site, provides incredible value. Users need never worry about spewing out boring survey forms, thanks to its conversational overtone. Excellent customer reviews confirm that this brand seamlessly delivers:
NPS surveys that suit any device.
Branding features that make every survey your own, plus Display Logic and "drag and drop" capability.
Customization that others only provide in their premium paid options.
A substantial range of templates.
After conducting automatic performance appraisals and processes – feedback, recurring workflows, and insights.
A modern dashboard that's easy to use.
Broad coverage embracing everything you need to see from an EX and CX viewpoint.
A chatbot facility (i.e., a website enhancement.)
The almost unlimited ability to integrate with relevant applications.
More survey sharing options than any other free online survey software.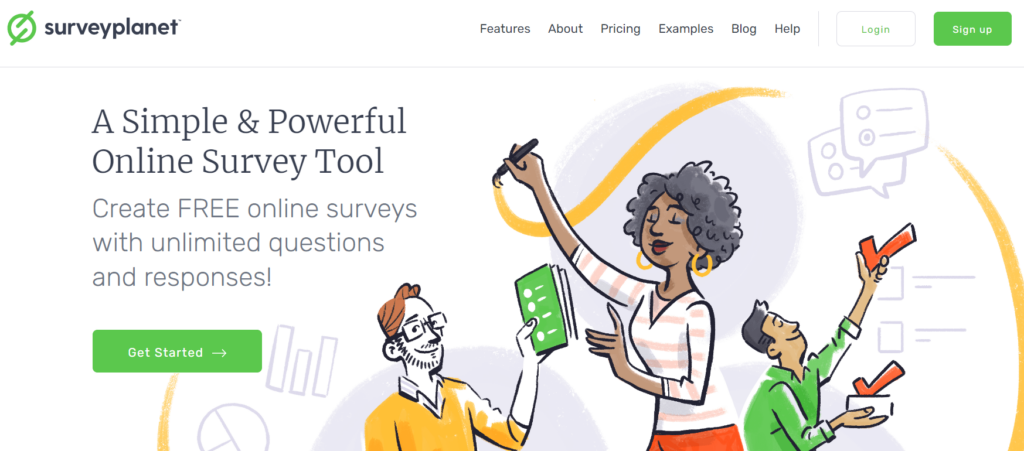 13. SurveyPlanet
SurveyPlanet is a free online survey tool that offers users unlimited surveys, questions, and responses. Enterprise businesses find that this suits their needs perfectly, as it aligns with extensive audience coverage. Moreover, it contains many standard user features found in competitor applications. Data exportation is the one obstruction in the no-pay version, which kicks in only with an upgrade. However, the latter is good value, particularly with large audiences repeatedly targeted in the mix.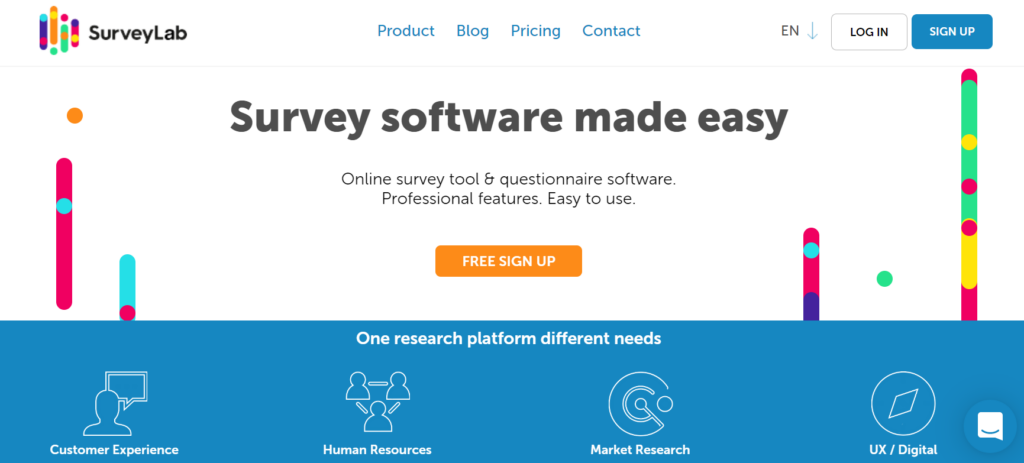 14. SurveyLab
SurveyLab provides a comprehensive value package as a free online survey tool for data feedback and measuring employee/customer satisfaction. It allows users to build their surveys from scratch with automatic report and response collection. Flexible customization, sound analytics, and versatile mobile data collection are meaningful differences, too. Additional attractions are in-built features such as:
Question randomization.
Skip logic.
Responsive customer support connecting to:

Multiple-languages.
Extensive result-sharing reach.
Exporting results in various formats.
White labeling to let users impressively brand the surveys.
You may find it challenging to navigate the menu tags (lacking intuition) and export results (based on clumsy technology).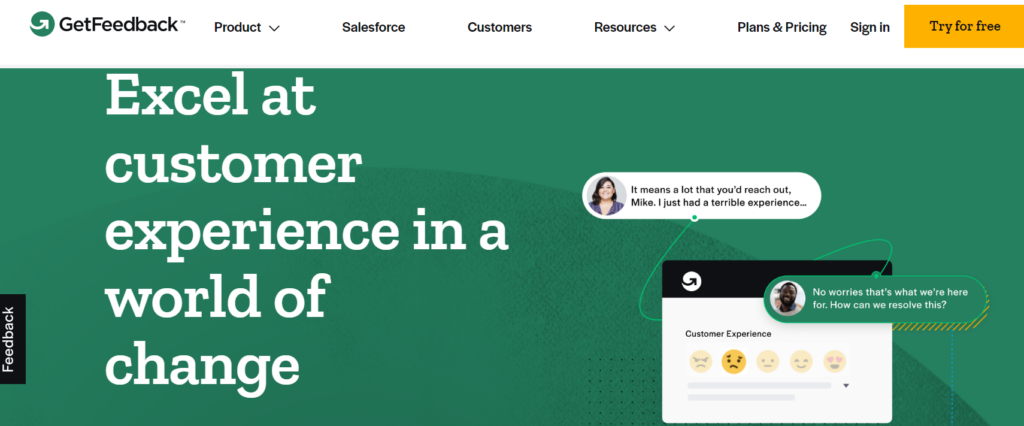 15. GetFeedback
This online survey tool at the "for free" level is a little limited. You will not enjoy the use of numerous CX-centric features and functionality available only on the upgraded version. The free version of GetFeedback only allows 20 responses (versus many competitors' "unlimited"), giving one a taste of the benefits that emerge from moving up a few notches (but paying for it). It's a go-to application for Salesforce, which stands as a massive endorsement behind the brand.
GetFeedback can deliver robust metrics such as NPS, CSAT, or CES – focusing more on CX (and, therefore, less on EX). Reviews indicate that enterprise users enjoy response increases of up to 240% that stream through 7x faster, but reviews of the free version are not as positive. This online survey tool works best for global brands measuring massive audience responses.
Find the Free Online Survey Tool That's Best for Business
So, there you have it. We've covered fifteen online survey tools with free options ranging from "severely limited features" to comprehensive functionality, comparing favorably with upgraded versions of many others on the list.
In most cases, as users get further into the survey arena, a move from "basic" to a premium option is inevitable. But try a few of these to feel the user-friendliness and the learning curve's shallowness (or steepness). Of the fifteen, there's at least one that should fit your needs.