First impressions matter – and that's never been truer than in today's digital world. It is so important to make sure your online reputation matches the in-person brand you've built for yourself, but how much can you control about the online reviews you receive?
In our recent webinar "The Power of Patient Feedback: Strategies for boosting online reviews and acquiring new patients" we explored the importance of translating positive patient experiences into a more online presence. Reviews can have a huge impact on attracting new patients and even maintaining the trust of your current patients.
Whether you're a single practitioner in your own office, a member of a group practice, or part of any healthcare-focused organization, paying attention to a few of these strategies can help to make a difference in building a more positive online reputation.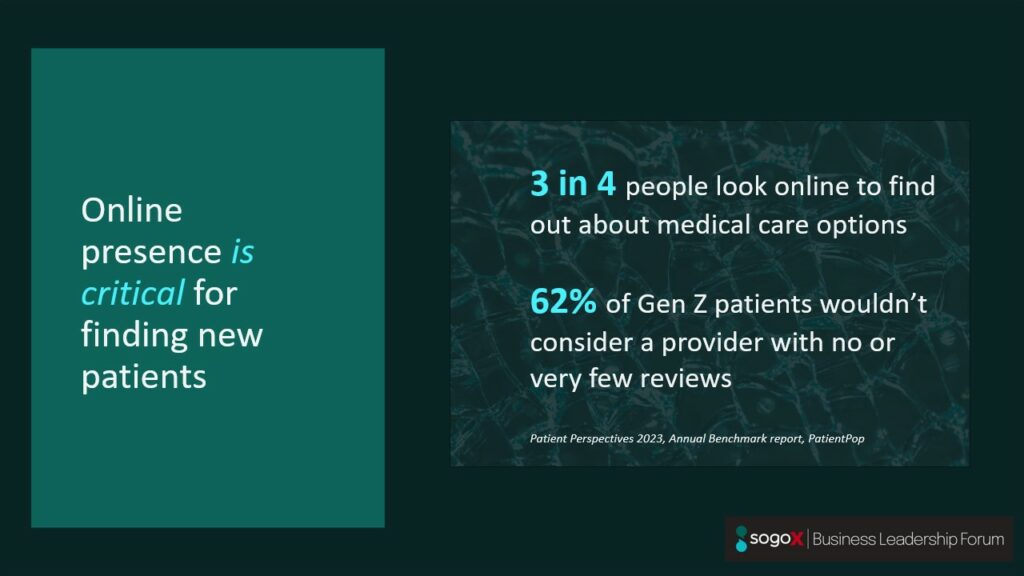 Reactive strategies for online reputation management
Track what's out there. Search your practice and review the top results. See what people are saying. Establish a starting point.
Convert positive feedback into online reviews. You know your patients – ask them for help! Make your review sites easily accessible and ask your patients to share their experiences. In most cases, they're more than happy to.
Handle unhappy patients. Nobody is perfect and that's okay! It's crucial to be open to negative feedback as well as positive. When someone shares a not-so-happy review, follow-up, and publicly reply. Over 50% of consumers say they are more likely to consider a provider that response to negative reviews than one that does not.
Proactive strategies for online reputation management
Make it easy for patients to share their feedback. Collecting feedback after direct interactions is great but make sure you include passive feedback collection in your plan as well! Print out QR codes to keep in your waiting room and have a feedback form included in your patient portal. Let your patients know you are always willing to listen.
Make automation work for you. Find a provider that simplifies the distribution process. Sogolytics offers numerous ways to automate different touchpoints with your patients so your valuable time can be spent reviewing and acting on feedback.
Understand and address systemic issues behind negative reviews. Negative feedback isn't fun to receive but it's really a gold mine to helping you achieve success. Listen to your patients and find trends in what they're saying. Pinpoint the important issues and take steps to improve on them.
Putting ORM strategies into practice
Don't just take our word for it! Check out our latest case study on Virginia Physicians for Women. VPFW were receiving great feedback from their patients, but it was all internal. Partnering with Sogolytics, they were able to point their patients towards their Google Review sites and increase their number of reviews by over 600%. Today, they have over 300 reviews and saw their average 5-star rating jump up by over 2 full points.
These online conversations are already happening and it's crucial you make sure you have a voice – it's your brand! The steps outlined above are a great place to get started with taking control of your online reputation.
Ready for next steps? Watch the full webinar here. To take a deeper dive into how Sogolytics can help you boost your online reputation, book a personal consultation here.