As December's winding down, we're preparing to say goodbye to 2018. Whether you're reluctant or relieved to leave 2018 behind, there's no doubt you'll carry something with you.
We all know reflection is a big deal — pausing for a moment to learn, celebrate, or even just wonder how something even came about. As we approach the new year, what lessons and memories are we packing along?
In our November newsletter, we simplified this question for reflection, and here's a bit of what we learned…
What will you remember most about 2018?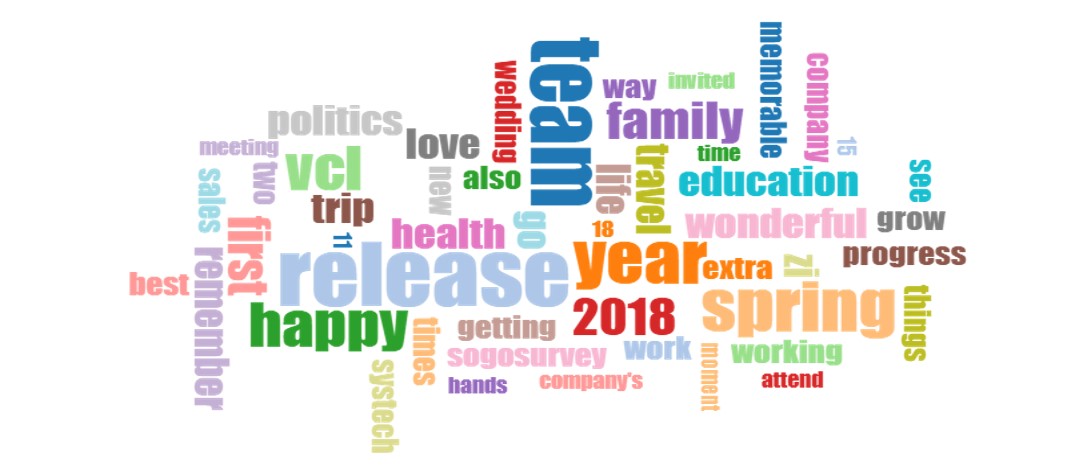 While we love word clouds (Thank you, Omni Report!), we can't resist sprinkling in a few more full comments…
Elections, Trump, CA fires
Thailand cave rescue operation
Running two marathons within two weeks
Awarded the Rockstar award
My sister's wedding preparations
What can it be other than the spring release?
Finally adulting
Thanks to everyone who shared their reflections! While it's no surprise that plenty of participants highlighted this spring's new Sogolytics release and our updated mobile app, we know it's not the only change that happened this year, and we're happy to make it into the mix!
No matter what your 2018 looked like, here's wishing you plenty of lessons learned, good times sweetening into memories, and warm and wonderful reflecting!