The dinner slump is real. You know the one. You're making the same dishes over and over and nothing sounds exciting or tasty. Well, in an effort to pull myself out of the "what's for dinner rut" I decided to explore some new options; after all, variety is the spice of life, right? Thankfully, when it comes to dinner time there are a lot of ways to get food on the table: home-cooked dinner, carry out, ordering something in, meal delivery services, and even the occasional (and delicious) "breakfast for dinner".
My requirements were straightforward – I wanted to have a nutritious dinner ready in roughly 30 minutes, without adding more stress to my evening routine. I decided to try a meal delivery service for several reasons. First, I was curious to see what types of new recipes I would be preparing, and second, I was excited to have a break from the weekly meal planning and grocery shopping. I ended up going with HelloFresh mostly because they had a sweet promo at the time, but there are other companies that provide the same service (Blue Apron, Home Chef, Plated, and Peach Dish to name a few!). Also, while HelloFresh managed to cure me from my dinnertime blues, they are not a sponsor of this blog.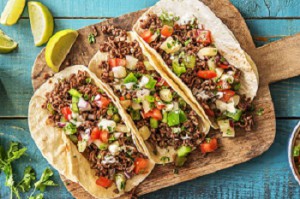 The first meal I made from our initial order was Pineapple Poblano Beef Tacos. Yum. Like most nights, my husband, son, and I sat down at the table and started to enjoy our meal. We chatted about our days and watched our little guy mash up age-appropriate food on his high-chair. As we finished our tacos I was curious to hear what my husband thought of this new meal. I couldn't help myself, I said, "On a scale of one to five, how would you rate this meal on 'deliciousness'?" He had a little chuckle because I'm sure he knew he was about to experience an in-person survey. He gave me his answer and I followed up with, "On a scale of one to five, how would you rate this dish for "make again"? The final question was actually one I asked myself, "On a scale of one to five, how difficult was this meal to prepare?"
I instantly thanked my husband for his feedback and looked forward to cooking the other meals for the week. Honestly, I was also looking forward to see how he would score the other dishes. You might think I sound nuts and that only someone who works around surveys all day would administer a dinner survey to their spouse. But, like with any experiment, you have to find a way to measure the outcome.
With any experiment, you have to find a way to measure the outcome.
Click To Tweet
For us, this was a fun way to try some new recipes, rate the success of each dish, and ultimately determine if we would keep ordering meals each week. What's special about surveys, even the most informal ones, is that they help us discover data that's all around us. I encourage you to find new ways incorporate surveys and collect feedback. As I said, at the beginning, options are important. So, come up with some different options for your next survey. Maybe you send a product feedback survey, or distribute an existing survey through your social media channels, or maybe your survey isn't a survey but rather a poll that gives you instant results. The point is, when you add a dash of data and a pinch of creativity you can cook up a whole new way of looking at the world around you.
And yes, you're right. It's not all about the numbers. Maybe next time I'll give him a text box, too, for an open-ended response. 😉