A month ago, my car was rear-ended while it was parked outside of my house. There was no note, no knock on the door — just a frustrating mess.
I dealt with the police, the collision shops, and, like a reasonable policyholder, I connected with my insurance company and sent in all of the details, pictures, and estimates — within just a few days.
And yet, a month later, my car was still waiting to be fixed. More frustration. I was ready to cancel my policy.
Finally, I called my insurance company and talked to Amanda. She saved my sanity, my car, and my policy. Now, rather than complaining to everyone I know about the bad service I received, I'm grateful for the follow-through and I'm likely to continue my relationship with the company for the foreseeable future.
From detractors to promoters, the benefits of nurturing customer loyalty are real. Our colleagues Haris Azmi and Natasha Safronova dove deep into this topic on a recent SogoX webinar.
Watch and learn:
How to Turn Detractors to Promoters in 6 Months
Detractors, passives, and promoters, oh my!
Most know that NPS—and its employee experience (EX) counterpart eNPS—is Net Promoter Score, a key CX metric that provides insight into levels of customer loyalty or satisfaction with an organization. Generally, the higher the NPS, the more satisfied and loyal the company's customers are.
For many organizations, NPS is a key metric that's regularly monitored, with ongoing efforts to identify and take action on key drivers that have the greatest impact—positively or negatively.
So what does that mean for me, the upset customer whose claim took almost a month?
Consider the NPS calculation: NPS ranges from -100 to 100, where scores above 0 are considered good, and those above 50 are excellent.
Apple is at 61.
Samsung is at 47.
As a customer, the NPS of these brands tells me people often are happy with their interactions, products, services, or support, and I could probably be comfortable giving them a try. Between NPS and the organization's online reputation, I can likely make a decision that won't end in buyer's remorse.
Why is NPS so important to customer loyalty?
Haris pointed out that NPS is simple and straightforward, but that's the magic. Humans enjoy being nice and efficient, and a single question focused on likelihood of recommending something to others provides exactly that clarity across different businesses and industries.
One question—so many insights.
Problem-solving has evolved, involving technology in greater amounts since the pandemic. NPS is a great tool to use in experience management to connect directly with customers in a real way, monitor your digital footprint, and your brand reputation in a digital experience.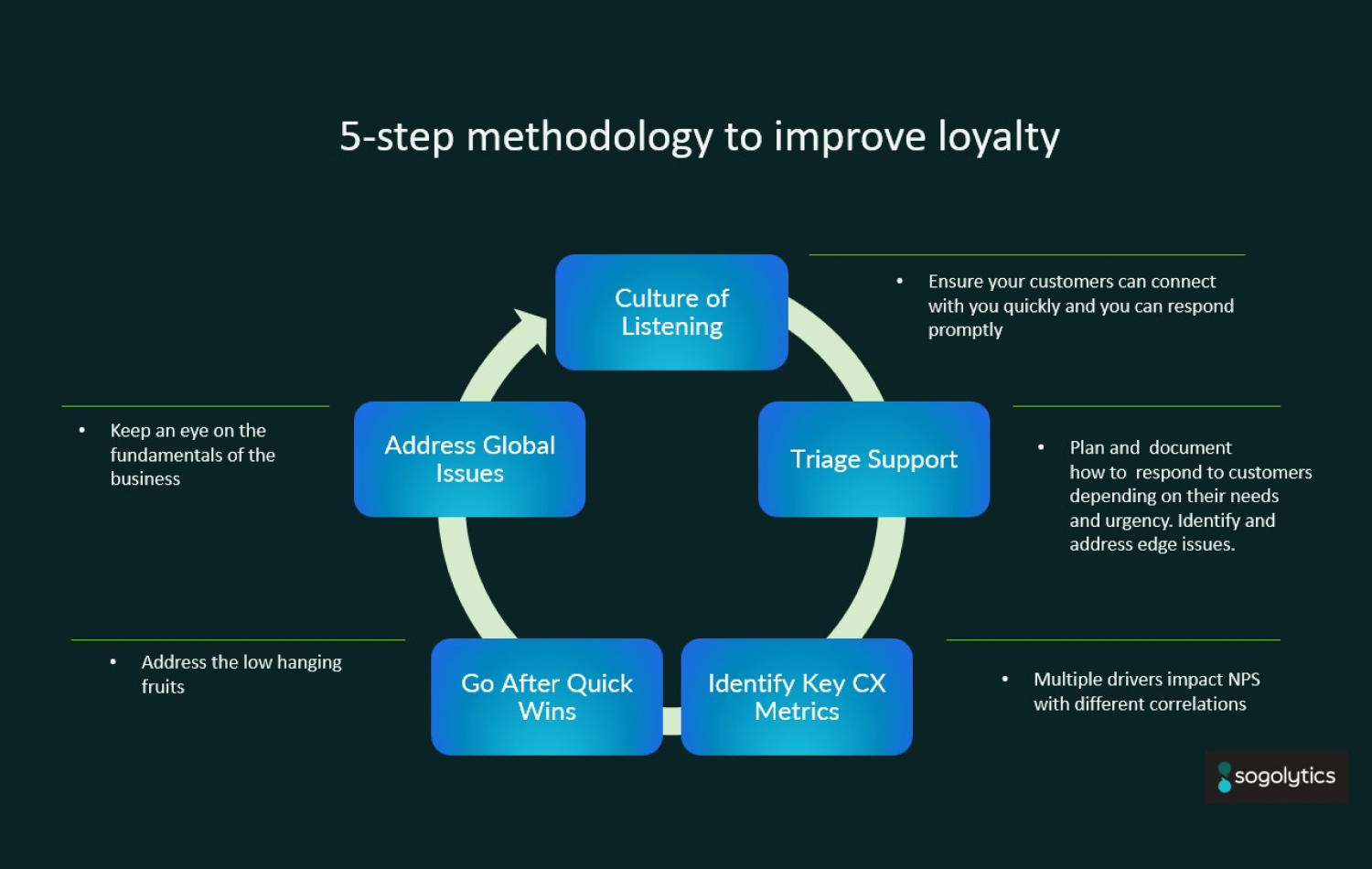 5 steps to greater customer loyalty success!
How do you cultivate greater customer loyalty? In what ways can you use NPS to improve loyalty? An organization with a strong foundation can benefit from utilizing these five steps to transform client relationships and long-term growth.
Culture of Listening
Triage Support
Identify Key CX Metrics
Go After Quick Wins
Address Global Issues
While your customers may face tough situations beyond your control, the experience you provide them can make a huge difference in whether they stick around or walk away. Cheers to Amanda and everyone out there taking the time to deliver success!
Want to learn how to put these steps into practice?
Looking for further inspiration? We invite you to check out on-demand sessions from our SogoX Business Leadership Forum series!
Ready to grow customer loyalty?  Connect with us today and we'll be glad to help!