Say you want to purchase a new CRM system or a sales tool, and you've pretty much got your heart set on which vendor to work with. Before you commit to a contract, though, you decide to Google this company, and you realize that they've got a ton of negative reviews.
Yikes. Will you stick with this vendor, or will you backtrack and look for other alternatives? If you chose the latter option, you're not alone. Consider this: a whopping 86% of consumers will hesitate to purchase from a business that has negative online reviews, and only 14% would consider using a business with a one or two star rating.
The bottom line? It's important to make sure what people are saying about you online is working for you, not against you. In this article, we talk about how to go about managing your company's reputation online, and discuss how you can maximize the upside and minimize the downside of word-of-mouth.
What exactly is online reputation management?
In a nutshell, online reputation management deals with controlling what shows up on the page when someone Googles you. When done right, online reputation management helps you improve the public's perception of your brand.
With online reputation management, you're essentially trying to increase the amount of positive conversations (and at the same time, decrease the amount of negative conversations) about your company. Here are the few various channels that you'll want to monitor for brand mentions:
Review sites
Many consumers turn to review sites in order to evaluate the different companies that they've shortlisted. Now, these review sites vary from industry to industry, but for those dealing with business software, reputable review sites include Capterra, FinancesOnline, Software Advice, G2 Crowd, GetApp, and AppExchange.

As you might imagine, having a good overall rating on these review sites can help you stand out from your competitors, and give your consumers that extra nudge they need to make a purchase. Check out Sogolytics's profile on Capterra in the screenshot above – we have a total of 422 reviews, with an overall 5/5 rating. Now, isn't that convincing?
Google reviews
Assuming your company has a Google listing, the first thing consumers will see when they search for your brand is this listing (plus the reviews that you've accumulated with it).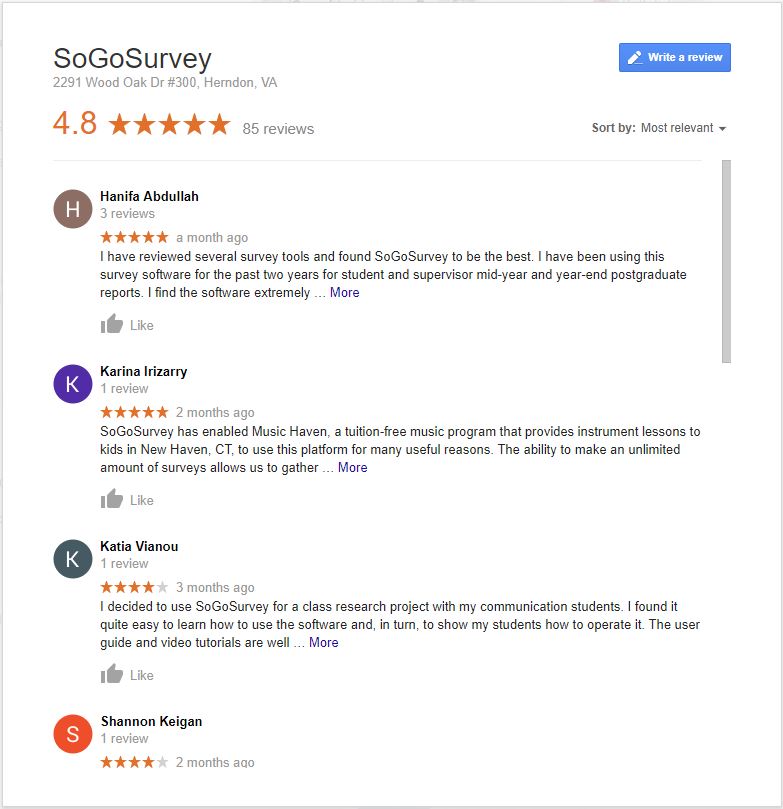 These reviews can bring about a ton of social proof, and the higher your overall rating, the more it helps in building trust with consumers.
Social media platforms
Another place where consumers congregate to talk about products and services? Social media. In this day and age, it's not uncommon for frustrated customers to post angsty rants on social media. If these are posted on your company's Facebook page, it's easy enough to address them… but the difficulty lies in identifying negative comments that consumers post on their own status updates.
To make sure that you're hearing everything that your consumers are saying about you on social media, go ahead and use a social listening tool. To get started, check out this list of 15 free social media monitoring tools.
Hate sites
This doesn't happen very often, but some consumers do take things to the extreme and create standalone websites to post scathing reviews about companies. These sites are typically built by disgruntled customers who feel like they've been wronged or cheated in some way.
As Warren Buffett puts it, it takes 20 years to build a reputation, and just five minutes to ruin it. Click To Tweet
3 Must-Know Online Reputation Management Strategies
Understanding how (and where) your consumers have conversations about your brand is just part of the puzzle. Your next step is to utilize the following online reputation management strategies to make sure that social sentiment skews positive.
1. Actively Ask Your Customers To Contribute Reviews
When it comes to positive reviews, more is definitely more. 44% of consumers say a review must be written within one month to be relevant, so enlist your customers' help, and ensure that your review sites and your Google listing gets a fresh injection of reviews every so often.
Pro-tip: make sure you get your timing right. If someone has just signed up as a customer, and they haven't even gotten the chance to try your product, it doesn't make sense to ask them for a review. But if someone is renewing their plan or upgrading to a premium plan, then get in there and request a review from them!
2. Respond To Negative Feedback And Reviews
Of course, not all your customers will be hardcore fans of your brand, and you will have to respond to negative feedback and reviews. As a general rule of thumb, try to understand where your customer is coming from, and do not get defensive. If your company is in the wrong, then a genuine apology (and a promise to make things right) is in order.
What if a review contains incendiary content and untruthful statements, and it's clearly aimed at destroying your reputation? Under such circumstances, you should definitely contact the site administrator and request for it to be taken down.
Don't make the mistake of deleting reviews which are negative but authentic, though. Consumers are pretty savvy these days, and they will suspect that your reviews are fake or censored if there's zero negative feedback.
3. Buy Domains To Rank For Branded Keywords
For those unfortunate enough to be dealing with hate sites, one way of reducing negative publicity is to buy domains to rank for your branded keywords.
For example, you might purchase domains such as "CompanyNameReviews.com" or "CompanyNameTestimonials.com". The goal is to populate these sites with sufficient content, and get them to rank above the hate sites. Once these hate sites get relegated to say, page three or four on Google, they'll get a lot less traffic and hits.
A Final Word On Online Reputation Management
As Warren Buffett puts it, it takes 20 years to build a reputation, and just five minutes to ruin it. It's time to start working on your online reputation management more proactively, and make sure you're leaving consumers with the best possible impression of your company.