Have you noticed a few changes around the platform lately?
As you probably know, we make updates to improve your experience pretty regularly. Sometimes it's a big splashy release, and sometimes we're just getting it done without too much fanfare. If you're wondering what's gone live recently, here's a quick update:
COPY AND PASTE QUESTIONS
You can now copy and paste your text from a document and convert it into survey questions and answers. This option is available for several question types, and it's designed to help you build faster. Take a look and see for yourself!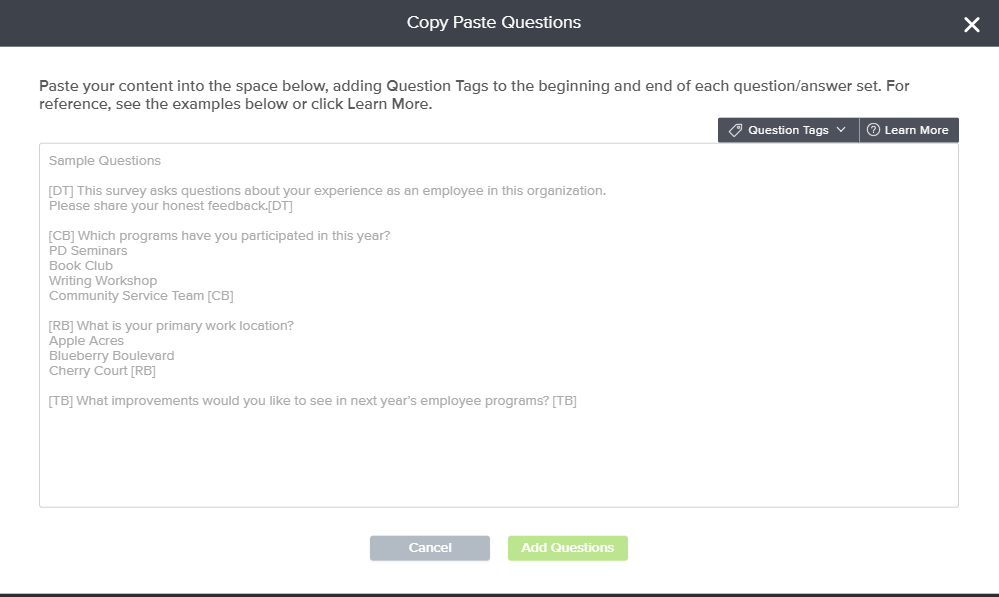 EXPAND THE CONVERSATION
Add your own language to the platform to keep expanding your audience! We already offer a wide range of primary and secondary languages, but we're making it even easier to hear from everyone. Check it out.
DESIGN
Usability enhancements are popping up everywhere, including expanded descriptions and examples for question types to ensure you're making the most of every question.
TRACKING SIMPLIFIED
Track Survey has an updated look, making it easier for you to dive into your recent publishing channels more quickly. You'll also see enhancements within Manage Shareable URLs to keep your tracking simple.
OMNI EXPANSION
Reporting options continue to expand, with numerous additions to the Omni Report. These include a statistical widget to add to your analytical power, as well as updates to metadata and colors.
STREAMLINED REPORTS 
We're also streamlining the presentation of reports, including the consolidation of Pivot Table 2- and 3-level Cross Tab Reports into the Cross Tabulation Report. You'll also see updates in the categorization of reports across the Report menu bar, but not to worry — everything is still there!

CX SUCCESS
Got CX? Our customer experience solution now includes multiple Key Driver Analysis questions, responsive shareable Dashboard reports, more question types, an updated Question Bank, and more!
Got questions? Want to know what else is new? Check in with us!