You've put some time and effort into carefully crafting the perfect survey. You've written and revised every question and customizes the appearance. But then it hits you. You're going to be sending your survey to contacts all over the world… and they don't all speak your language. Getting to people to participate in your survey can be a big enough ask — inviting them to respond in a language not their own is nearly impossible, not to mention rude. Plus, even if someone does answer your questions, how can you be sure they understood exactly what you're asking — and the answers they provided?
In a world that is more connected than ever before (thanks, Internet) be sure you're not limiting your survey distribution to only those who share your preferred language. With Sogolytics, you can run a multilingual survey by using automatic language translation or translating your questions right in the platform. Simply select all the languages you want to offer from the moment you start building your survey, or add more additional languages under Survey Options at any time.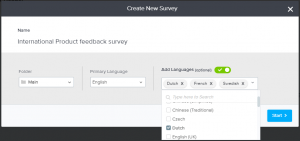 When participants access a multilingual survey, they will be presented right away with a menu of language options to choose from.

In addition to creating multilingual surveys, make sure your participants know what they're accessing and why they participate. Of course, they won't know it's a multilingual survey unless they see a multilingual invitation. Think about it: If something in an unknown language pops up in your inbox, do you open it? If there are any links, are you likely to click?
Bonus: Beyond relying on only the platform itself, think about the communication you're doing about the survey. Have you put an announcement in a newsletter or on your website? Make sure that you're announcing in each of the languages you'll offer, too, or speakers of these other languages might not know they're invited.
Build a broader community by inviting feedback from a wide range of participants. Beyond different languages, they can offer different perspectives and fresh insights. Plus, when you open the door wider, you create a much better impression with your participants, and they're more likely to engage with you. Higher response rates, better data quality — what's not to love?
Ready to give multilingual surveys a try? Click here to sign up or register for a free webinar.