What is an employee engagement platform?
A highly functional employee engagement platform is the foundation of progressive entities that focus heavily on retaining talented and skilled workers. It embraces an applications category featuring an effective combination of strategies. The latter integrates to create optimal job satisfaction within the organization's culture, vision, and missions. So, the category we refer to covers a range of employee engagement software options that, when applied with forethought, energize HR processes and the teams implementing them.
The benefits of employee engagement software
Achieving an effective employee engagement platform allows companies to construct a solid and resilient culture. The latter should have all the ingredients to make your employee retention initiatives successful. In modern times trying to achieve internal work harmony alongside escalating productivity is almost impossible without a relevant employee tool range at your fingertips. Here are some exciting statistics that verify this article's content:
The primary motivators driving 2 out of 3 millennials to select their place of work converge on the employer's purpose and culture. "Robust" and "vibrant" attract, while "sterile" and "stagnant" repel preferred candidates.
71% of companies realize that People Analytics is a vital aspect of every employee engagement platform, fast becoming a top priority in HR departments. The insights it offers are close to indispensable.
Highly engaged employees are 75% less likely to look for better job opportunities.
New challenges are a crucial component of employee engagement. Indeed, young professionals thrive on counteracting volatility, with 93% resigning voluntarily because the culture lacked this essential ingredient.
Employee engagement software generates robust solutions that save valuable management hours. Also, it keeps track of employee journeys and the touchpoints that intermittently disrupt them. For example, boredom (i.e., lack of challenge), dislocated teamwork, and insincere management attitudes).
The summaries below will help HR and company stakeholders select options that, in unison, establish a resilient and sustainable employee engagement platform. Of course, much depends on your business size (i.e., SMBs or enterprise-scale operations). However, the range provides benefits that fit most entities' needs without unnecessary trial and error.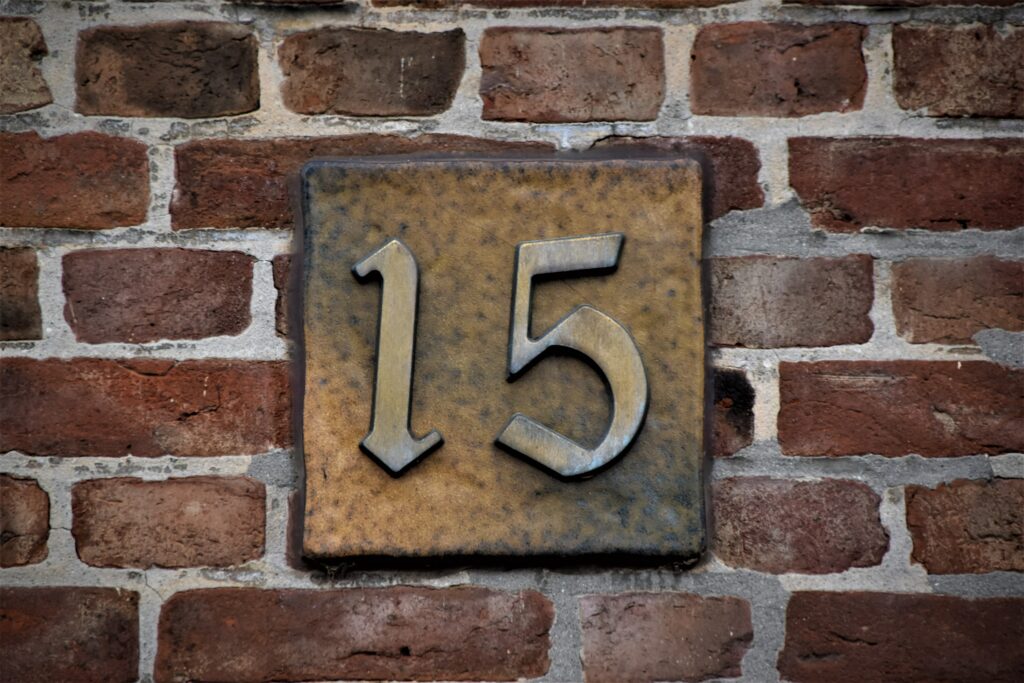 The top fifteen recommended employee engagement software options
This employee engagement software option provides automated pulse surveys that:
Incorporate response tracking to accelerate staff participation.
Provide unsurpassed peace of mind guaranteed by built-in anonymity
Promise significant response truthfulness.
Key into touchpoints from end to end of the employee lifecycle.
Moreover, Sogolytics excels in analytics to deliver employee engagement solutions beyond industry standard expectations.
The 4 features we love most about Sogolytics's employee engagement tool:
A Uniquely Pragmatic Approach – Thus, establishing a platform with the essential features HR departments can rely on for stunning results.
Cutting Edge Surveys – Never boring, always searching; promoting honesty with exceptional confidentiality.
Impressive Analytics – With the ability to quickly wade through volumes of data and extract the information that resonates with staff participants.
Branding Options – Enabling surveyors to customize company-themed surveys, therefore connecting more engagingly with employee respondents.
Free ten-day trials at every pricing level enable the user to get a good Sogolytics feel before expanding into their broader employee engagement solutions. In short, this popular provider offers an employee engagement platform that's enterprise-grade but versatile enough for SMB deployment.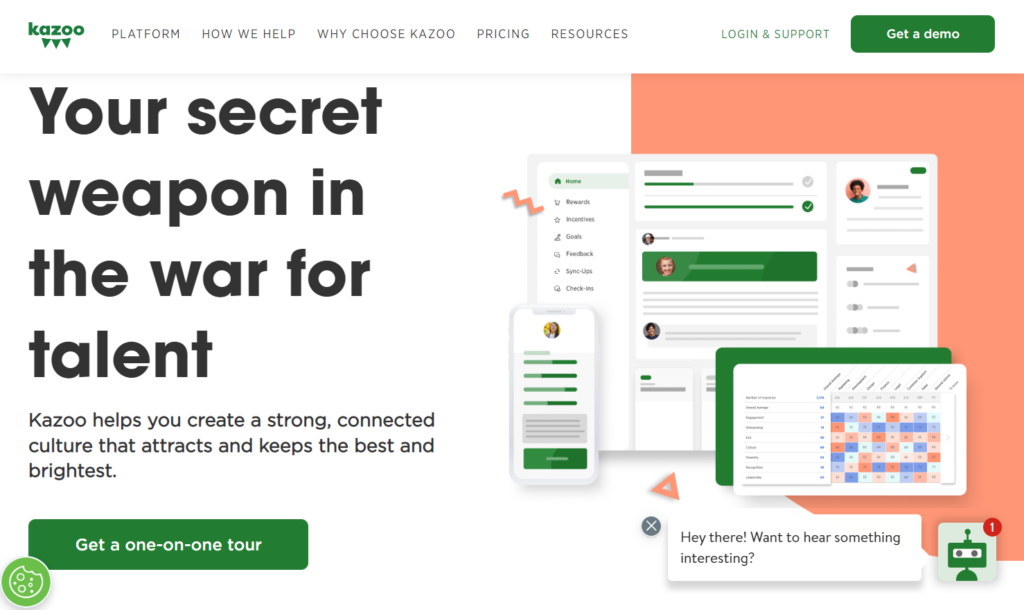 Kazoo is an amazingly comprehensive employee engagement platform for companies with a hundred or more employees, offering features such as:
Real-time feedback
Rewards
Recognition
A social hub
All the essential integrations.
While the emphasis of Kazoo is on peer-to-peer, this employee engagement software program provides customizable ways for management to interact with employees, deploying the right perks at suitable junctures. The software serves as a virtual HR department, aiming to enhance employee performance and workplace culture at every opportunity.
The 3 features we love most about this employee engagement tool:
The Social Hub — A magnet that attracts unfettered virtual inter-peer discussion and idea-sharing.
Coaching and Manager Reports — A real-time update on critical events and happenings that open the door to making adjustments based on real-time performance reviews and check-ins
Analytics — A software feature that generates leader reports and thought-provoking insights. Learn how to get started here.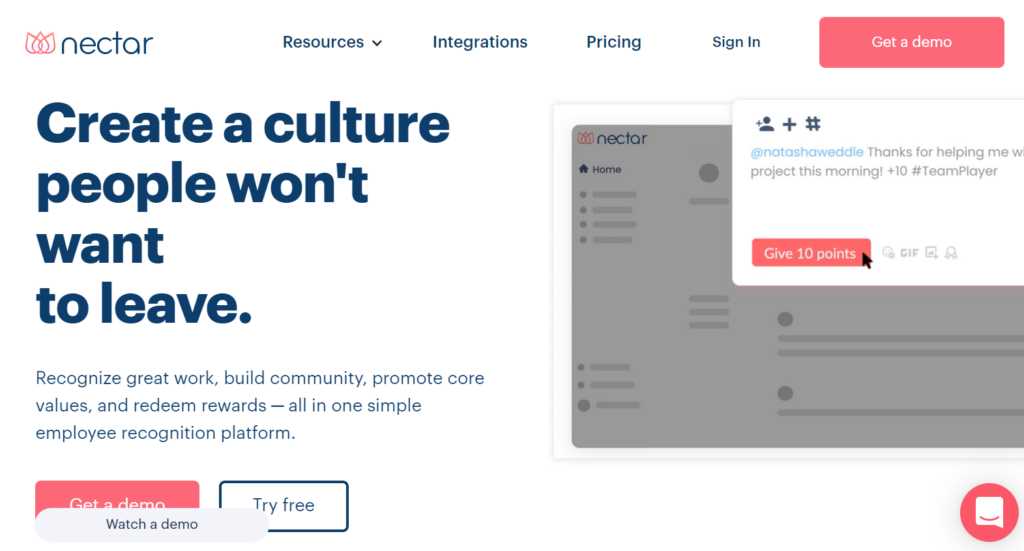 Nectar has proven itself as cost-effective employee engagement software, driving connections from corner to corner of your workforce to create a sustainable feeling of "family." In addition, it streamlines rewards to cover concepts like digital gift cards and on-demand swag.
One of the significant customer advantages is that it's payable by user, and there's no such thing as a contract that locks one in for lengthy periods. As a result, it fits in with medium to large-sized companies (i.e., 50-1500 employees).
The 4 features we love most about this employee engagement tool:
Peer-to-Peer Recognition — Taking recognition to an entirely different level, removed and separate from management considerations in this vital department. Hearing accolades from others at the same hierarchical station is a tremendous motivator to many.
Wellness Challenges — The mark of the best employee engagement software on the market today, it creates health challenges with instant participant rewards. This feature is highly relevant in the era of COVID-19 and its following mutants.
On-Demand Swag — Accessing it is now virtual, kicking upfront costs, storage closets, and shipping hassles to the curb. Indeed, Nectar has shifted everything into the virtual realm, connecting to Amazon (and others) as shippers of branded items directly to employees within a day or two.
Companies only pay for Nectar when their employees use it, thus cutting out unused time and wasted expense. The free version is limited, but the paid option isn't a set contract. It configures fees strictly on monthly employee usage.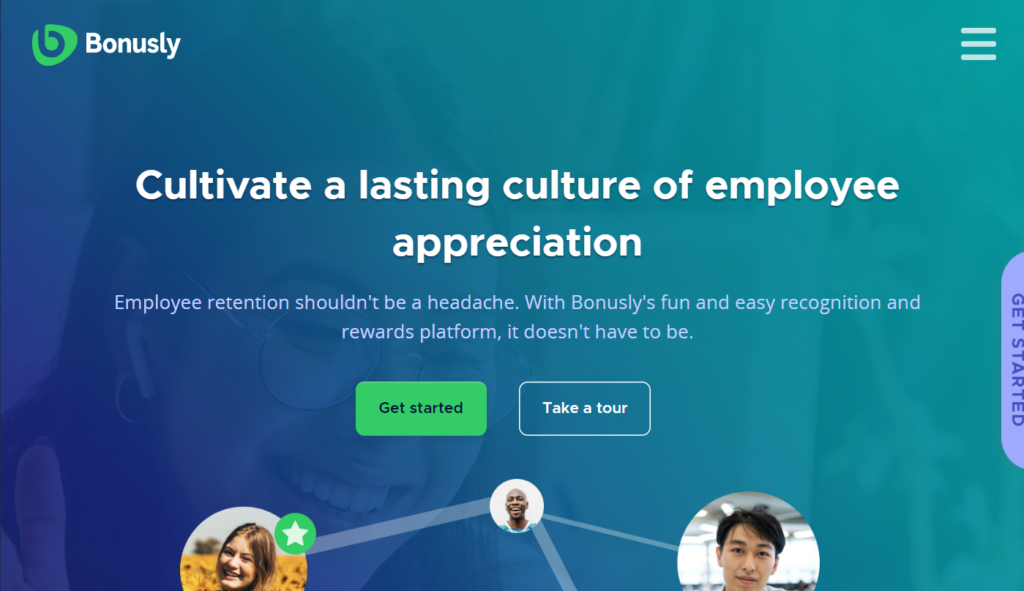 This employee engagement software is a fun tool that keeps employees motivated without being overtly pressurizing. As a result, it has a tremendous record of employee retention and company productivity improvement. Moreover, its peer-to-peer recognition platform allows everyone in the company to reward each other. Over time, the small bonuses on this gateway add up to meaningful, connection-forming rewards, actionable insights, and employee communication.
The 3 features we love about this software for employee engagement.
Data and Analytics — Generates metrics on every engagement driver, from monitoring departmental rewards to employee recognition from many angles.
The Rewards Catalog — An employee performance management feature that allows employees to convert their bonus points into gift cards, branded backpacks, and more.
Hashtags — A feature that creates a social media feel with hashtags, gifs, and memes, thus inserting a unique motivator into the workplace.
There's no free version of the Bonusly employee engagement tool, but the company does offer free trials.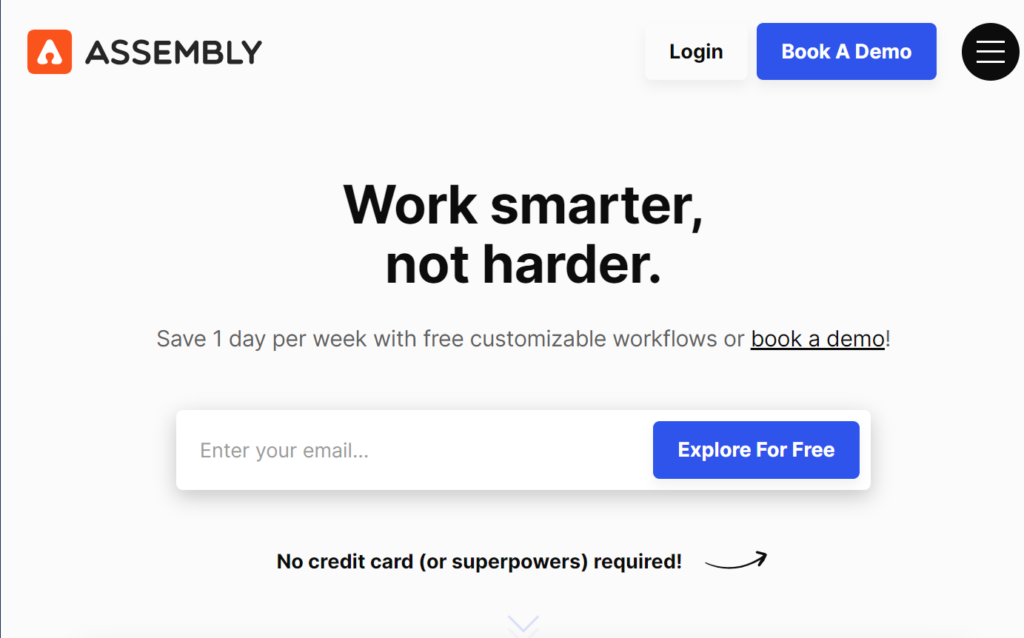 This employee engagement software option provides a virtual community to its users. Thus, it offers a variety of perks and social recognition concepts that bolster the company culture and vision.
The 3 features we love about this employee recognition software:
Calendar — A window that turns every public holiday, birthday, and seasonal event into an internal social celebration.
Reward System — Like others above, employees have the opportunity to participate in activities that connect to a meaningful reward variety. The latter can range from a lunch with the CEO to great gift cards, getting employees excited about coming to work every day.
Core Values Sidebar — Reminding employees about the current priority skills demand to encourage upgrading and continuous training.
Assembly lets customers kick off a free trial (i.e., no credit card required) or demo. The premium version bases itself on a cost-per-employee model, affordable to every business – even the smallest.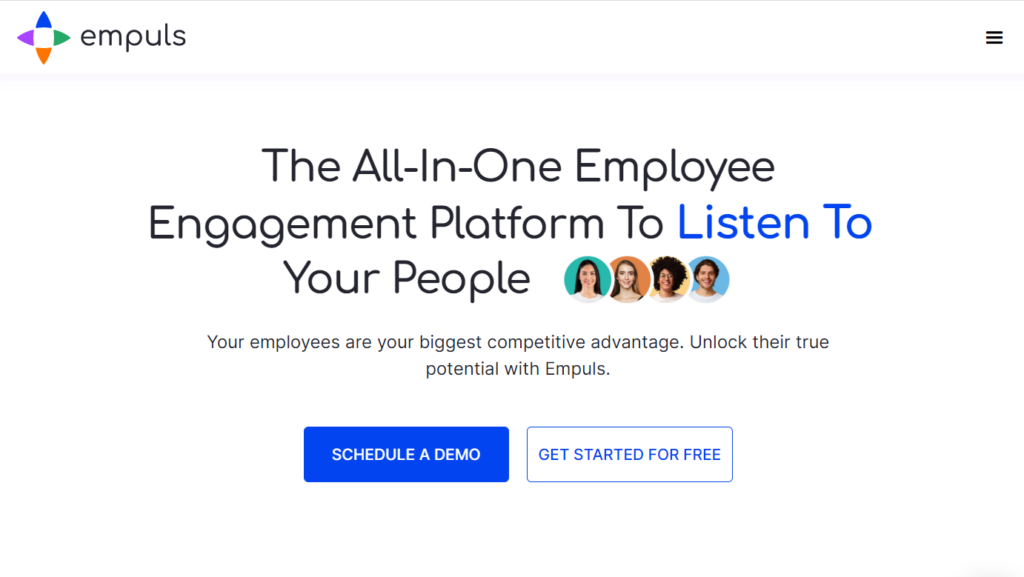 This is employee engagement software at its best. It adopts a holistic approach to creating employee engagement solutions that go straight to improving the company culture and energizing staff enthusiasm. For example, HR leaders deploy Empuls to instill teamwork ethics that succeed in developing strong project teams. Simultaneously, it encourages every employee to express opinions and build an appreciation culture within the organization.
The 3 features we love about this employee satisfaction software:
A Vast Array of employee engagement surveys — Including employee NPS and qualitative feedback for vital employee insights.
Peer-to-peer Recognition — For invaluable same-level recognition that moves the motivation needle significantly every time it occurs.
Built-in Gamification — Where you can:

Leverage milestones, badges, leader boards, goals, and awards to inject competitiveness into EX
Accelerate engagement holistically.
Empuls, the epitome of employee survey software technologies, is competitively priced and comes with a 30-day free trial. In addition, its friendly user-face removes any complexity fears from the equation.
This employee engagement software centers on a scheduled virtual team-building quiz that delivers directly to your employees' inboxes. It's another great way to gamify the work environment and create friendly competition.
The 3 features we love about this employee retention software:
Short Quizzes — Three-minute sharable events are customizable, fast, engaging, and, most importantly, aligned with the corporate culture.
Gamification — Boils down to notifications and various attention-getters that boost competitiveness and enthusiasm around the workplace.
Automation — A scheduling feature that creates anticipation as new material streams through to keep the engagement rolling forward.
There's a free trial available before transitioning into the paid version.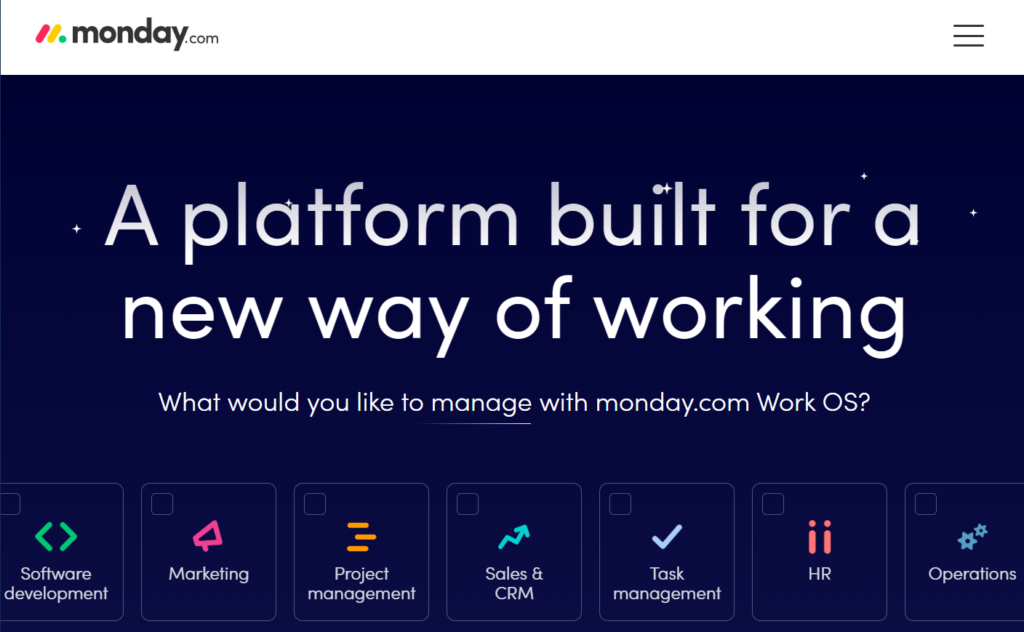 This uniquely powerful resource management software choice focuses on project planning and execution. As one may expect, Monday.com is an employee engagement software alternative that creates effective workflow and analytic insights in real-time, project by project. Moreover, your team can look forward to advanced integrations and updates via enps-boosting technology.
The 3 features we love about this employee feedback software:
Time Tracking — Permits team members to monitor cycles on each project section.
Timeline Views and Integrations — Keep the team members in sync with each other, making them simultaneously coordinated.
Automated Notifications — Function as reminders with distinct color patterns to ensure employees won't miss them. They aim at reducing both time and errors.
The offer of a free trial is in the cards. It's an excellent way to get started and feel the benefits before you step across the line to pay for it.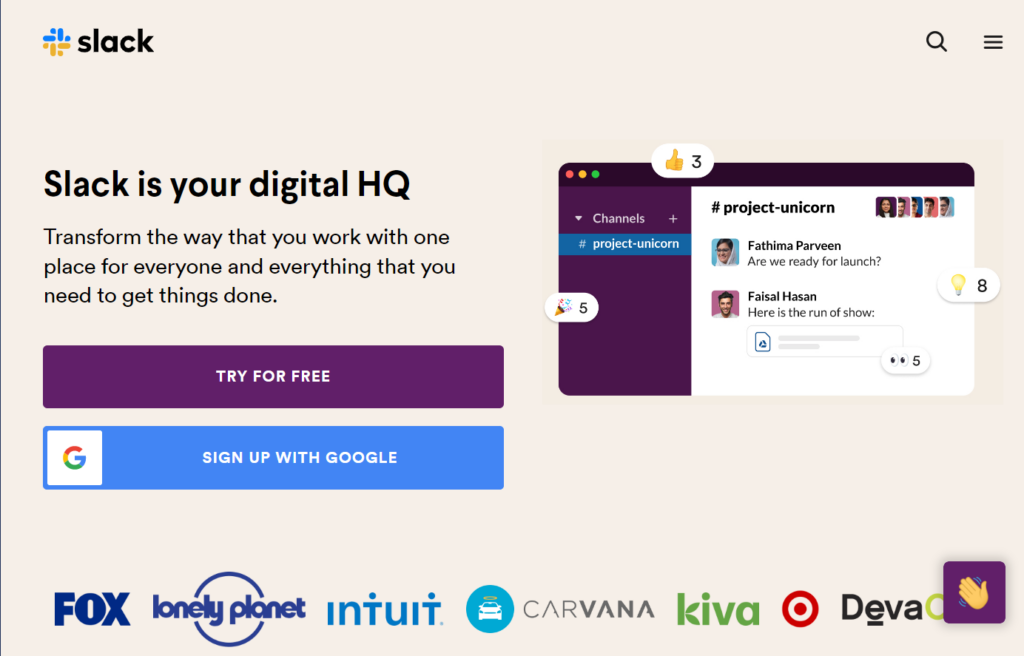 Slack represents employee engagement software popular amongst numerous HR executives and CEOs. It provides a seamless interface that's easily navigable, allowing team members to establish channels to stay ahead of the curve sustainably. Notably, it involves hopping from one department to the next and communicating seamlessly with relevant talent wherever it exists in the business. Of course, all this is aside from Slack's best-known use as a mobile app.
The 3 features we love about this EX optimizing software:
Instant Messaging — Speaks for itself as a crucial tool in a fast-paced modern work environment.
File Upload — Allows your team members and managers to upload images and other files directly to the platform.
App Integration — Encourages team members to add multiple apps to their platform to propel the workflow process forward at faster speeds.
Slack has free options, and two optional paid plans should find their way onto your shortlist.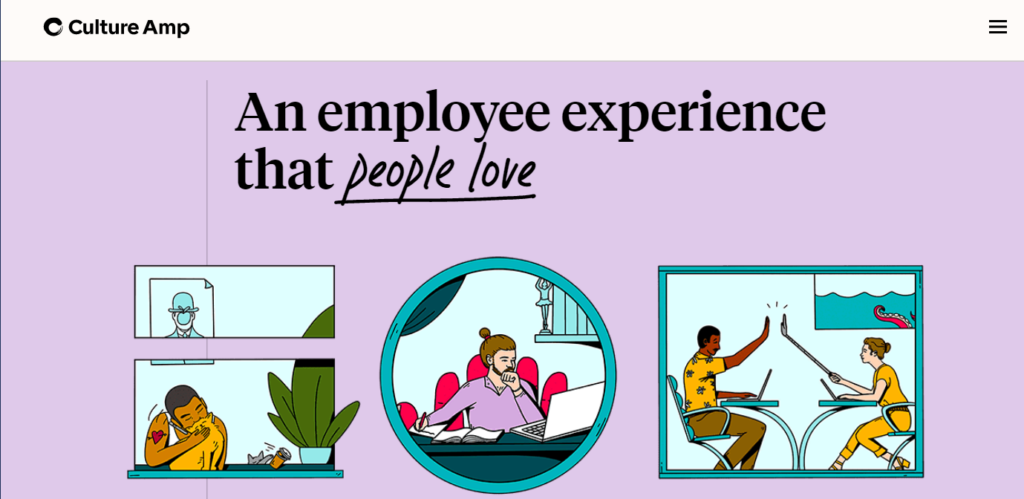 When organizations prefer an employee engagement software alternative with an elitist feel to it, seamlessly fitting into the corporate culture, Culture Amp is top of the list. It aims at getting to the root of the challenge, thus amping up employee retention and productivity. One of its strongest suits is the technology geared to accept feedback (however it arrives) and convert it into constructive data. In this way, employees know where they stand in a transparent environment.
The 3 features we love about Culture Amp:
Negative Feedback Management — Puts a positive spin on employee awareness, ensuring that all interaction sessions converge on constructive feedback.
Performance Management — To assist employees to self-motivate and believe in teammate accountability.
Benchmarking — An aspect of reporting and management that surrounds metrics generation so that employees and employers can agree on standards and expectations.
The program isn't inexpensive at a $3,300 annual fee (starting) with three-tier pricing but represents excellent value when you measure it against the benefits.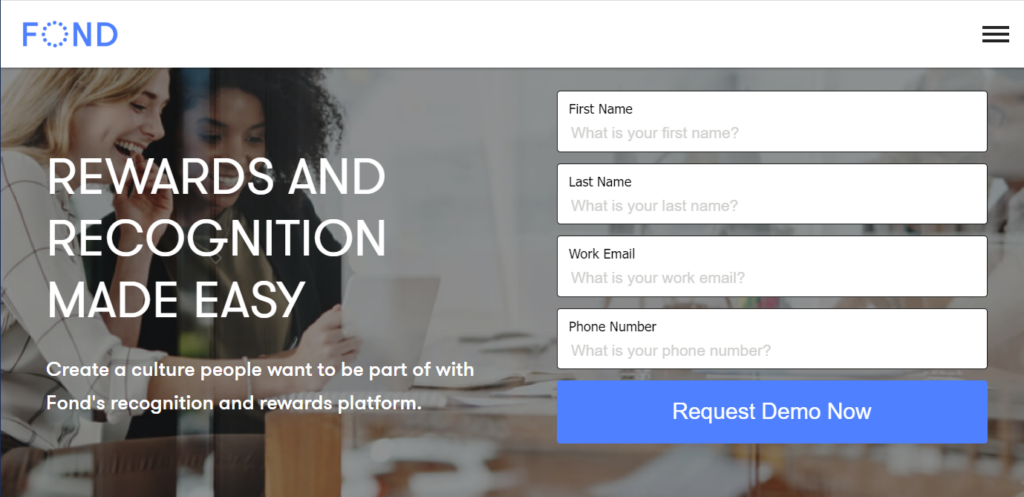 Fond is a unique entry in the employee engagement software market for international companies with multilingual communications. Aside from Fond's versatile language adaptability, it has the leverage to provide customers with almost limitless incentive initiatives.
The 4 features we love about Fond:
Employee Recognition — Creates staff enthusiasm and energy with a social media software feel, which itself is engaging. It's frequently not what you say that counts but how you say it.
Family Sharing — Establishes family recognition for the employee with the people closest to them. The latter often don't understand the breadwinner's worth until the company recognizes it.
Multiple Languages — A distinctive feature that puts Fond ahead of almost all competitors facing communication diversity. It makes the process of conversations, discussions, and written content as easy as 1-2-3, no matter who is in the project from different points on the map.
Custom Rewards — Develop a branded catalog that reflects the company's culture to include unique swag, employee experiences (EXs), and charitable donations that align with it.
Free demos help you decide if Fond is a good fit.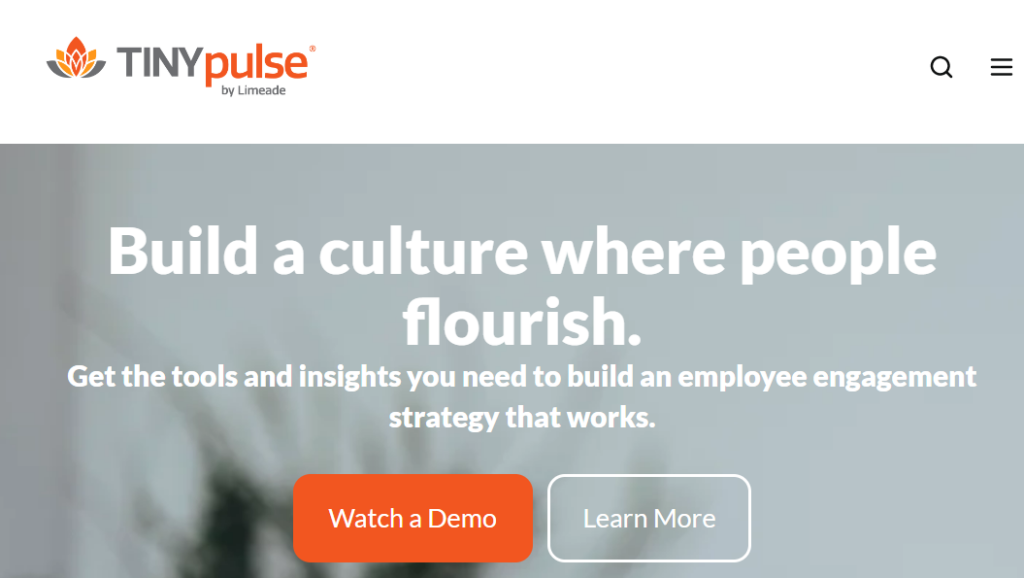 Traditionally, survey tools available in the market emerge as substantially complex. The problem exists in a pretty slow process between gathering feedback and taking new initiatives based on it. Fortunately, TinyPulse stepped in with intranet-focused employee engagement software to reduce the time lag from months (sometimes more than twelve) to weeks (even days). The unique difference is a technology that allows users to read employee thoughts and emotions in real-time.
The 3 features we love about Fond:
Speed-dial Surveys — Pulse-survey your employees regularly with fast, one-question events on every business level.
Individualized Coaching — Offers employees private customized coaching where needed.
An underlying anonymous theme — Where employees know that their feedback carries no ID and they can express their opinions without fear of unwelcomed kickback. Like Sogolytics (see above), It's a formula for more truthful responses.
If the benefits described appeal to you, you'll get added value when you see the pricing options versus competitors like Qualtrics or Peakon.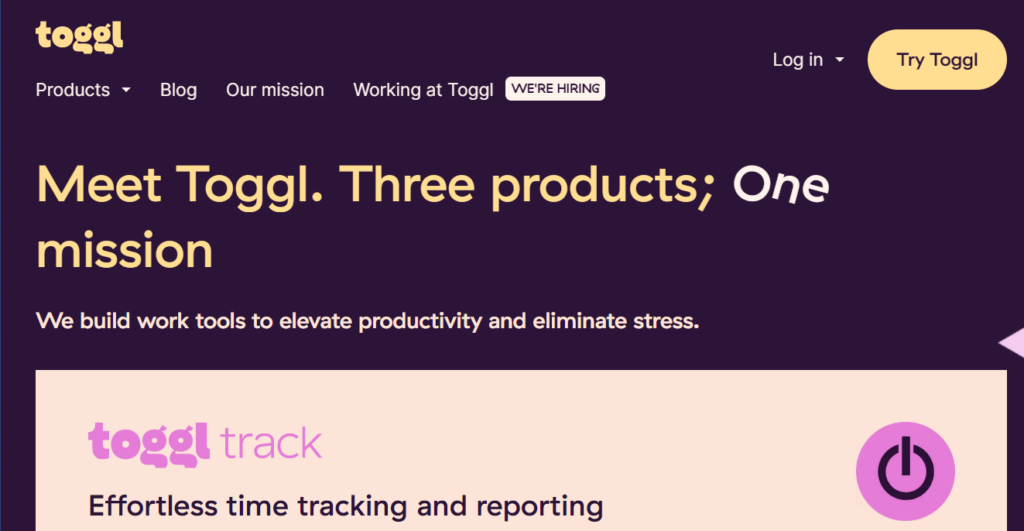 This employee engagement software brand relies on easy usage and fun to attract customers. It promotes itself on providing project planning help to employees by offering better ways to estimate timelines, delegate tasks, set milestones, and solicit feedback. Toggl Plan believes it creates significantly improved teamwork with project management tools that go to the crux of achieving an unblemished EX. There are no long tutorials required to deploy the platform effectively. As a result, SMBs take to Toggl Plan like a duck to water.
The 3 features we love about Toggl Plan:
Color-coded Interface – Easy to read and connect to timelines and tasks.
Drag-and-Drop Technology – Creates excellent flexibility for adjusting tasks, timing, comments, and more before sharing with teammates.
Chrome Alignment – Accommodates communications and project alterations between team members from any website.
A free basic plan plus a two-week free trial helps prospects get a feel for the system's features before committing to the pay-per-user. You can also check Toggl Alternatives for comparison.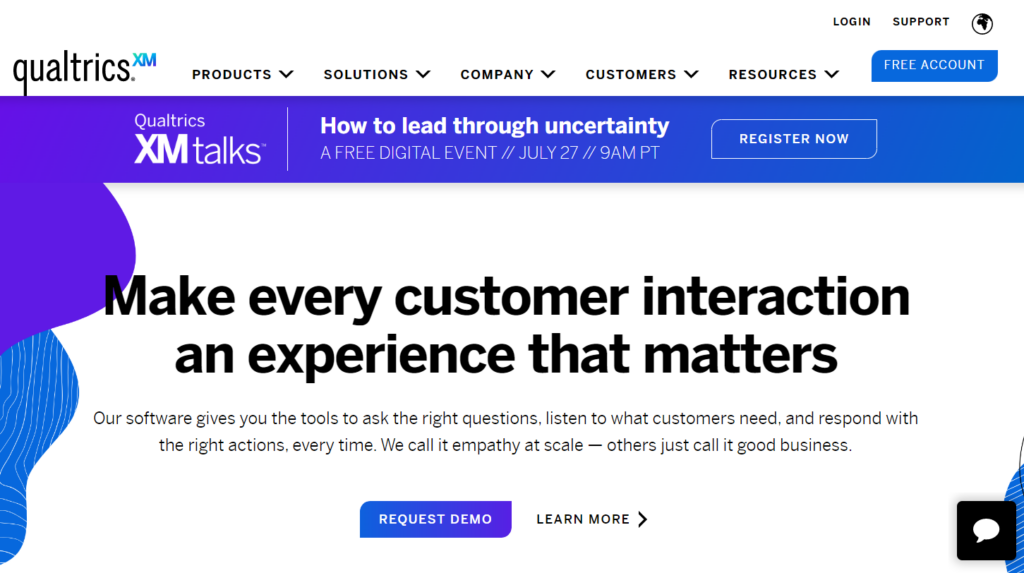 This employee engagement software focuses on surveys with a system that does the heavy lifting for your team with a patented organization hierarchy tool. The latter automatically maps feedback to any structure from straightforward to highly complex. Pre-configured dashboards and results funnel relevant data to the appropriate team members, thus creating focus where it's most needed. In addition, it offers over twenty filters to drill down to employee feedback that counts, getting to the primary engagement drivers in every corner of the business.
The 3 features we love about Qualtrics:
Spotting Themes and Trends – With an open text feedback system that analyzes sentiment and topics.
One-Click Statistical Analysis – To discover emerging employee relationships and other engagement outcomes
Fast Spotting of Problems – With early, automated, at-risk alerts for critical issues as they impact the workflow.
Qualtrics options begin with free basic programs, paid-for pre-built surveys, or start from scratch.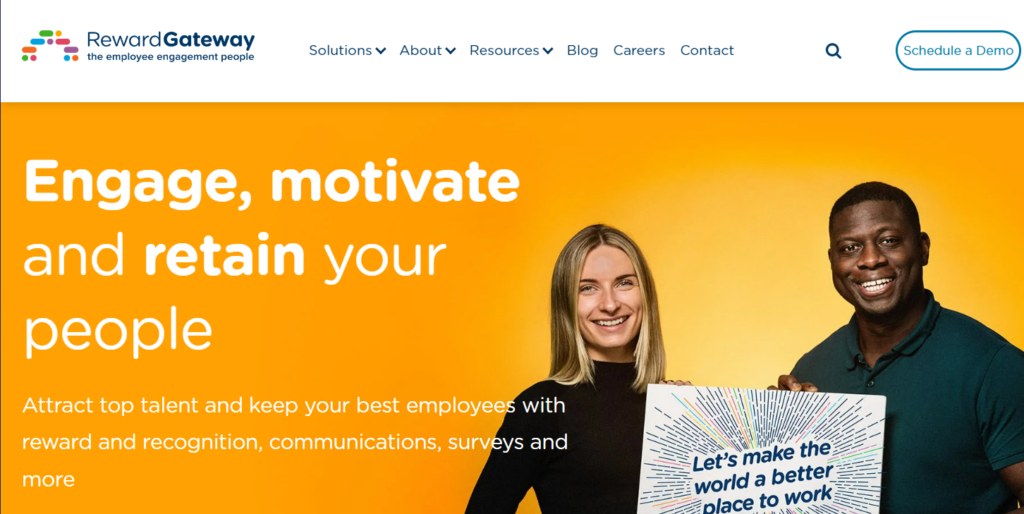 This is for companies looking for employee engagement software that integrates employee recognition, surveys, communication, rewards (instant vouchers), and analytics to deliver a compelling HR package. It moves away from adopting the specialized focus that many competitors promote by favoring a comprehensive solution.
The 3 features we love about Reward Gateway:
Exceptional Customer Support – A 24/7 help desk team connected to multiple channels.
Varied Employee Incentives – Including rewards of Amazon-stored product brands, customizable ecards, and a range of experiences.
Segmented Platform Modules – Available to customers within a flexible pricing model, appealing to those who want to carve out unique employee engagement strategies and not waste money on items they don't want.
Unfortunately, there's no free trial, and the small business format is only available to UK and Australian customers.
Choose the EX software that works for you
Employee engagement software covers a vast field to cover every aspect of EX from onboarding until the end of the employee lifecycle. The fifteen entities covered in this article offer technologies that resolve almost all the disruptions that upset the touchpoint chain. However, there's no single platform that can do everything. Consequently, deciding on the ideal combination takes forethought, but we've narrowed down the field by pinpointing the options that work best.