Nobody ever said change would be easy, but it shouldn't have to be so hard — right?
We've (mostly) made it through the brunt of a global pandemic, we've worked our way through the Great Resignation, and we're still wading through economic uncertainty. From both professional and personal perspectives, many of us have gone through a lot of changes over the past few years.
Organizational leaders are struggling to keep up with the needs of employees, including everything from training to engagement to retention, and the rising expectations of job candidates throughout the hiring process. How can we do more with less, provide stability for our employees, and still take care of ourselves?
You're gonna need a better model
With credit to the writers behind the famous Jaws quote, we're gonna need a bigger boat if we're going to sail successfully through these tumultuous waters — to say nothing of sharks!
In preparation for a candid conversation on this topic, our team analyzed a significant number of change models in order to build a cohesive framework through which to answer this question: How can we prioritize employee experience while managing change effectively?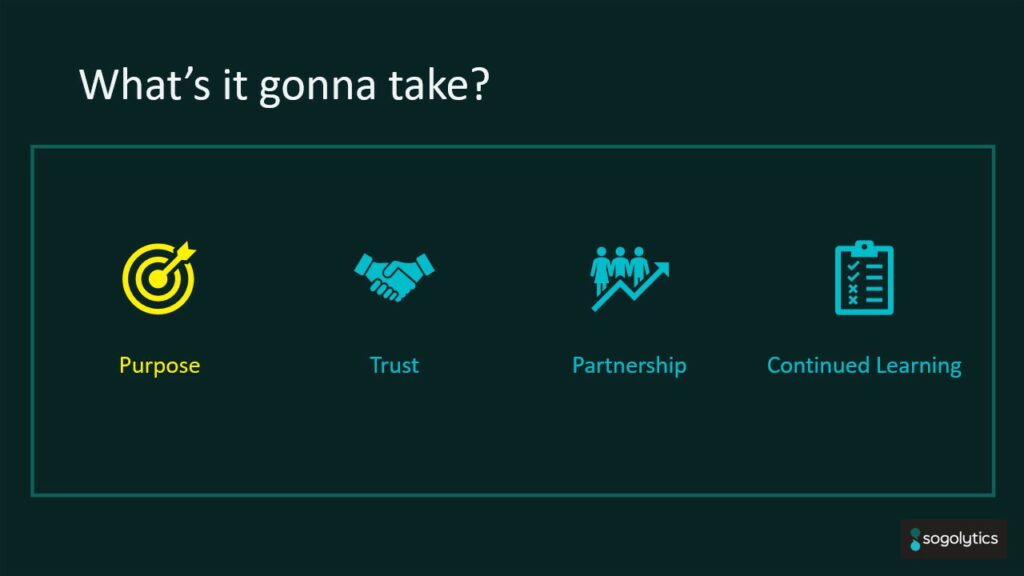 Through the course of our conversation, we reviewed a range of models focused on change management and others dealing with aspects of change. Again and again, a core concern came up: Many models simply do not account for the human investment required to make change successful. Rather than incorporating the voice of the employee in making decisions, some models simply assume that change happens and people just deal with it.
The reality is, people are — well, human!
As employee experience becomes more of "a thing" we prioritize and study and optimize rather than just "the stuff that happens at work", we are becoming more tuned in to the values of listening, empathizing, and building partnerships with employees. While this might seem like common sense for some of us, for others, it's a little mushier than we'd like to think of business as being.
Listen up!
Whether you're planning for the year ahead, reflecting on the year that's wrapping up, now's always a great time to reflect on your employee engagement calendar. This goes well beyond the idea of "We launch employee engagement surveys in November!" and into a more comprehensive conversation. How do you engage with your employees throughout the year? Are you regularly listening to the voice of the employee through employee pulse checks and other check-ins? Are you regularly communicating proactively and welcoming feedback?
Change management works best when it's built on a strong foundation of trust and partnership, which means ongoing dialogue and engagement with employees must be a continual priority. While there are some changes you can see coming from a distance (stormy weather in the forecast), there are others that pop up out of nowhere (sharks!). Strong employee engagement will make a huge difference with both.
Want to catch the on-demand version of this conversation? Start here: How to Manage Change in the Era of Employee Experience
Ready to build a better employee engagement strategy? Let's connect.