As we continue meeting people behind the Sogolytics brand, our next conversation is with our Director of Sales, Ian Crowley, to learn more about the team that connects prospects with our platform.
"Sales at Sogolytics isn't like anywhere else, and that is what drives me," Ian shared. "We get to interact with every department in some way, connecting our clients with data and technology they need to be more successful."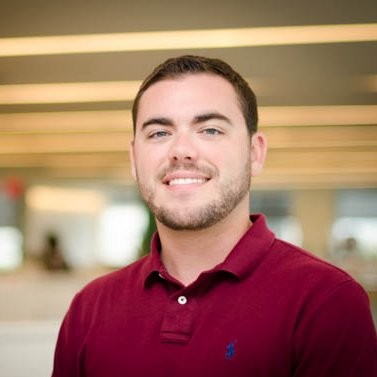 A Day in the Life
When asked what a day in his shoes looks like, Ian listed a few everyday tasks, such as scheduling appointments, responding to emails, and preparing and running custom platform demonstrations. He also oversees and manages the sales pipeline, ensures all activities are properly tracked in Salesforce, and shares monthly and quarterly projections and forecasts with the executive team. His favorite part of the job is helping businesses overcome unique and complex challenges related to employee and customer experience — and getting to see these client success stories play out over time."
"We're an agile team, and I like that," Ian commented. "We get to really work closely because of that, and the lines between our positions aren't that important."
#SoGoTeam
The SoGo sales team works diligently to ensure connection with potential clients within 24 hours of initial contact, something many SoGo clients commend the company for doing so quickly. The speed of the response is matched by the quality of the product.
"The product we have is amazing, and that makes our jobs so much easier. We are happy to share the solutions that really make changes for organizations because of our innovative and hard-working development team," Ian offered. He enjoys the fact that the powerful and flexible Sogolytics platform allows him to confidently solve the challenges of the prospects and clients that he interacts with.
"There are so many unique use cases we encounter every day, and the challenge of helping the users is a driver, too. We always strive to do better for ourselves and our clients," Ian explained.
Our sales team is growing, and one of Ian's colleagues shared what successful candidates should look forward to when joining his team: "I'd say mentorship, as I have learned so much from Ian as we work together. Having that sort of chance to grow, while also dealing with inbound sales, are some things to look forward to when joining the team."
Delivering Exceptional CX
Working in the sales department of Sogolytics means always providing personalized service.
"I believe in delivering the best sales experience possible, and that starts with our BDR team," Ian says. The Business Development Representatives are the first line of connection for many SoGo customers, and the team is described by customers as being professional, caring, and willing to spend the time to understand potential customer problems and needs.
"We invest the time to create custom presentations and really find the solution that works for our customers," Ian added. The sales team is the initial driver of remarkable CX, before the client even has an account manager or has gone through onboarding.
To be successful with the sales team, Ian pointed out that one needs grit and resilience. The team is looking for people who are open to learning, capable of having a wide breadth of knowledge, and are comfortable working in the SaaS space. "Understand the platform, get in there yourself and really learn it, and always be able to visualize the big picture and the working cogs—this will help in your success with Sogolytics," Ian concluded.
Ian Crowley in the Hot Seat
As Sogolytics's team continues to invite great talent to the organization, here's a closer look at this key sales team leader.
Do you say "to-may-to" or "to-mah-to"?
This is the important one, haha. I say "to-may-to"!
Home cooking or restaurant?
I love to eat out but enjoy home cooking, too. I can grill a steak, though my wife is the real expert chef.
Are you a pet person?
I love dogs, but living in a city right downtown isn't the most ideal situation for a pet. I'm looking forward to getting a dog as soon I move a bit further out and have a little more space.
Three qualities of a good boss?
Transparent, supportive, and dedicated.
How do you make your colleagues feel better if they have a bad day?
Talk it out!
Powered by people
Keep up with the people behind the brand who make Sogolytics what it is today! Here's a look back at CEO Hamid Farooqui's take on tackling the new year with excitement, and an examination of what really defines success with VP of Success Melissa Krut. We also got to learn more about the progression of the platform with Director of Product Management Dhananjay Dheru.
About Sogolytics
If you're just getting to know Sogolytics…
Founded in 2013 and headquartered in the Washington DC Metropolitan Area, Sogolytics is an award-winning experience management and survey technology provider. Organizations like Uber, Walmart, UNICEF, 3M, and Citibank as well as hospital systems, financial services companies, and government institutions use Sogolytics to securely gather business intelligence and create exceptional experiences for their customers and employees.
Want to know more about what we do? Connect with our team today!