Still not sure about doing a customer survey? Small business owner, it's time to take the mental bungee jump past the customer survey myths that are holding you back. Keeping up with customers is enormously valuable and supports smart decision-making. Here are five common myths about customer surveys, debunked for good.
1. Customer surveys are only for big businesses with thousands of customers. 
Not true. Once-small companies became big by learning about their customers' preferences and taking action to fulfill the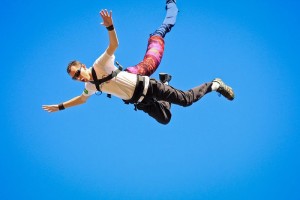 needs. One of the best tools for engaging customers is through a well-designed customer survey. When you invite customers to take your survey, they already know you care even before they fill it out. You'll be on your way to the recommendations and referrals that will help you thrive.
2. I talk to my customers, so I don't need an online survey. 
What about your customers who aren't so chatty? They may have valuable ideas about your products and services, so reach out to them with a customer survey and get their feedback.
3. I'd like to do a customer survey, but I don't have time. It's too hard; it takes weeks to design a survey with only 10 questions.
Weeks for a survey with 10 questions? Now we're talking mega-myth. Our customers will tell you that it's more like a couple of hours. Use one of Sogolytics's professional survey templates and customize it with your own logo, fonts and colors. Or, use our Survey Design Services. Don't flinch; our Survey Design Services are low-priced for small business. Give us your questions and we'll prepare your survey. We think of it as survey take-out.
4. Even if I did a survey, I won't be able to understand the results. You practically need to be a statistician for that stuff.
Remember those pie charts in high school? You can understand those results, right? With Sogolytics's superior reporting tools, results and analysis are all but done for you. Your survey results come back to you organized, actionable, and presentation ready.
5. Even if you say your customer survey is anonymous, nobody believes it is.
If your survey tool requires you to funnel through additional URL's in order to retain anonymity, then it is not guaranteed. Your participants suspect as much, which results in a low response rate or useless answers. What you need is a Guaranteed Anonymity feature. Guaranteed Anonymity blocks identifying participant data and the ability to track identifying data.
To learn more about Sogolytics survey templates for small business, go to http://www.sogolytics.com/sample-surveys.aspx