Wouldn't it be great if you could just kick back this summer without even once thinking about cybersecurity?
Well, now I've ruined it. A moment ago you were staring off into that calm pool of summer, and now I've chucked a big wrench right into the middle. Look at all those ripples!
But isn't cybersecurity somebody else's job? Like someone in IT, probably? Sure, yes, your tech teams totally care about this issue, but they need you to care, too. Plenty of studies show that one of a company's biggest cybersecurity risks may be its own employees.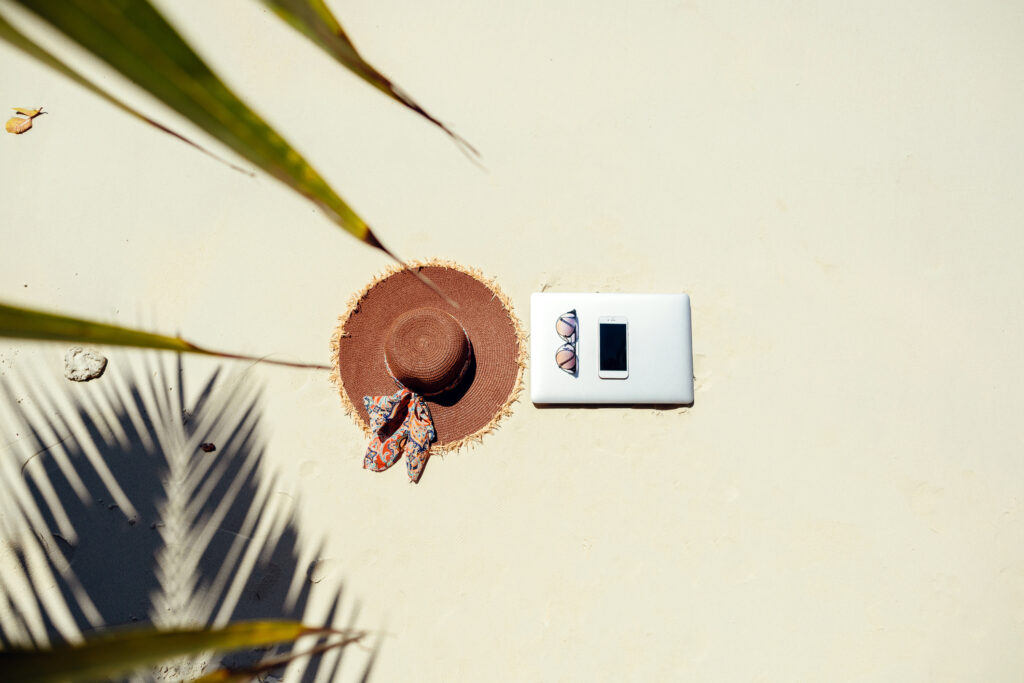 Worried how you're supposed to handle hackers and round up ransomware while still making time for that beach trip? One thing at a time. There's a good chance that you've got some firewalls and friends looking out for you in the big picture, but it's still a good idea to cover as many bases as you can yourself, too.
Before you hit the open road, the open water, or the open days on your calendar, improve your cybersecurity with these five simple reminders that will start shredding your risk in no time!
1. Shut it down
This seems like such a dramatic piece of advice that it ought to come last, but it's such an under-utilized function that it needs to go to the top of the list. Ask yourself: When is the last time you totally and completely shut down your device? Just closing your laptop doesn't count. Really truly Shut. It. Down.
Sure, there's an argument to be made about how putting a computer in sleep mode makes it much faster to re-open and get back to work. After all, most people don't turn their car engine off at a red light, right? Instead, they keep it running and can quickly ease on down the road when the light is green. Sleep mode can be beneficial, too, allowing your device to run maintenance tasks.
However, rebooting a machine really does make a difference. It's one of the key ways to reset, refresh, and improve productivity. Sort of like a vacation…
2. Ditch the downloads
When was the last time you cleared your downloads folder? If you don't know the answer, now is the time to tackle this item. You really only need a one-pronged approach (delete stuff!) to solve this three-pronged problem.
(1) If your device disappears (left on the beach, in an airport, in Timbuktu), you've potentially just delivered a complete package of private data to anyone else clever enough to log in and check it out. Client data, PII, financial records, your passport photo… think of all the things on there that you don't want someone else to get a hold of…
(2) If something else happens to your device (dropped in the ocean, into a bonfire, or out of your pocket while hang gliding), all of that stuff in your downloads folder is gone for good. That PPT you were working on, the secret spreadsheet with The Most Important Info Ever, those crucial screenshots…
(3) If you've downloaded any questionable files (innocently, unintentionally, automatically, whatever), there could be some nasty surprises lurking in them. The sooner you get rid of them (and hopefully you can!) the less likely they are to start launching any mischief (or worse!) in your tidy little universe.
3. Clear your cache
While cookies aren't quite the same as cache, it's perhaps a good place to start… because it's probably fair to say that most people are more excited about cookies (especially oatmeal chocolate chip) than cache (unless it's cache money… anyone?).
Other than accepting the delicious kinds of cookies, which you do automatically, you may pause when prompted to accept or decline cookies when visiting websites. Do you want to give some bits of info in exchange for using this website more efficiently? Perhaps. Do you want to stay logged in to a particular site? It'll cost you a cookie.
A cache, however, stores all kinds of things, like the fonts and images and bits and pieces of the websites you visit. In general, you don't get prompted when this kind of thing happens. Caching makes things load much more quickly because you're often seeing saved bits rather than freshly loaded content.
Still, this stored content can sometimes interfere with newly updated stuff that you want to see, which is why clearing your cache is classic advice in making things work better. Remember that clearing your cache and/or cookies can mean a bit more load time and having to log in again, but if you're trying to tidy things up, clearing the decks can help to resolve issues.
4. Update your everything
Since we're talking about your browser, are you running the latest version? Depending on your preferred provider, you'll likely be prompted to make updates regularly. So annoying, right?
Nope. Actually it's to make your life better. You know you want that. You want to be protected from all kinds of vulnerabilities that have just appeared, you want new functionality, and you want to make sure that the sites you visit look great and work well. Make. The. Updates.
And while you're at it, how updated are you, across the board? Are your firewalls and anti-virus tools up to date? Some programs will update automatically, but some will prompt and require you to make the decision to update. We could get into licensing here, too — are your most critical programs licensed/subscribed to for the foreseeable, or is there an upcoming deadline by which you'll lose protection? Get that sorted!
5. Clean up your desktop
How many icons are on your desktop? If you're someone who keeps open an astonishing number of browser tabs, there's also a chance that you keep untold numbers of icons, files, and shortcuts on your desktop.
Beyond being a cluttered eyesore (can you really even find anything you're looking for?), a messy desktop also carries security risks. At a time when many of us are screensharing more frequently than ever before, who knows what kinds of data you're accidentally exposing? Even file names can reveal confidential data like client names, personal info, or financial details.
Even worse: If your device is misplaced or stolen, you've presented an easy-to-navigate menu of all of the juicy bits a cybercriminal might find most appealing. Don't make it easy! If only clearing your desktop was as easy as powerwashing a deck…
Are we there yet?
Okay, solid start shredding that risk! You've earned some time off! Let's talk about your inbox some other time. For now, pop up that OOO message and enjoy your summer! (Feeling nervous? Run a risk assessment instead!)