Some of our favorite clients are credit unions, and one of our favorite topics is growth, so it's no surprise that this week found us in Greenville, South Carolina, for a Strategic Growth Conference hosted by NAFCU (The National Association of Federally-Insured Credit Unions). Beautiful weather, great sessions, and awesome community: The state of the (credit!) union is strong!
Missed it? No worries! We're breaking down a few key topics that came up again and again, highlighting insightful takeaways, and drafting our own action items to continue the #CreditUnionGrowth conversation.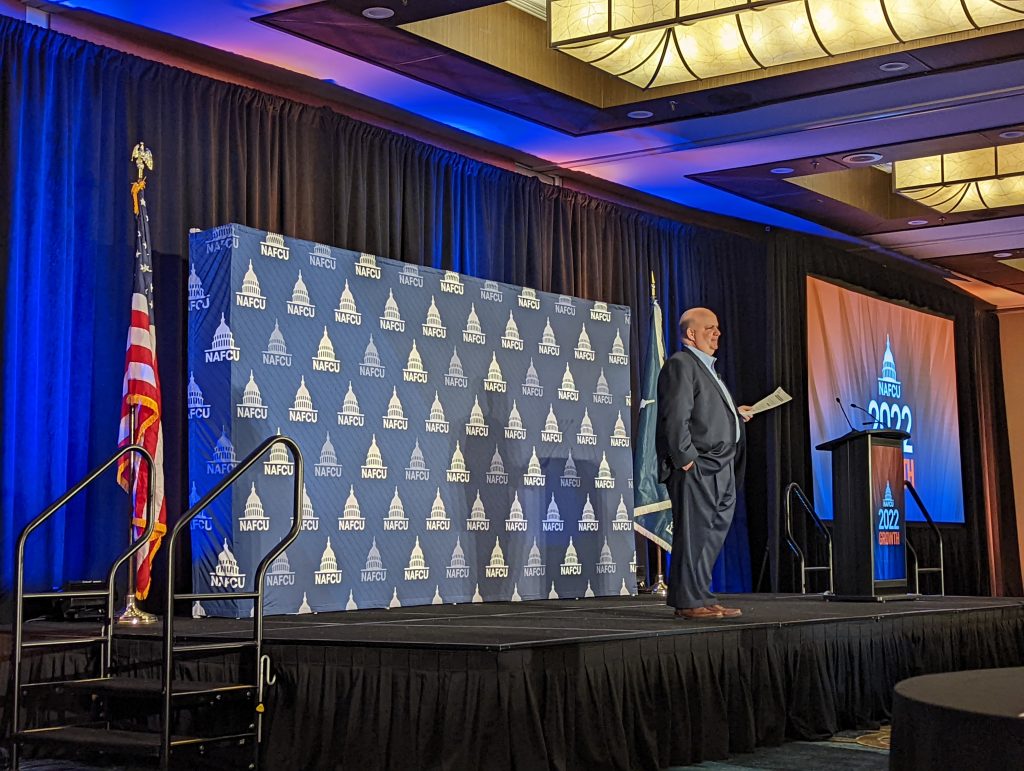 Key topics
Let's get digital! While online interactions are nothing new, today's credit unions are shifting into high gear digitally. Could your CU operate completely "branch-less" in the future? Consider going paper-free in some of your most critical paper-heavy processes: Are you ready to open up fully electronic or even fully remote home mortgage closings? Plus, the crypto elephant in the room: Are your members ready to invest in a commodity that many people are still struggling to understand, and are you ready to support them?
Show me the data! Artificial intelligence offers credit unions the opportunity to bring together lots and lots of data to be able to better understand trends and make predictions. More insightful data might lead to better lending, adaptive ATM withdrawal limits, and more valuable educational and advisory materials for members. Beyond operational data, members' feedback on their own experiences is critical in driving growth. How can you make things better if you don't know your pain points — and your areas of opportunity?
What do you mean by "real" engagement? Buying "real estate" in the metaverse feels a lot like that old joke that ends with "And if you believe that, I've got some property on the moon I'd like to sell you!" But if your members are looking to explore virtual reality — and if they're bringing along their real funds — you might not be able to afford to miss out. Plus, consider your social skills: Do you see TikTok as an opportunity to engage with a wider range of community members — or as a complete waste of time?
Doing more with less. The impact of COVID, inflation, the war in Ukraine, and many more variables are compounding a common challenge among credit unions: Somehow, through cutbacks and mergers, physical restrictions and retention challenges, growth is still a significant strategic goal. While technology can provide significant benefits, one of the most significant strengths of credit unions continues to be the fine folks who make the magic happen. Learning from CU employees, many of whom have been working in the field for years, can offer major advantages in powering strategic growth.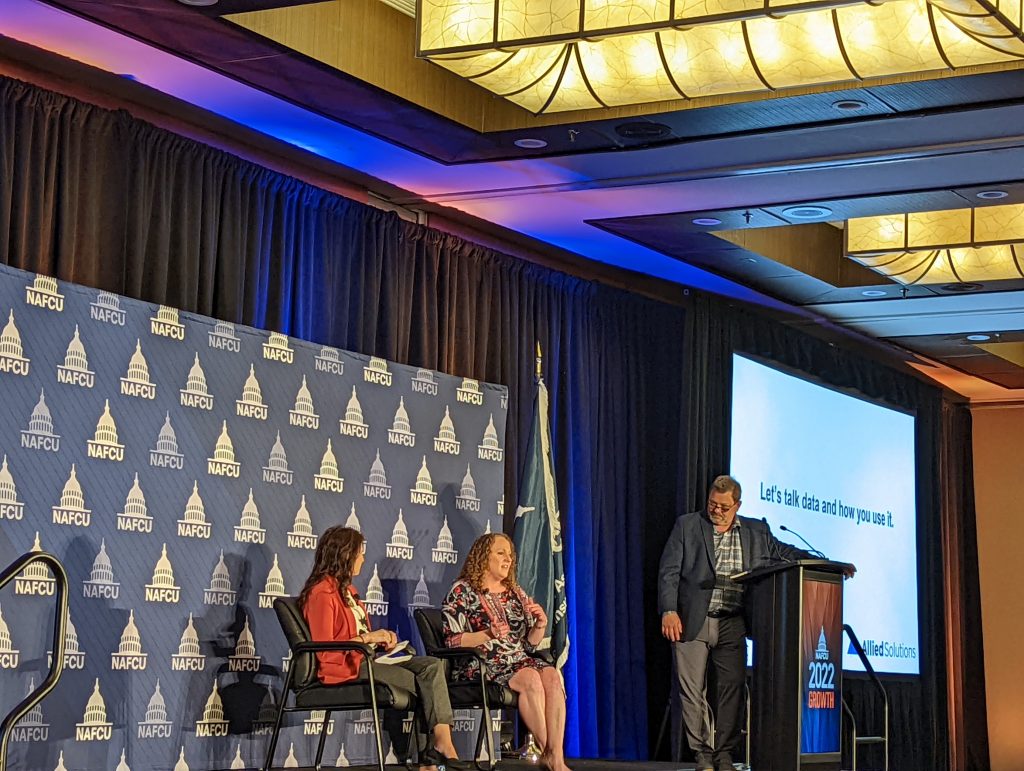 Key lines
"Some of the best breakthroughs happen when someone puts their foot down and says: There's got to be a better way!" – Anthony Demangone, EVP & COO at NAFCU
"Innovators look for opportunities where others have stopped looking… To change the outcome, you need to change the way you play the game." – Kaihan Krippendorff
Because of the desire for personalization, we're seeing an increasing willingness of consumers to set aside some of their data privacy concerns. They know it's a trade-off, and they're more willing to provide their data in exchange for a more customized experience. – Jana DeLancey, SVP Global Insights & Analytics at Mastercard
"People are looking for an emotional connection. Just meeting expectations is not meeting expectations anymore." – Sumeet Grover, Chief Digital & Marketing Officer at Alliant Credit Union
"You don't have to be the cheapest guy on the block if your service leads the way." – Dave Ledwell, SVP of Consumer & Business Lending
"Banking has never moved faster and it will never move this slow again… and getting things done right is not going to get cheaper." – Mike Lussier, President/CEO at Webster First FCU
"A culture of busy-ness can kill innovation." – Karen Rosales, President/CEO at Arlington Community FCU
"Do you know the next disruption that's going to impact your members?" – Joe Keller, VP Digital Assets at Visions FCU
Have the right conversation: "You want a mortgage, but your members want a home!" – Tony Hildesheim, COO at Redwood Credit Union
"Faster and easier is everything to your members." – Beth Eller, VP Mortgage Services, Truliant FCU
"Do your analytics-driven offers promote fair practices and equal access?" – Kim Phan, Partner at Ballard Spahr, LLP
"We want to double our assets without doubling our staff!" – Sarah Hancotte, VP – Strategy, TruWest Credit Union
On social media strategy: "Not sure how to make a better YouTube video? Look it up on YouTube!" – Bruce Copeland, VP of Marketing at SAFE FCU
"Tell me your life story — I want to know your cat's name — and then I can make recommendations." – Sonya McDonald, EVP/COO at Randolph-Brooks FCU
"There are so many different paths to take. Please don't take all of them." – Sumeet Grover, Chief Digital & Marketing Officer at Alliant Credit Union
Up next
This was a great event, and our team left inspired and geared up with fresh ideas to improve the ways in which we support our own credit union partners. After all, member experience is our top priority, too!
To share just a few quick items, we're looking forward to:
Numerous blog posts exploring the topics mentioned above and other related issues and trends in the credit union space.
An expanded selection of survey templates for credit unions dealing with crypto readiness, ITM interest, digital engagement, and more.
Roundtable discussions with leaders in the credit union community, helping our partners to grow their connections and helping us to strengthen our solutions.
A post-conference webinar highlighting the work we're already doing in solving many of the challenges discussed by presenters and attendees.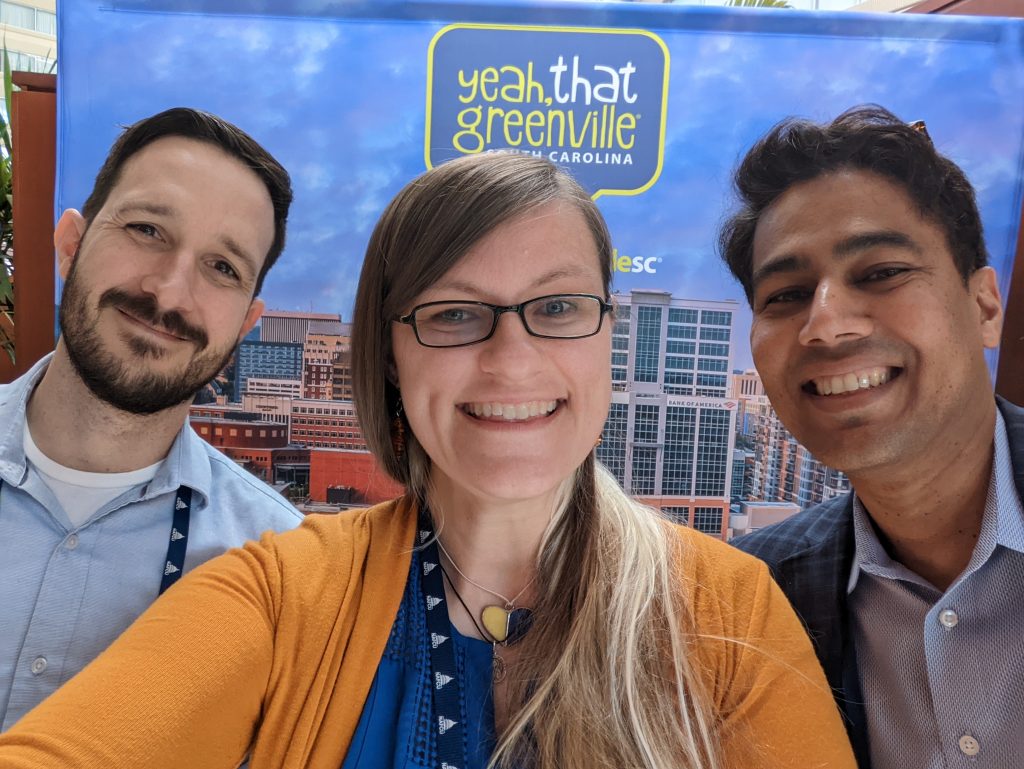 Interested in sharing your conference takeaways with us, want to join a roundtable, or have an idea for a topic or template you'd like us to work on? Send me a note on LinkedIn!
Want to learn more about Sogolytics and the work we do? Let's connect!