With shutdowns and stay-at-home orders hitting the U.S. from all sides, people retreated into their homes. Bars, restaurants, spas, and health clubs went dark. First, it re-emphasized the seriousness of the health crisis, just in case people still weren't convinced. Soon after came the ventilators and overflowing hospitals to drive home the lesson.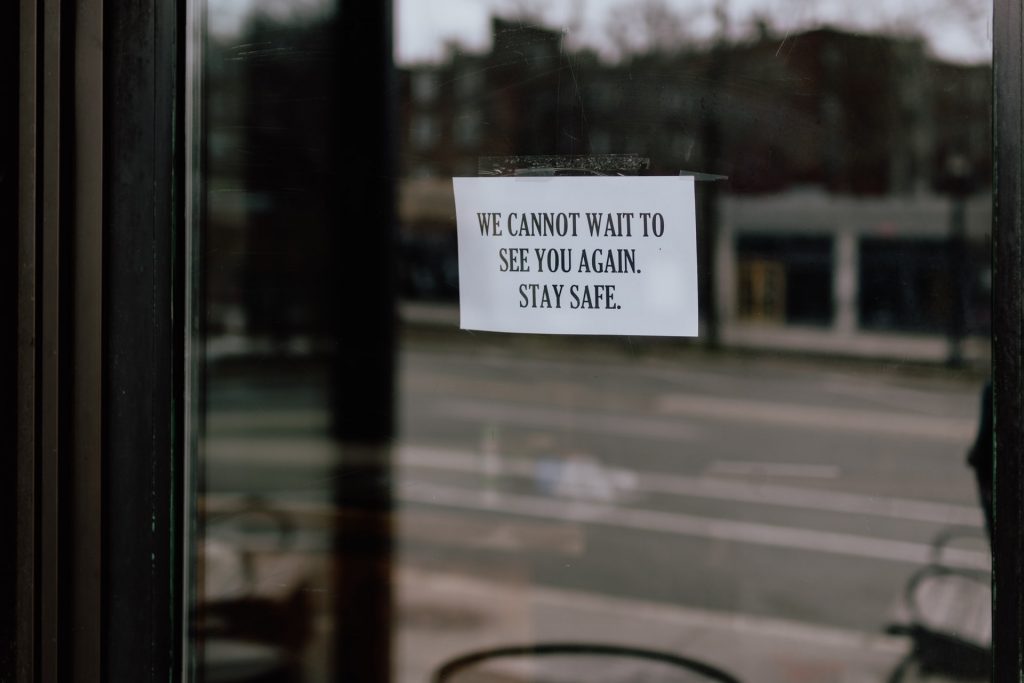 Next on the "hit-list" were large-crowd events like weddings, bar mitzvahs, conferences, sporting events, and concerts. For example, in March 2020, Live For Live Music (the Ticket Master holding company) did a sharp U-turn, canceling shows one after another. Finally, in mid-2021, more than 15 months later, vaccinations blunted the sharp edge of the pandemic. So, the various bureaucracies shifted gears to more relaxed regulations. All indications were that the worst was behind us. At year-end, not even the omicron variant could unsettle that feeling. The truth is, people won't hold back indefinitely.
The need to socialize drives our lives in a significant way. Also, one can't postpone marriages and other special events forever. And, let's face it, Zoom or TV doesn't compare to being there live, enjoying the theme and atmosphere. Therefore, the extensive event ecosystem – suppressed for so long – made a recognizable comeback with much fanfare. You don't have to look further than the NFL playoffs: arenas packed to capacity and hardly a mask in sight.
The recovery of significant events (public and private) happens fast in some scenarios and slower in others. Hence, the big question: Is this upward trend sustainable?
Event professionals see the number and attendance reaching and potentially surpassing pre-pandemic levels by 2023. But that recovery remains contingent on several factors, including how effective the vaccine program is, the nature of the event in question, and location.
Special public events (like conferences) in 2022
Tentative is the word that best describes the current mood. Conferences are not up for cancellation, but at the same time, attendance is way down. According to the U.S. Travel Association and Tourism Economics, the pandemic has drilled holes in the conference market, leaking revenue to the tune of $211 billion since early 2020.
Business events depend on thousands of attendees traveling from every state and international destination. However, there's no doubt that air travel is still not out of the woods, and the domino effect can be swift and tangible. So, we face a combination of reluctance to travel (unless it's an absolute necessity) and fear of crowded indoor spaces. For that reason, progress in these co-dependent industries is still a little slow:
Domestic bookings will probably reach pre-pandemic levels around 2024, with international travel a year later.
Putting all this together, the economic impact amounts to $522 billion.
Nonetheless, corporate vigilance regarding travel seems to be easing up significantly, with companies giving the green light to moving about and attending more events. That's because "In Real Life" beats virtual events. Moreover, attendees have more freedom to network, an activity integral to developing new relationships and opening innovative connections.
According to Live Nation, mid-2021 attendance of significant tour events was down by 13 percent versus the pre-pandemic era. However, the momentum is building for 2022. The latter is expected to show more than 10 percent growth (versus 2019) and, therefore, at least a 27 percent jump on 2021. So, things in the event arena are certainly moving – despite air travel's drag effect.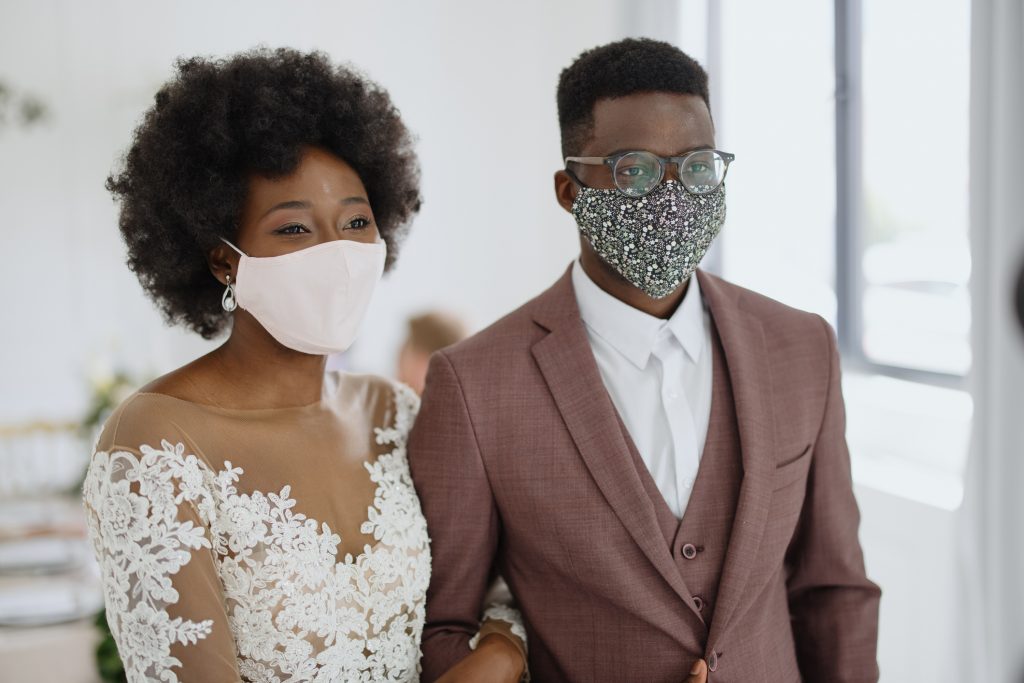 Weddings and celebrations today
COVID-19 hit birthday gatherings, holiday get-togethers, religious milestone events (e.g., christenings and bar mitzvahs) pretty hard. Oh, and don't forget the poster child in this pivotal category: weddings. Again, safety took predominance through 2020, with most weddings shifting from generally elaborate affairs to relatively small, intimate celebrations with managed social distancing. As a result, the impact resonated across the board, from arranging the menu to delivering food, live music, and dancing, while also extending to hotel accommodations, welcome gifts for out-of-town guests, pre-wedding dinners, and entertainment.
Safety protocols called for sanitation stations, COVID testing of guests, mask-wearing, and on and on. In the few destination weddings that survived the coronavirus ordeal, assurances of staying in a defined group throughout the visit, all tested and COVID-negative, were essential mandates.
Most celebrations in the health crisis erased huge guest lists in favor of close family in attendance, and remaining guests invited to watch proceedings on Zoom. Indeed, Zoom weddings (and bar mitzvahs) became a huge trend, even with officiants marrying the couple virtually.
Celebrations in the future
Indications are that the blockbuster extravaganzas of the past are just that – a thing of the past. Whereas before 2020, the celebrant couple or parents were ready to go all out, they now throw more intimate affairs. What this boils down to is smaller, exclusive guest lists, and higher budgets allocated to impressing fewer people with more expensive gifts delivered to the hotel rooms and upgrading mini-events before and after the main show.
Germ-phobia will not disappear
There's a new attitude toward something that's been around forever but generally taken for granted: germs. These days we think twice before hugging, shaking hands, even air-kissing. Expect to see segmented buffet lines with plexiglass divides, with every server wearing gloves and a mask. These are celebratory event safety measures, which caterers and organizers have become accustomed to. The protocols may fade with time, but the severity of the crisis won't likely leave our mindsets in the next decade.
Catering contracts
These, in general, have been through a major overhaul with lawyers to account for future cancellation liability. In the pre-COVID era, postponement or cancellation was rare. That's no longer the case. Indeed, the odds of arrangements staying firm has moved into 'unlikely' territory in many cases. Even if events go ahead, head counts will likely be significantly different from the original plan. As a result, signing a catering contract is no longer a mere formality but a painstaking exercise. Event vendors are on top of this, and customers should also be vigilant if they want to ensure a customer experience without a nasty surprise when the final bill appears.
The food side of things
Family-style food serving is out. You're more likely to see plated servings with gloved hands or controlled, socially separated buffet lines. Food is a significant consideration when hygiene, sanitation, and safety enter the conversation. Ventilation, social distancing, spaciousness, and guest protocols have all come into the mix.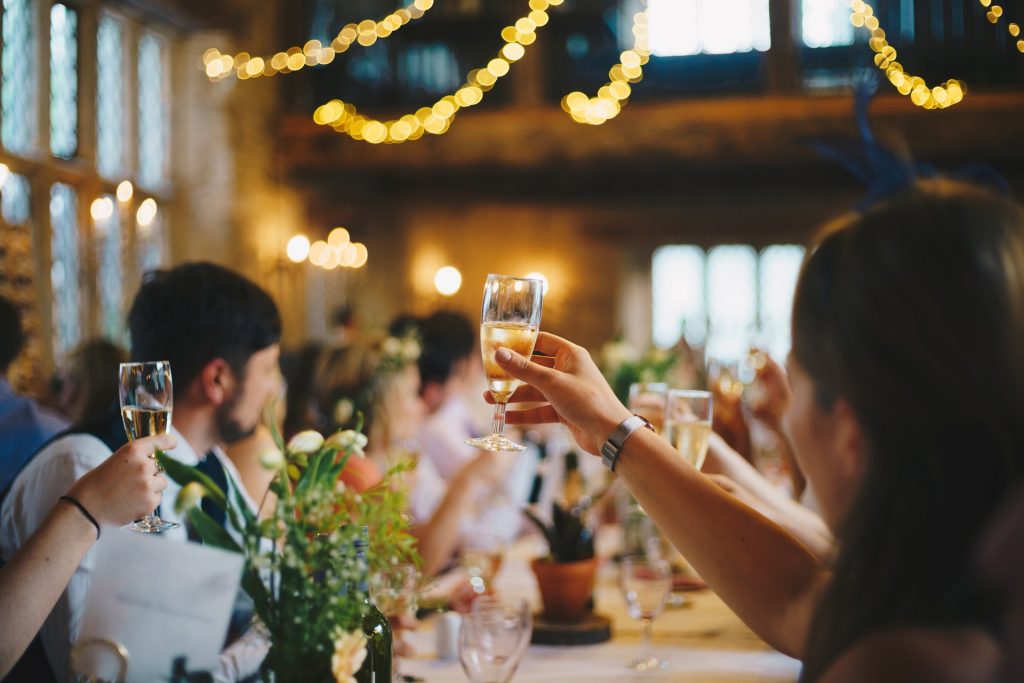 Conclusion
Big events – on both the private and public stage – don't usually mesh well with global viral threats. Nobody can argue with that. Therefore, safety protocols in this arena are uniquely pertinent. A well-crafted survey can help you get a handle on what your guests or audience would prefer, and also help you understand what works and what doesn't in this new era. Be sure to reach out to us to ensure a smooth customer experience when arranging conferences, weddings, concerts. No matter the size of your audience, it's important to understand their priorities in both staying safe and staying connected.