Pride Month in June is an annual celebration of the LGBTQ+ community, their rights, and their contributions to society. It is a time when individuals and organizations come together to show support, advocate for equality, and raise awareness about the challenges that LGBTQ+ people face.
Recently, there has been an increased focus on creating inclusive workplaces where LGBTQ+ employees feel a sense of belonging. Gone is the time of crude jokes, hurtful language, and discrimination.
Or is it?
Like with many protected classes—for example, women or minorities —LGBTQ+ employees sometimes find that a company's efforts at inclusivity are pretty sentiments that make a brand look more than than anything of real substance.
So, this June, we will explore strategies and initiatives that companies can adopt to foster an environment of inclusivity and promote equality. But we'll also highlight the key business opportunities and corporate social responsibility (CSR) associated with working with the LGBT community—one that is more than just a slogan and social media campaign.
Because as a company, making a real move for an authentic reason is powerful, but making a move for a soundbite alone can cause more harm than good.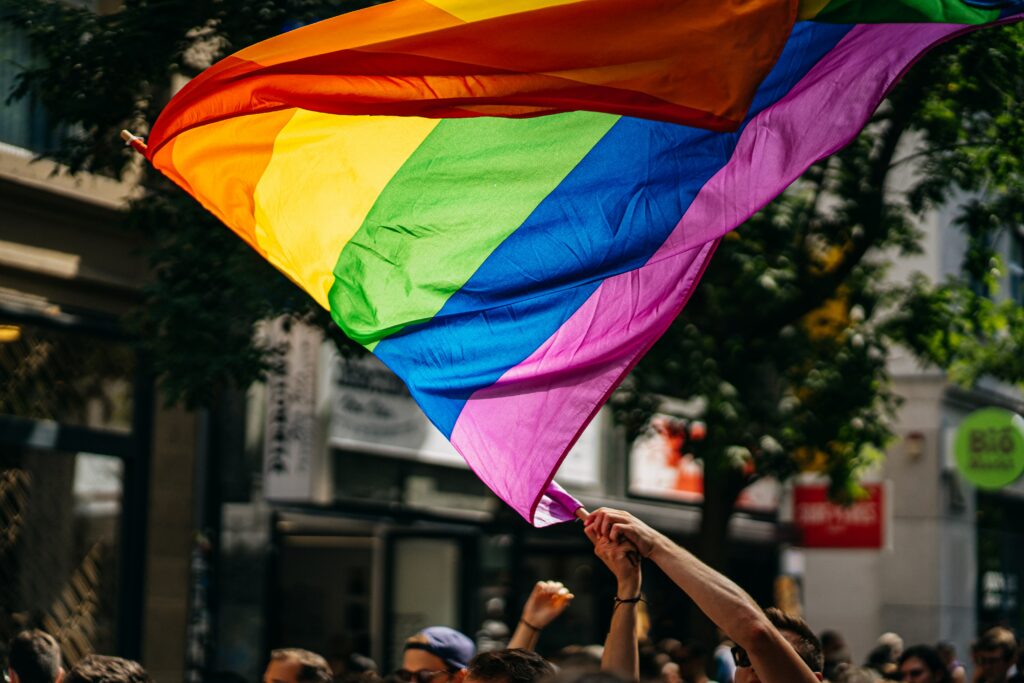 Create an inclusive workplace
Creating an inclusive workplace is paramount to improving the LGBTQ+ employee experience. Like many minority groups, the LGBTQ+ community has been the recipient of discriminatory practices in the workplace for decades, and only consistent, authentic, and transparent efforts can change the status quo.
Create a corporate culture of empathy and collaboration through:
Education and Awareness:
Companies should invest in education and awareness programs to ensure that all employees understand the challenges faced by the LGBTQ+ community. This can include workshops, training sessions, and guest speakers who can provide valuable insights and personal experiences. For example, many feel like an "only" at work, especially at senior levels where the LGBTQ+ community is severely underrepresented.
Employee Resource Groups (ERGs):
Establishing LGBTQ+ employee resource groups can provide a platform for networking, mentoring, and support. ERGs help create a sense of community and provide a voice for LGBTQ+ employees.
Non-Discrimination Policies:
Implementing and enforcing comprehensive non-discrimination policies that explicitly protect employees from discrimination based on sexual orientation, gender identity, and expression is essential. Companies should clearly communicate these policies to all employees.
Inclusive Benefits:
Offering inclusive benefits such as health insurance coverage for gender-affirming procedures, fertility treatments for same-sex couples, and bereavement leave for chosen families demonstrates a commitment to supporting LGBTQ+ employees and their unique needs.
Pronoun Inclusion:
Normalizing the use of pronouns and allowing employees to include their preferred pronouns in email signatures and HR systems can contribute to a more inclusive and respectful workplace culture.
Leverage business opportunities for growth
Use what you're good at to understand your LGBTQ+ employees better. Organizations are familiar with focus groups, market research, testing, and implementation, and the steps of taking a product from ideation to production are defined in a well-oiled machine.
Leadership can use these same principles to improve employee experiences with dedicated efforts:
Market Research and Customer Segmentation:
Companies can conduct market research to better understand the needs, preferences, and purchasing power of the LGBTQ+ community. This research can help identify potential growth opportunities and allow companies to develop targeted marketing strategies—for their employees! Think outside the box and look at your employees as consumers. How would you want to make sure you understand your target audience?
Diverse Talent Acquisition:
An inclusive work environment can attract and retain top talent from the LGBTQ+ community. Embracing diversity leads to a broader range of perspectives and ideas, which can drive innovation and enhance problem-solving capabilities.
Product and Service Development:
By actively engaging with the LGBTQ+ community, companies can develop products and services that cater specifically to their needs. This can include inclusive fashion lines, gender-neutral products, or travel packages designed for LGBTQ+ individuals.
Corporate social responsibility at the core
At the core, protections, diversity, equity, and inclusion efforts are deeply rooted in an organization's responsibility to its communities and environments. Particularly for those underrepresented employees who often feel unheard and unseen. Efforts to protect them and bring to light their struggles are keenly felt within their communities.
Tap into this community connection and do more for your employees outside of work:
Philanthropic Partnerships:
Collaborating with LGBTQ+ organizations and non-profits allows companies to support causes that align with their values while making a positive impact. Contributions can be made through donations, sponsorships, or volunteering.
Pride Sponsorships:
Supporting Pride events and parades demonstrates a commitment to the LGBTQ+ community. Companies can participate by becoming sponsors, providing resources, or organizing employee-led initiatives to increase visibility and awareness.
Supplier Diversity:
Companies can consciously partner with LGBTQ+-owned businesses and suppliers, promoting economic empowerment and diversification within the community.
Celebrating Pride Month is not just about displaying rainbow logos or participating in parades; it is about creating lasting change and fostering a sense of belonging for LGBTQ+ employees. Companies can attract diverse talent, tap into market opportunities, and enhance their corporate social responsibility efforts by implementing strategies and initiatives that promote inclusivity. Embracing diversity and inclusion is the right thing to do, but it also presents significant business opportunities for growth, innovation, and creating positive social impact.
Not convinced yet?
Community connections: Key business opportunities for growth and CSR
Market Expansion:
By actively engaging with the LGBTQ+ community and understanding their specific needs, companies can identify untapped market segments and develop products or services that cater to those needs. This can lead to increased revenue and market share.
Brand Reputation and Loyalty:
Demonstrating a genuine commitment to LGBTQ+ inclusivity can enhance a company's brand reputation and build customer loyalty. Consumers are increasingly seeking companies aligning with their values, and supporting the LGBTQ+ community can generate positive perceptions and customer loyalty.
Talent Acquisition and Retention:
Creating an inclusive workplace is crucial for attracting and retaining top talent from the LGBTQ+ community. Companies prioritizing diversity and inclusivity have a competitive edge in attracting diverse talent, which can drive innovation and contribute to overall business success.
Innovation and Creativity:
Embracing diversity of thought and experiences can fuel organizational innovation. By valuing diverse perspectives, companies can enhance problem-solving capabilities and foster a culture of creativity and innovation.
Corporate Social Responsibility:
Engaging with the LGBTQ+ community through philanthropic partnerships, pride sponsorships, and supplier diversity initiatives demonstrates a company's commitment to social responsibility. These efforts can positively impact the community and contribute to building a more inclusive society.
Legal Compliance and Risk Mitigation:
Implementing comprehensive non-discrimination policies and providing inclusive benefits helps ensure compliance with anti-discrimination laws and mitigates legal risks. Companies prioritizing LGBTQ+ inclusion are better positioned to navigate legal and regulatory challenges related to workplace discrimination.
Pride Month reminds companies to go beyond token gestures and embrace meaningful strategies and initiatives that create a sense of belonging for LGBTQ+ employees. By fostering an inclusive workplace, companies support their employees' well-being, unlock significant business opportunities for growth, and contribute to their corporate social responsibility. Embracing diversity and inclusion is not only a moral imperative but also positions companies for long-term success in an increasingly diverse and inclusive world.
And, you know, it's also good to be better humans 😉.
Now is the best time to get feedback from your employees and understand where you stand with your DEI efforts with powerful analytics. Don't know where to start? We're here to support your efforts!