If you've resolved to be a better communicator, you're not alone. Whether it's family or friends, colleagues or clients, communication is always a highly rated area for improvement.
No surprises here: You can't improve what you don't understand! If you're struggling with communication issues, start off the year with a communication audit. The same principles apply all communication situations, but we'll stick to two types: internal (employee) and external (customer).
Who needs an internal communication audit??
Globally, 21% of internal communicators acknowledged that they don't use any form of formal planning. If your inboxes and calendars are overflowing, you probably saw that statistic coming! Compared to the resources and strategic planning dedicated to client-facing communication, internal processes are often a bit more ad hoc and reactive.
An internal communication audit can take any number of forms (you have to start somewhere!) but an anonymous survey can be a good start. You need candid feedback to make real decisions — otherwise, it's just an empty exercise that perpetuates the problem.
No matter your style, be sure you're addressing these key questions:
1. Are you getting the information you need — when you need it?
This is a great place to start. You might set this up on an agreement rating scale or a multi-part grid question that includes multiple sub-questions.
If you find out that all of your employees are getting the right information in a timely fashion, you may breathe a sigh of relief. Still, don't stop there!
2. How would you rate the communication you currently receive
?
Get specific with a multi-part grid question that takes a closer look at a few different areas. Among other elements, you might ask employees to rate their satisfaction with the amount of information received, its frequency of delivery, accuracy of content, and relevance of material.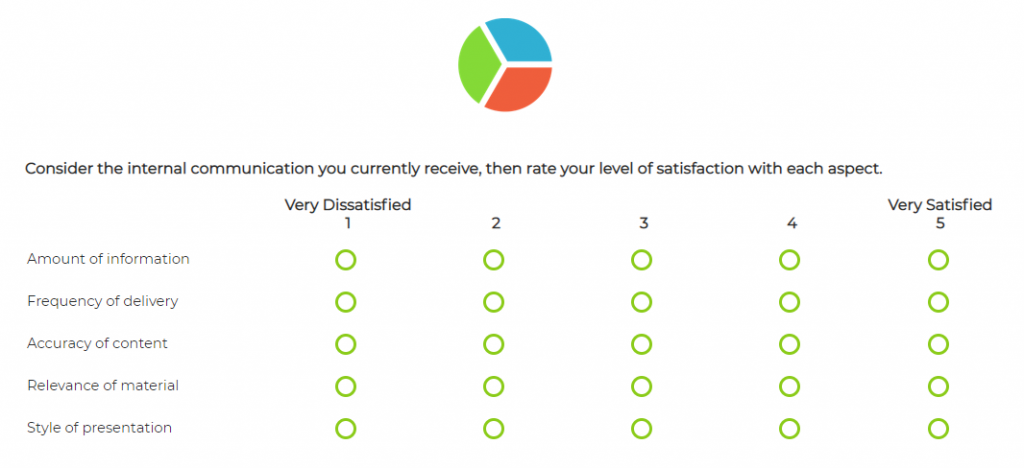 3. What are your preferred sources of information?
Even the best content won't make a difference if it's delivered on the wrong channel. Remember: Not everything requires an email! From Slack to Whatsapp to Salesforce to — gasp! — real life interaction, mode matters.
Again, you may choose to break this down to better understand where people go for information about their own projects, the company as a whole, training and development support, and other kinds of critical information that support healthy employee engagement, productivity, and retention.
4. What do you want to know, and when do you want to know about it?
Think about the many, many times you've clicked to unsubscribe from an email list, only to be presented with a long list of options. Special offers? Monthly newsletter? Daily tips? So many opportunities for information — or overwhelm!
In your internal communication audit, a Matrix Grid might be a good choice here, offering the chance to both rank the value of a variety of topic areas and then identify the preferred frequency of delivery.
Google Alerts offer a perfect example, albeit email-focused: The information you want, delivered on your preferred schedule. Nice! Do you offer your employees the same options?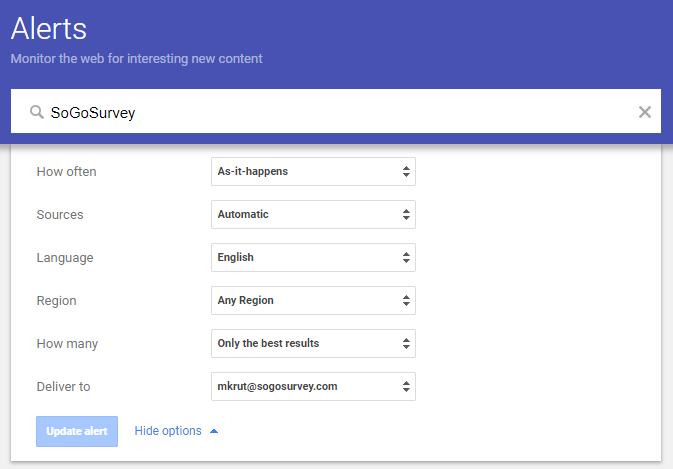 5. Within internal resources and channels, how easy is it for you to find what you're looking for?
Remember: Not all communication efforts are direct. You'll improve productivity significantly by improving your policies and processes regarding information delivery and storage. Whether you're big on Drive or SharePoint or you're shuffling through filing cabinets, systems make self-service simple.
Once you've got your internal communication in order, you're ready to up your external communication game, too! Next time we'll tackle communication audits for clients and other external audiences.
Want to run your own internal communication audit? Let us show you how to make it happen! Better yet, let us manage your project for you. 🙂
Ready to get started? Learn more about Sogolytics today!