A not entirely hypothetical situation: Suppose there are psychological and emotional drivers bringing some of your employees to a crisis point. What started it, and does it matter?
Employee burnout from job pressure is one thing. However, it goes a lot further than that. Compartmentalizing our lives isn't all that easy. The hours we work seamlessly merge with our family and private lives, and separating them to understand the nature of burnout is a fool's errand.
Burned out employees are 63% more likely to take a sick day as compared to their peers. (Gallup)
Click To Tweet
A reputable psychologist once told me that everyone has a fixed stress capacity. Liken it to a bucket, if you will. Aggravation, frustration, anger, and other negative emotions, especially under pressure, fall into the bucket. Fortunately, there are proven outlets to jettison some of that build-up.
Unfortunately, many of us resist or don't recognize these safety valves, so then what happens? The levels of stress in the bucket steadily rises, reaching critical danger signals when the rate (speed) that stress pours into the bucket exceeds the pace of its emission when stress levels get close to the bucket rim or overflow. At this point, you can expect an irrational temper tantrum – or worse.
In other words, bucket overflow = burnout. So…
What's filling your employees' buckets other than work's stressful events?
What self-releases, if any, are functioning properly?
The implication is that employee burnout isn't necessarily attributable only to job burnout alone.
Therefore, the dilemma for management comes down to this: recognizing and addressing it, no matter how it got there.
What is employee burnout?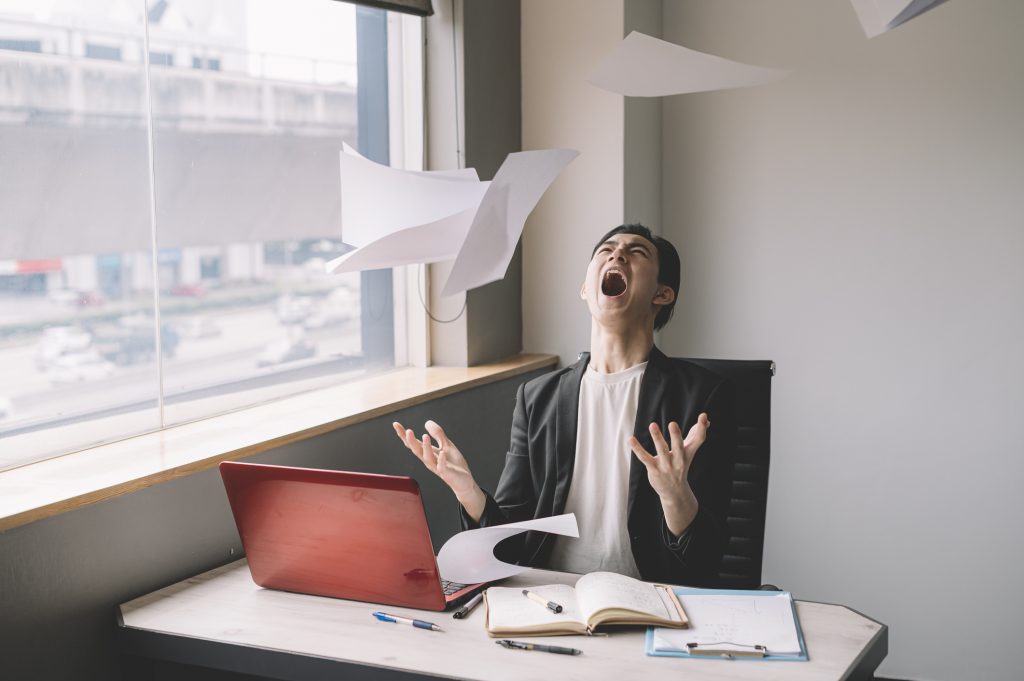 Burnout manifests itself in a state of physical or emotional exhaustion, where the victim experiences severe self-doubt and a sense of failure. Work accomplishment (or rather, the lack of it) rests in the person's mind and feelings, even when reality and the imagination are at odds. This is no small thing: In just the last 20 months or so, look at the severe challenges we have faced:
The COVID-19 upheaval, substantially upending our lifestyles
Remote working and shutdowns, creating significant isolation
Traditional friend and family get-togethers screeching to a standstill
No sports events, no going to the movies, no frequenting busy restaurants
Added to these pressures, latent personality traits are rising to the surface more and more (e.g., bipolar or depression tendencies). In combination, people with high stress levels are emerging as ticking time bombs, just waiting for the right trigger to set them off. For example, the recent acceleration of explosive passenger violence on airlines is no coincidence. These may seem inexplicable, but they're all bucket overflow situations.
From a workplace perspective, these burnout contributors may lead to eruptions and inappropriate behavior on the job, lost productivity, inefficiencies, or a tsunami of sick days.
However, no matter what's at the root of it all, picking up on the first signs of burnout is vital to minimize productivity disruption. Here are some things to look for, and some steps you can take.
Step 1: Transparency
Don't bury your head in the sand by saying,"It can't happen to my team." It can and probably will.
Nipping burnout in the bud begins with creating employee awareness.
Click To Tweet
Use social media to encourage your staff to recognize burnout symptoms. One or more of the following generally precede a burnout situation:
Becoming cynical or over-critical of everything and everyone
Demonstrating irritation or impatience with peers and customers
Dreading the workday and dragging one's feet trying to get into it
Experiencing inexplicable energy, concentration, and focus lapses
A feeling that the results from one's effort are never good enough
Disillusionment about life in general
Overeating or too many happy hour events pushing into one's routine
Sleeping erratically or taking too much medication
Unexplained headaches, stomach upsets, aches, and pains
Elevated blood pressure
Create a company culture where anything is on the table, as long as the employee is open and honest. The company should strive to assist employees through burnout before reaching the possibility of firing or resignation. In other words, a desire to do anything that favors employee retention versus employee churn.
Step 2: Realize there are limitations
You are not a magician. Of course, you can offer advice – or even funds for therapy – but practically, your most significant impact is around job and project conditions inside the workplace. Put another way, stick to the stressors you can alleviate within employees' working hours.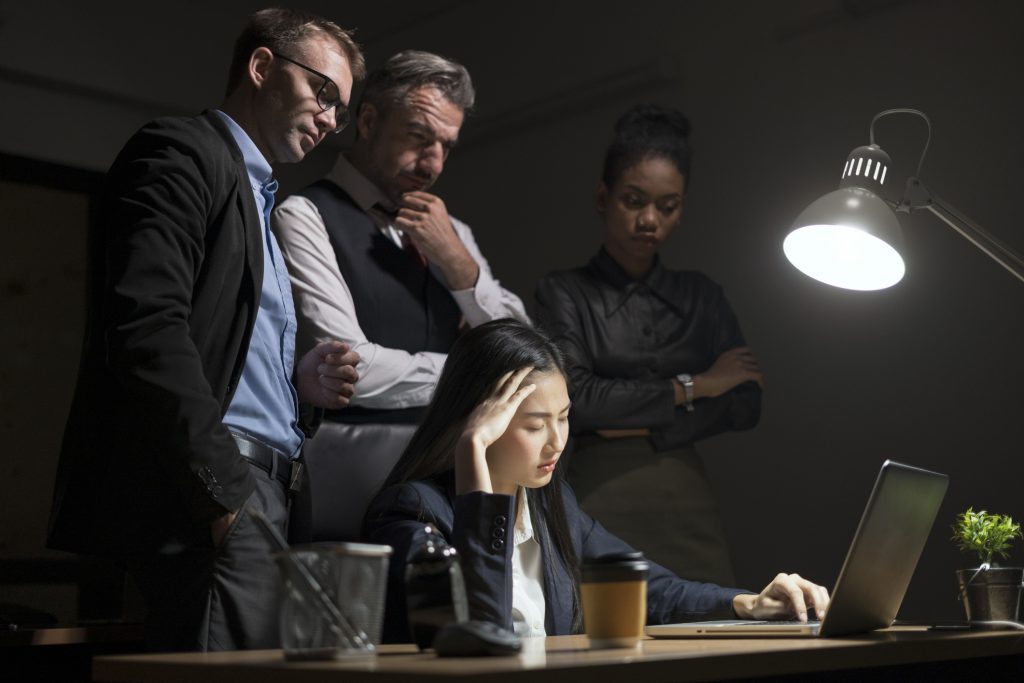 In a study by the Mayo Clinic, the following are the primary workplace stress hot points employees cite as carrying burnout risk:
Loss of control: Frustration in not being allowed enough latitude to influence decisions that affect their jobs. Much of it relates to restrictions on company trust in their decision-making ability and scheduling, assignment allocation, and workload. The bottom line is that if employees feel their ability exceeds the job's demands but for various reasons remain repressed, burnout can happen.
Asking for the impossible: A gripe that frequently circles back to a lack of the resources employees need to do their work effectively. This extends to unrealistic job expectations given the resources at hand and/or the degree of authority the company provides the employees to get the job done.
A dysfunctional workplace: Boss/employee mismatches are massive burnout accelerators. The same goes for management's failure to recognize office bullies and unproductive peer pressure that undermines employee work.
Work extremes: This is where the term "too much" comes into the conversation (resulting in focus loss and excessive mental fatigue), specifically relating to overtime (paid and unpaid) that cuts into family time, work monotony, goal unpredictability, or work volatility.
Lack of peer support: Isolation under remote working conditions is undoubtedly increasing burnout.
Step 3: Establish an anti-burnout culture
Train supervisors and managers at all levels to stay vigilant and waste no time addressing the hot points noted above. Indeed, establish a policy that any manager guilty of encouraging burnout behaviors will face consequences.
Assess employee sentiments and burnout risk with our work-life balance survey template.
For those employees experiencing burnout, employee reviews are likely to become intense discussions on troublesome issues. Managers must welcome it and ready themselves to listen carefully, and employees should go in without fear of retribution.
Frequent anonymous feedback surveys provide good insights into developing burnout situations. It all circles back to company culture. The C-suite's tone establishes top-down change. That means adopting an attitude of open dialogue and genuine shared responsibility.
Finally, favor work-life balance as a tool to eliminate potential burnout. Consider recognizing employees' right to disconnect rather then expecting them to be constantly available. The occasional blips on the work intensity scale become acceptable when they no longer look like the norm.
Speaking more generally:
Work together
Change expectations
Strive for solutions and compromises
Set realistic goals
Accept that team cohesion can make anything possible
Encourage physical exercise and healthy living
Give access to in-house counseling if possible
Build work schedules that support reasonable leisure hours and sleeping patterns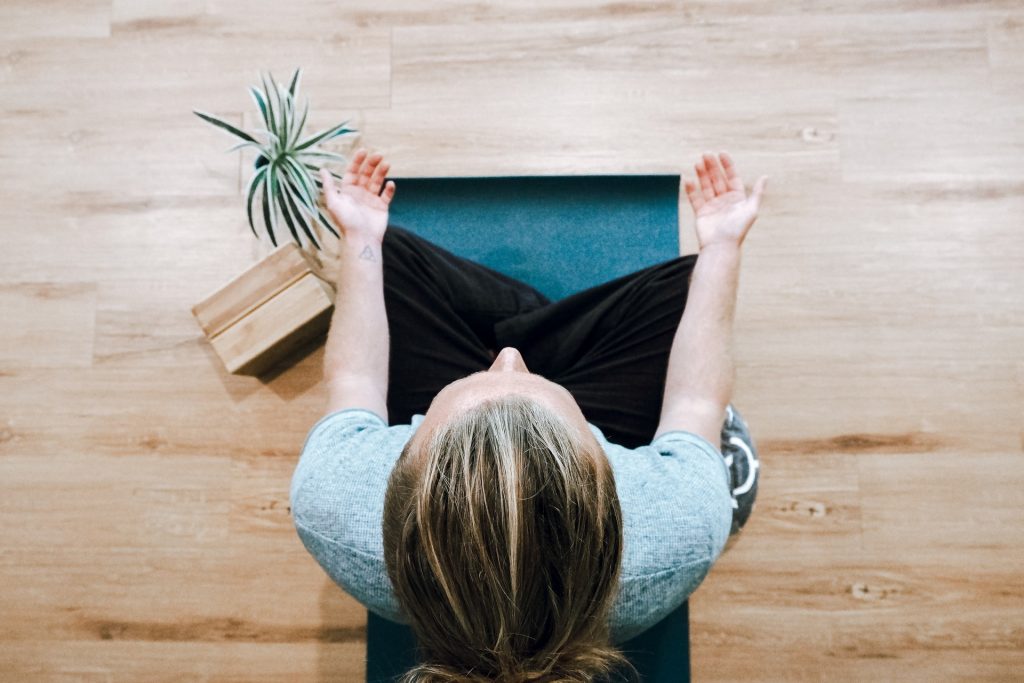 Conclusion
Using surveys and feedback to get a better sense of what your employees are thinking or feeling is absolutely essential. It's not something anyone should take lightly, especially with remote working quickly becoming the norm. If you'd like help with crafting an effective employee experience strategy based on feedback collection, contact us and we'll help you get started.