The Kaiser Family Foundation (KFF) conducted a health tracking poll in early 2020 and found seven in 10 individuals in the US say COVID-19 disrupted their lives. The KFF poll uncovered a 32 percent increase in individuals reporting severe disruption from a similar health poll conducted just two weeks prior. The coronavirus outbreak changed many lives quickly and harshly.
While some stress is normal, COVID-19 brought unparalleled anxiety and worries about more than health and wellness. Many worried about their finances as businesses closed and people lost their source of income. It doubly taxed parents as they tried to work from home and supervise their children's schooling at home. The isolation that came with social distancing and "work from home" mandates weighed heavily on others. And as the nation lost lives in greater numbers, people across the country worried about losing their loved ones, friends, co-workers, and others to a seemingly unstoppable virus.
This level of fear and worry cause ongoing anxiety, which can adversely affect your appetite, cause sleep problems, and impact your ability to cope on a daily basis. Social distancing keeps you from the very ones who can support you and provide companionship, resulting in loneliness, sadness, and more anxiety. When you add in worry about finances and grief due to loss, it's conceivable that even the most stalwart can stumble. One study found symptoms including post-traumatic stress disorder (PTSD) in addition to anxiety and depression. Healthcare workers were more affected than most.
Another KFF poll in July 2020 found adults reporting significant negative effects on their mental health and well-being. The study showed many suffered from difficulty sleeping or eating, an increase in alcohol or substance use, and increased suffering from chronic conditions.
Your work situation matters
The pandemic is one of the biggest disruptions to our daily lives, perhaps even the most disruptive for many of us. Few of us have experienced anything similar. And our work life has perhaps taken the biggest hit. Office jobs are now work-from-home, while other essential workers put themselves at risk to keep grocery stores open and stocked.
Doctors, nurses, paramedics, and other healthcare workers on the front line are highly impacted, but so are those working from home, isolated and struggling to juggle work, care for children, and the safety of elders. Another survey found that even though working in an office seemed risky, the workers at home were actually more distressed and less happy. People who weren't able to work, even temporarily and even if they didn't get laid off, had worse mental health.
Self-care and caring for others
Here's an important piece of advice: Avoid misinformation, which is sometimes easier said than done. Social media is a hot bed of false and misleading COVID-19 information, leaving people more fearful, depressed, and anxious. If you felt worse after a session on social media, avoid it.
This doesn't mean you should avoid all information; rather, find the right source. In one survey, people tended to have lower stress, depression, anxiety, and PTSD when they discovered reputable sources of health information. Limit the amount of news you consume as well. Spending too much time focused on COVID-19 news can fuel stress, depression, and anxiety.
One way to boost your mental health and wellness is to keep moving. Take walks, find a new exercise to try, dance, practice yoga, etc. What appeals to you is a great place to start.
Make time for fun and relaxation. Play board games with your family, try a new video game, watch movies, or binge watch a Netflix series. Again, you can turn to YouTube to learn new games to play.
Reach out to and check in often with family, friends, and co-workers. Even though you "see" a co-worker often at Zoom meetings, a one-on-one conversation can help someone struggling. At the very least, you can be a sympathetic ear to someone who needs to talk.
Don't be afraid to seek help
Mental health awareness is no longer the stigma it once was. Taking care of your mental health or helping someone find resources is paramount in these unprecedented times. It's important to know you can freely reach out to your doctor to find psychiatric help, and telemedicine means you can connect with resources from home.
Another source to reach out to is your human resources department. Many employer medical plans have a mental health line you can call. If you're diagnosed with a mental health disorder, it's essential to stick with your treatment plan. And if you need a prescription, some pharmacies now have home delivery.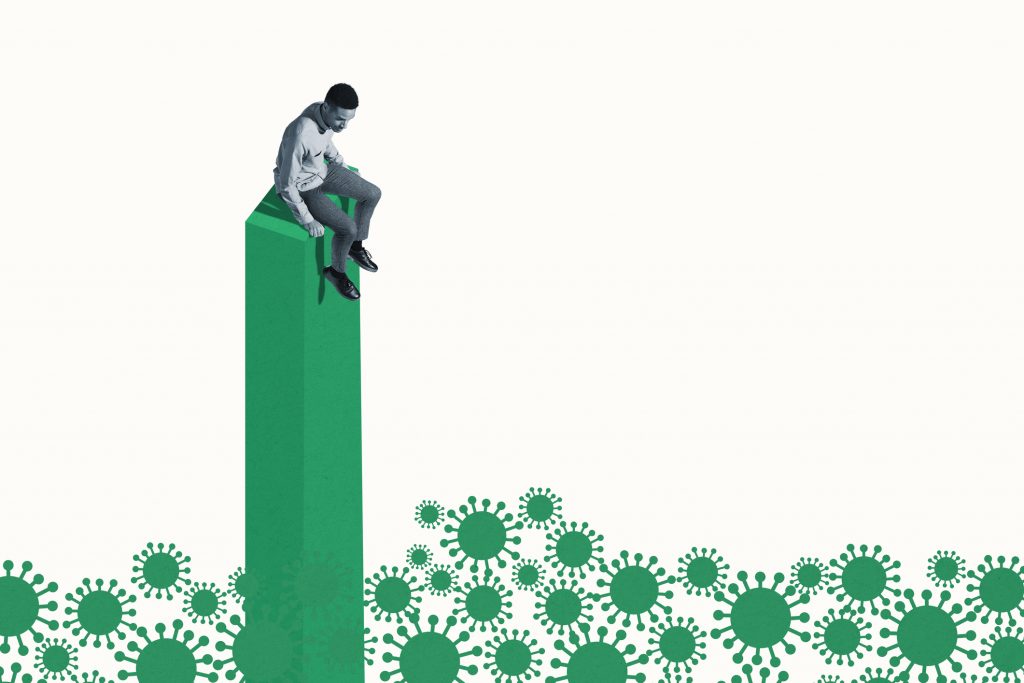 Final thoughts
Mental health challenges are hard at the best of times — they can be overwhelming during times of crisis. Awareness is key. Know what symptoms to look for in yourself and others, so you can get help or help others find the resources they need to get better. Mental health problems are becoming more endemic with COVID-19. It's not a weakness or an anomaly — it's a fact: a pandemic can overwhelm anyone.
Supervisors, managers, HR departments, and others in lead roles are in a unique position to reach out to employees with resources and help. Regularly survey employees on mental health awareness and communicate available mental health resources. Communicating often normalizes the situation and could make someone more likely to reach out for help.