When you come from a state without snow-capped mountains, the Colorado skyline (and the altitude!) can take your breath away. If you're attending an event full of credit union leaders dedicated to making a positive impact, though, you'll fill right back up with fresh air and inspiration!
Held in Colorado Springs, the 2022 Mountain West Credit Union Annual Meeting brought together hundreds of credit union professionals, presenters, sponsors, and exhibitors. Designed especially for credit union executives and boards, sessions delivered "actionable business intelligence and advice from experts on issues and opportunities facing credit unions."
The big news
Just a few months ahead of the retirement of MWCUA President and CEO Scott Earl, this event included multiple tributes and a celebration dinner in honor of Earl's 40+-year credit union career and accomplishments. If that news wasn't big enough, there's more change on the horizon: The Mountain West and Northwest Credit Union Associations will soon merge, with both boards delivering unanimous approval.
The combined efforts of both Mountain West and Northwest will be a significant force in advocacy. As the conference site noted, "Legislative, regulatory and grassroots advocacy – it's what we do! Together we're stronger."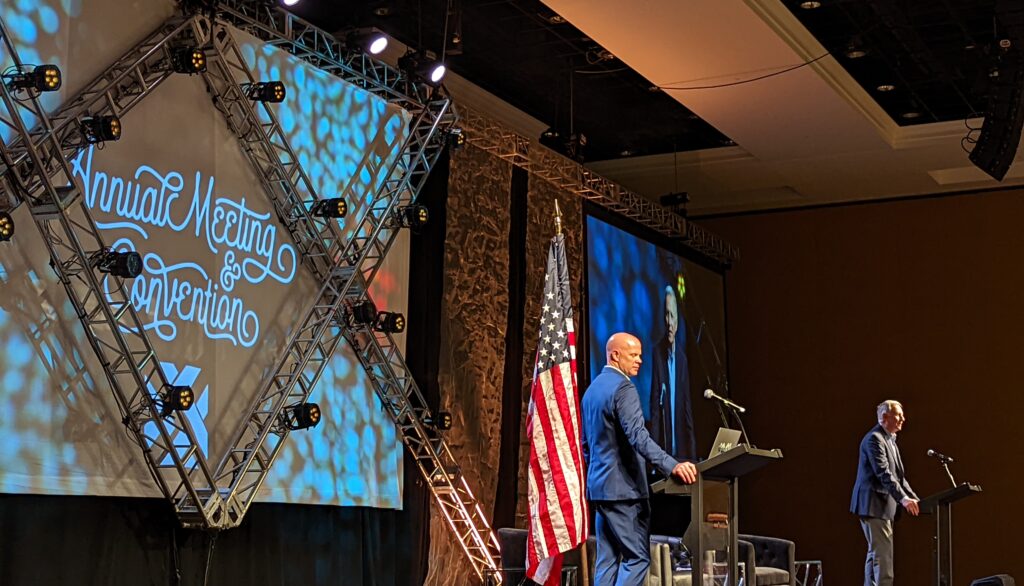 A few key points
In setting credit unions apart, remember: structure, value, and impact. "As stewards of that structure, we need to deliver the value. Otherwise, people will start to ask — What's the difference?" – Troy Stang, President/CEO, Northwest Credit Union Association
The fact that fewer people are coming into branches isn't necessarily a bad thing. Consider the cost savings. Look at this time as The Great Attraction, an opportunity to meet your members where they are. – Mary Kelly, CEO, Productive Leaders
"Data is the new oil? No way. Data is the new oxygen." – Sam Maule, Google
We have created tools to allow people to trade, to buy cryptocurrencies — but in some cases, they have no idea what they're doing. The onus is on us to help educate them. – Sam Maule
"Don't ever let anyone tell you that something you care about is a soft issue." – Ancin Cooley, Synergy Credit Union Services
De-center yourself. Prioritize succession planning. "If you remove that one person who's been the ringmaster, things go a little haywire." – Ancin Cooley
"If you want to retain talent that maintains the stability of your organization, you have to pay them." – Ancin Cooley
What brings people into the world of credit unions? The desire to do good. We are in the business of people helping people. But what does it say when there's an imbalance between the makeup of the group of people getting approved for loans and the makeup of your community? – Jessica Vartanian, CU Lending Advice
What are we asking our people to be experts at? Everything! Training service-oriented people into sales-oriented people is like trying to train someone who's right-handed to be left-handed. – Jessica Vartanian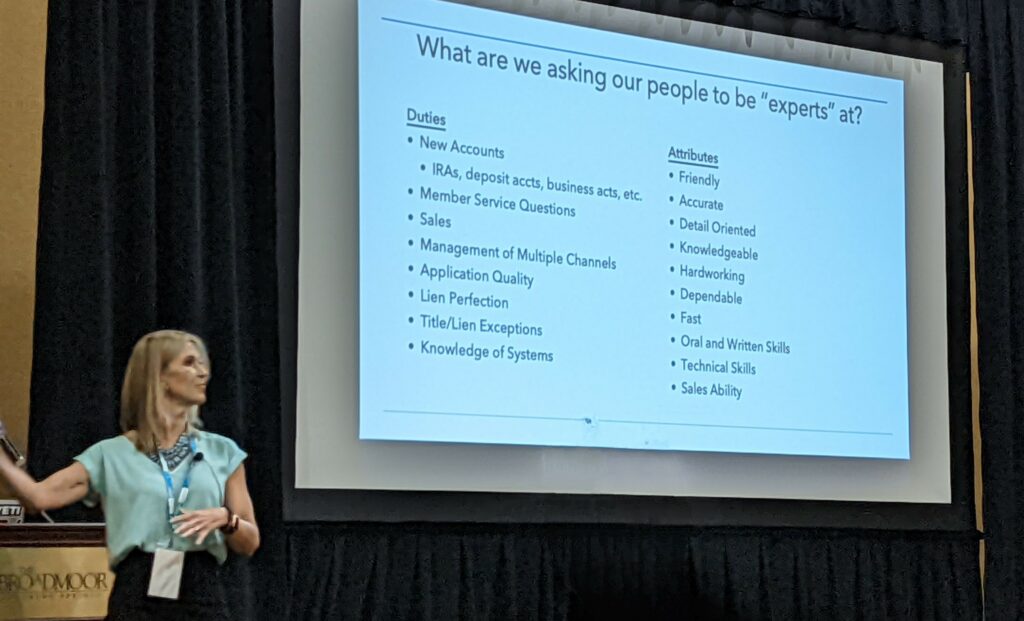 A major impact
A key question that was asked repeatedly: Are all of your goals financially based? While fiscal responsibility and revenue growth generally do have numbers attached, one of the biggest differentiators for credit unions is their commitment to their mission. For most, this mission prioritizes services and community.
Over and over, the word "impact" came up in the course of conversations. Combining data and storytelling helps make the impact more obvious and advocacy even more powerful, as in Economic Impact and Community Impact Reports the newly combined association will soon be rolling out. One of the last sessions of this event was dedicated to the impact of credit unions, honoring those leaders and groups who have made a significant difference in their communities over the past year. Dealing with the aftermath of the devastating Marshall fire in Colorado, working to pay off students' school lunch debt in Wyoming, and fundraising efforts for the Children's Miracle Network were among the initiatives honored at this event. During the conference, participants could also take part in a service project, decorating bags that would be used to deliver meals for a local foodbank. With this focus on service, community, and impact, it is very clear that the goals of the credit union movement are not all financial.
Missed the chance to chat? Drop us a note at cu@sogosurvey.com! We'd love to connect and hear how you're working to make an impact on your community!