One of the most important things that a hotel can do is to provide their guests with a good experience.
This is a pretty straightforward equation: happy guests = recurring customers = higher revenue. Happy guests can also contribute to more word of mouth marketing for your hotel, again leading to more customers and more revenue.
Now, on the flip side, what happens if your guests have a subpar experience at your hotel?
It really depends on how unpleasant their experience was—in the worst case scenario, your guest could very well post an online rant about your hotel, resulting in bad publicity for the company. Obviously, we want to avoid that at all costs.
In this article, we'll share 9 tips that you can use to improve hotel guest experience, and keep your guests happy. Read on to find out more!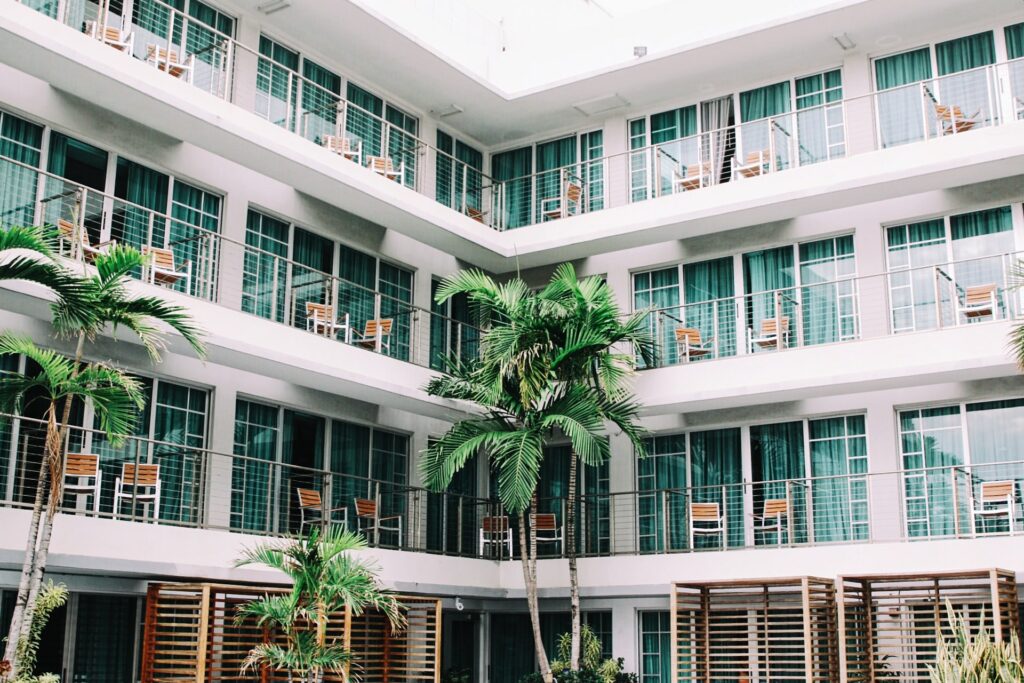 1. Adapt to a post-COVID world
In a post-COVID world, we now have a heightened awareness of cleanliness and safety. If you go the extra mile to ensure that your hotel premises are spotless and take extra safety measures, your guests will definitely appreciate it. For instance, you could:
Space out seating in your restaurants and banquet halls so that there's enough room for social distancing
Provide guests with complimentary supplies, including masks and hand sanitizers
Regularly clean and sanitize frequently touched surfaces (such as elevator buttons) and communicate to your guests the frequency at which these are sanitized
2. Optimize the check-in process
Who wants to be kept waiting as they try to check in? Nobody!
When you provide your guest with a smooth, hassle-free check-in process, you're allowing them to start their hotel experience on a great note.
How do you do this? Consider implementing a self-check-in kiosk (or, for an easier solution, building a mobile app that allows guests to check in quickly).
You can also collect all the info you need from your guests at the point they book their stay—this speeds up the check-in process later on.
3. Ensure that your staff is knowledgeable
When your staff is knowledgeable and helpful, your guests will have a better experience—simple as that.
Your staff manning the reception should be able to answer questions such as:
What time certain hotel amenities close
Where nearby landmarks are and how to get to them
What the best food options in the area are
Make sure you train your staff well. And instead of waiting for guests to ask first, encourage them to take the initiative to provide recommendations or helpful information to guests.
4. Partner with local vendors to offer tours
Running in the same vein, consider partnering with local companies to offer tours and/or activities to your guests at a discounted rate.
Of course, many guests are used to researching their own activities and booking online. But some folks still prefer the convenience of booking at the front desk and having the hotel coordinate pick-ups and other details for them.
5. Ensure that rooms are clean and well-maintained
This sounds like a no-brainer, but you'd be surprised at how many guests enter their hotel rooms to find stained bedsheets, dirty tubs, and more.
This really boils down to your operations, so do an audit of your current performance (e.g., out of every 100 guests who stay with you, how many complain about dirty rooms?) and figure out how to improve.
We can't emphasize this enough—this isn't just a nice-to-have, it's a must-have. There's no bigger turn off than a dirty hotel room, so do whatever it takes to make sure your rooms are clean and up to standard.
6. Provide sufficient in-room entertainment
Cable is old news—guests these days prefer to have access to streaming services such as Netflix, Amazon Prime, and Spotify.
WiFi is a must, too. Make sure that WiFi coverage is good (especially for larger suites with multiple rooms), and fast enough, as guests may be connecting to it with multiple devices.
7. Personalize rooms for special occasions
Want to go above and beyond, and truly delight your guest?
If your guest is celebrating a special occasion (birthday, anniversary, etc) at your hotel, go ahead and personalize their rooms accordingly.
For example, you could leave a complimentary slice of cake in their room or decorate the room with flower petals. These gestures don't cost a lot of effort or money – but they'll definitely make your guest's stay memorable.
8. Offer the option to go without housekeeping
Folks are increasingly becoming more environmentally conscious. While sheets and towels are traditionally swapped out every day at a hotel, some guests are now eschewing this practice in an effort to go green.
To cater to this group, leave a note in each hotel room telling them what their options are. (For example, choosing to have the sheets and towels changed every two days, or choosing to have the towels changed but not the sheets).
It's also a nice gesture to reward guests who do take you up on one of these environmentally-friendly options. You can get housekeeping to leave a small treat in the minibar, or let your guests redeem a free drink from your restaurant.
9. Read reviews online and perform service recovery if needed
Here's the thing—some unhappy guests won't actually tell you that they're unhappy. They'll keep their lips sealed, go home, then write a nasty review online.
Obviously, the easiest thing to do is to ignore these folks (and some hotels which aren't technologically savvy might not even be in the habit of looking at their reviews, which means they may not see the review in the first place).
That said, we strongly believe in monitoring your online reviews, and using them as a learning opportunity.
Each negative review that you receive provides insights into your current deficiencies, and how you could improve.
And in cases where the hotel has really failed the guest in some way, the best thing to do would be to reach out to the guest, and perform service recovery (by offering free dining vouchers, a free stay, etc).
A final word on improving hotel guest experience
At the end of the day, hotel guest experience must be the top priority.
If all your guests are unhappy, you'll have fewer and fewer people staying with you. And if that happens, you can't stay in business!
So keep these tips in mind, and make your guests a priority. Sogolytics can help you improve guest experience with an agile and powerful experience management solution.