Let's face it: In today's competitive market, customer experience is the differentiator for any company, and getting it right is critical. To win at CX, you need to serve your customers well, even as their needs change. To keep up with these evolving requirements, you must have the right information to make data-driven decisions.
So, how do you get this all-important data?
With customer satisfaction surveys!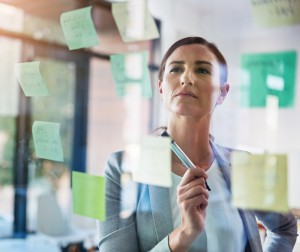 What is a customer satisfaction survey?
Customer satisfaction surveys are structured questionnaires or assessments designed to gather customer feedback and opinions about their experience with a company's product, services, or overall interactions. For businesses, customer satisfaction (often called CSAT) is a critical metric for businesses to gauge how well they meet customer expectations and to identify improvement areas.
Important, yes, but these projects also require a thoughtful approach.
While customer satisfaction surveys are an easy way to listen to the needs and experiences of your customers, just because you have a survey tool doesn't mean you've built a survey that will get you the results you need. Feedback from surveys can be a powerful business indicator, but such surveys are of little value if their response rates are low.
If you want to know the steps on how you write a survey, we've got you covered.
Why is it important to ask the right survey questions?
Asking the right survey questions is crucial because the quality of your survey data and the insights you gain depend heavily on the questions you pose. Here are a few more reasons why asking the right questions are so important:
Accurate data collection – Well-crafted questions are more likely to yield accurate and reliable data, while poorly designed questions can lead to misunderstandings or biased responses.
Data relevance – Questions should be directly relevant to your research objectives or the information you seek to gather. Irrelevant or vague questions can confuse respondents and waste their time.
Survey clarity for the participants – Clear and concise questions are easier for respondents to understand. Ambiguous or convoluted questions can lead to confusion and inconsistent responses.
Avoiding bias – Carefully phrased questions can help minimize bias in responses. Loaded or leading questions can unintentionally influence participants and skew the data.
Consistency (in branding, trend monitoring, etc.) – Maintaining a consistent experience within and across surveys can help mitigate survey drop-off.
Balancing positive and negative phrasing – Planning helps you to be mindful of the wording of questions and balance the positive and negative to avoid bias.
Research goals – A clear view of your objectives ensures that you're able to make clear decisions throughout the survey design process. Knowing which questions support your project goals can ensure you're set up for success when you're ready to analyze results.
Even with the best of intentions, companies that fail to consider their customer satisfaction survey questions carefully will see dismal response rates. Low response rates mean few results and issues with validity and representation in your reports. Well-designed surveys asking the right questions will have better response rates, leading to meaningful analytics instead of wasted time and resources.
Sharpen your survey smarts now
with this on-demand Save Our Surveys workshop!
Crafting a survey that will garner a high response takes thoughtful planning. Before you write your first question, identify your goals, target audience, and desired type of feedback for your survey. Keeping these items in the forefront of your mind will help you write relevant questions – and the more relevant the question, the more likely you are to collect responses.
Ready to start writing your customer satisfaction surveys? Awesome! Let's review how to write survey questions next.
What are the 5 steps in creating a customer satisfaction survey?
Here are our five best practices for creating survey questions.
1. Focus on the Goal
It's tempting to fill your survey with as many questions as possible, but long surveys lead to survey fatigue and higher abandonment rates. If you set the survey objectives from the start, you'll be able to confirm that each question you write relates to the goal of the survey. As you're working through your survey, ask yourself whether each question is essential or if it's just providing "nice to know" information.
2. Use Simple, Precise Language
Complex questions can confuse participants, which may cause them to leave unanswered questions or abandon the survey altogether. Remember to consider your audience and background when drafting your questions. Where possible, avoid abbreviations, uncommon words, acronyms, slang, and compound sentences. The more clearly you state your question, the more precise the responses will be.
3. Write Straightforward Questions
The concept of writing simple questions seems, well, simple. But staying consistent is more challenging than most people think. You should avoid questions that introduce bias, present hypothetical situations, or have double negatives. Furthermore, be aware of double-barreled or leading questions.
4. Short & Sweet Questions
For a simple answer, start with a simple question. Respondents will be less likely to answer if your questions are too long. Make sure the answer options you offer make sense and fit all possible scenarios. If you're having trouble finalizing the answer options, you've probably written a question that is too complex.
5. Response Options Need to be Inclusive
You've invested the time to write clear and concise questions, now make sure the answer options you have provided make sense for all possible scenarios. What are some good examples of customer satisfaction survey questions? It's sometimes easier to look at a bad example. 😉
For example, a customer satisfaction survey asks you:
How often do you visit our website?
A. Weekly
B. Monthly
C. A few times a year
D. Once a year
But what if you've never visited the website — or if you visit it daily? Providing "Never" or "Other" as answer options would make this a more inclusive set of answers.
See? It makes sense, but sometimes, there are potential blind spots in survey design that you want to avoid as best you can. A good tip for testing your answer options is to ask a small group to read through the survey. This is one method of collecting feedback that you can incorporate into answer options you may have overlooked.
Looking for customer satisfaction survey questions?
Check out our Question Bank!
It might seem like a lot to remember when building your survey but take it step by step. When you're using Sogolytics, the Design tab is your canvas to create powerful surveys from scratch, modify existing surveys, or build from templates in our Survey Template Bank. And if you're looking for a bit of help you can put our design experts to work on your survey project.
Need help with your survey project? Let's connect! Book a support call from within your account and we'll be glad to review with you. Bring your questions, and we'll review your survey's design, help you schedule invitations, and create specific reports for your business needs. Want a refresher? Attend a live training with our experts!