Ever thought about how often you interact with tech companies in your day-to-day life?
If you're like most folks, you probably spend your entire day interacting with tech companies.
You wake up, check Instagram (which is owned by Meta), check your Google Calendar (owned by Google), and maybe ask Alexa (owned by Amazon) to give you the weather forecast or play your favorite song to perk you up.
Throughout the day, you might use your iPhone (owned by Apple) to send texts, browse the internet, and make calls. If you work in an office, you might use a computer (owned by a variety of tech companies) to complete your daily tasks.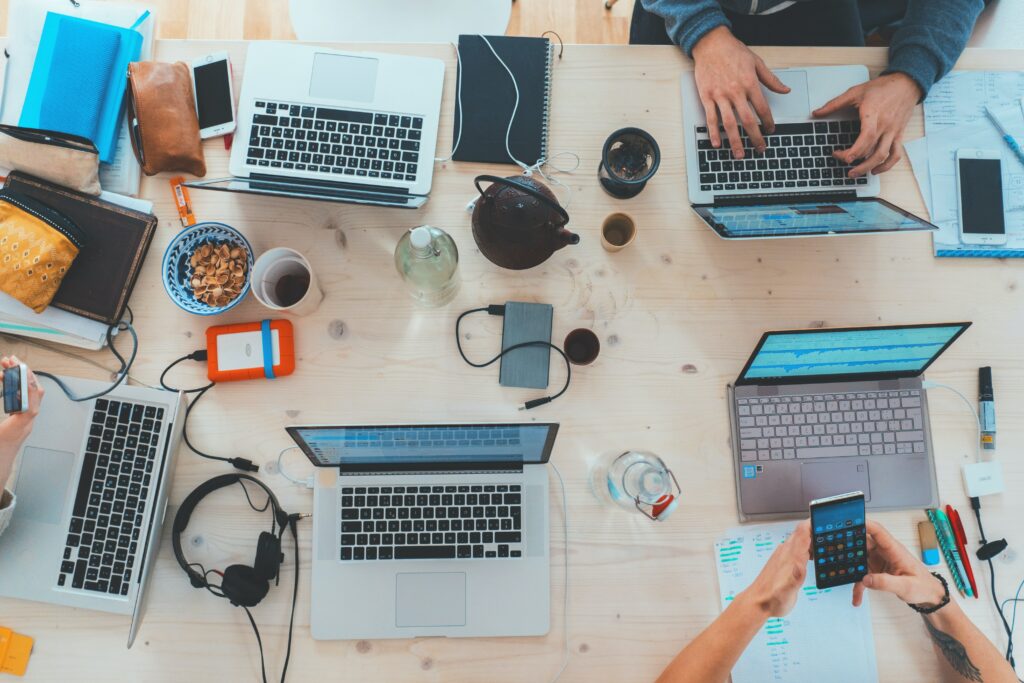 And when you get home, you might settle in to watch some Netflix (owned by Netflix, Inc.) or use a gaming console (owned by companies like Sony, Microsoft, or Nintendo) to unwind.
From smartphones to social media, tech companies are everywhere.
But here's the question: How do consumers feel about their interactions and experiences with tech companies? Do they feel satisfied and fulfilled, or frustrated and disappointed?
In this article, we'll discuss the customer experience of tech companies, and discuss how AI has changed those experiences. Read on! 😉
1. Personalization
Personalization is perhaps one of the biggest pieces in customer engagement and experience.
Companies are constantly asking themselves how they can personalize, and that's because they know that personalization can make a huge impact on customer satisfaction and loyalty.
It's pretty straightforward: When customers feel that a company understands their individual needs and preferences, they are more likely to have a positive view of the company and continue doing business with them.
So, how does AI help here?
Simply put, tech companies can use AI to analyze customer data and behavior to provide customized recommendations, product suggestions, and promotions.
For example, Amazon's recommendation engine uses AI algorithms to suggest products based on a customer's purchase history and browsing behavior. The more a customer uses Amazon, the more personalized their recommendations become, resulting in higher engagement and sales.
To dive a little deeper into how this works, Amazon's recommendation engine is powered by machine learning algorithms that analyze customer behavior to provide personalized product recommendations.
The algorithm takes into account a variety of factors, such as purchase history, browsing behavior, and search queries, to create a tailored experience for each customer.
For example, if a customer frequently searches for running shoes and has purchased fitness apparel in the past, the recommendation engine may suggest a new pair of running shoes or workout gear. As the customer continues to use Amazon, the algorithm becomes more accurate and provides even more relevant recommendations.
Aside from its eCommerce business, Amazon also uses AI in its other products, such as Alexa. We talked about Amazon Alexa being able to play your favorite song earlier on – this is a form of personalization as well. All you need to do is say "Alexa, play my favorite song", and Alexa automatically knows which song to play.
It gets better.
Maybe you have one specific Beatles song that you've listened to, but can't remember which it is exactly. You can simply say "Amazon, play the Beatles song that I listened to yesterday" – and that'll do the trick.
Pretty cool, huh?
2. Efficient customer support
How do you make customer support more efficient, and reduce waiting times?
You could just throw money at the situation (i.e., hire more customer service reps)… or you could use AI powered chatbots!
AI-powered chatbots have been around for decades, and they've become super popular as a customer service tool in the last few years.
These chatbots have completely transformed the customer support landscape by providing efficient and accurate responses to customer queries. They're able to understand customer inquiries, and provide relevant information or assistance for simple queries.
This reduces wait times and improves customer satisfaction, leading to higher retention rates.
Check your Customer Satisfaction score with our CSAT survey template!
Take InTouch Games, for example. In an average month, the company's customer service team used to handle 60,000 queries via live chat. To reduce wait times and be able to attend to customers more quickly, they started using a chatbot to handle the most common queries.
After the bot was launched, InTouch managed to outsource and get 28% of queries resolved by the chatbot. Of their customers that rated the bot, one-third provided a 5-star rating.
Out of all the use cases of how AI has changed the customer experience of tech companies, we'd say this is one of the most compelling ones.
As a consumer, who hasn't been frustrated by long waits when trying to reach out to customer service?
With AI chatbots, customers can finally get quick and efficient support without the need to wait on hold for long periods or navigate through endless automated phone menus.
3. Enhanced security
The tech industry is no stranger to fraud cases, from credit card fraud to cryptocurrency fraud.
In fact, it was reported that consumers lost a total of $10.3 billion to online fraud in 2022 alone. That's equivalent to the GDP of a small country like Barbados.
Here's where AI comes in.
AI can be used to enhance security and protect customer data. More specifically, companies can employ AI algorithms to analyze user behavior and identify patterns that may indicate fraudulent activity.
This can prevent fraudulent transactions and protect customer data from cyber-attacks.
For example, Mastercard's AI-powered fraud detection system uses machine learning algorithms to analyze millions of transactions per second and identify fraudulent activity in real-time.
If a customer makes a purchase that is unusual for their spending history, the AI system may flag the transaction for review. The system can also identify patterns of fraudulent activity across multiple accounts and alert the fraud prevention team to investigate further.
By using AI to detect and prevent fraud, Mastercard is able to protect both customers and merchants from financial losses, and improve customer confidence.
4. Improved accessibility
Accessibility has become an increasingly important focus for tech companies in recent years, as companies recognize the importance of ensuring that their products and services are accessible to everyone, including individuals with disabilities.
What does "accessible" mean in the world of tech?
This means several things, such as making sure that websites, apps, and devices are well designed, and provide options for larger text sizes, text-to-speech functionality, and keyboard navigation.
Again, tech companies rely heavily on AI in this area.
One example? Voice recognition technology. This is an AI-powered technology, and it has helped people with visual impairments use smartphones and access the internet more easily.
Here, a visually impaired customer might ask their phone to read the news headlines, send a text message, or check the weather.
The voice recognition system can interpret the customer's commands and respond with the relevant information, making it easier for visually impaired users to use smartphones and access information online.
All in all, increased accessibility can be a game changer for those with disabilities, allowing them to use tech products and services with more ease.
AI is rapidly transforming the tech customer experience
AI is hugely powerful – there's no doubt about that.
To recap, tech companies use AI to personalize their offerings to their customers, provide customer support in an efficient manner, ensure better security for customers, and improve the accessibility of their products and services.
This all boils down to better customer experiences and higher customer satisfaction.
If you haven't already begun integrating AI into your customer experience strategy, it's time to get started! But first, you need to identify customer expectations and preferences to know just where AI would add the most value.
SogoCX can help you better understand customer expectations so you can align your strategy for maximum impact.
Ready to get started? Let's get on a call, and we'll walk you through all that our platform can do for you!